Times are tough in the conveyancing market, putting the power in the hands of the client. So how can you ensure you stand out from the competition? Sue Bramall gives her 12 steps for success
The RICS UK Residential Market Survey for March 2018 confirmed that demand for housing was continuing to slip, a problem which is compounded by the lack of fresh stock coming on to the market, so that 'average stock levels on estate agents' books remain within a whisker of an all-time low'. RICS' chief economist, Simon Rubinsohn, concluded that: 'The latest RICS results provide little encouragement that the fall in housing market activity is likely to be reversed any time soon.'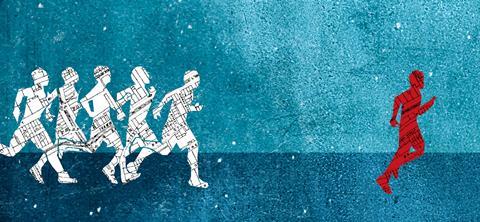 In a flat market, there is a shift of buying power to the customer, who will shop around more in regard to service as well as price, and vote with their feet. Gone are the days when solicitors could rely on client loyalty from one generation to another for all of a family's legal needs.
With such grim prospects ahead, how can your firm ensure that it maintains its share of a dwindling market?
Below, I outline 12 simple steps to help you market your firm and better serve current and potential clients in tough times.
1. Swot up on your SWOT
With huge changes and challenges in the property market, it is worth starting with a clean sheet of paper and revisiting your strengths, weaknesses, opportunities and threats: a SWOT analysis.
Grasp the nettle and ask colleagues, estate agents and independent financial advisers what they think about your firm, how your service compares, and how they see you as differing from your competition.
Document your SWOT analysis and share this with your team to determine how you can:
highlight your strengths in the market
address any weaknesses
capitalise on the opportunities
mitigate the threats.
Do you have a clear vision? The next generation of conveyancers is looking towards a world where homes can be bought and sold via taps on a smartphone and aiming to reduce the average time for a house purchase from 16 weeks to 10 weeks – or even six. How does your vision compare?
2. Set out a SMART action plan
A marketing plan does not need to be a lengthy tome – a simple spreadsheet will usually suffice, with months along the top, actions down the left side and the name of the person who will be responsible in each cell. This makes it easy to see who should be doing what each month, and to tick off completed tasks (or roll them forward). Display this on the wall for everyone to see, and monitor progress in team meetings.
Do you need a new brochure or other marketing materials? Plan this in. Have you been dragging your heels on social media? Agree an action plan and timeframes, then decide whether you can manage this internally or need to outsource.
If you decide not to pay referral fees, then you will need to attract work in other ways. Far and away the most effective approach is to develop strong personal relationships with the staff of your local estate agencies and ensure that they are happy. Dropping in to deliver a document and passing the time of day will ensure that you are front-of-mind – if your service is as good as you promise it will be. Remember that agents do not want to risk their reputation by referring a solicitor who does a bad job or upsets their customer.
The head of the conveyancing department should also plan a meeting with each estate agent on a regular basis, to monitor their satisfaction levels with your firm, and get feedback on the team. One head of department recently described to me how long it had taken to rebuild business after a particular member of staff had damaged the firm's reputation; she now seeks feedback more frequently to prevent this happening again.
3. Review your online presence
When was the last time that you reviewed the residential conveyancing pages on your firm's website? When did you last review the target keywords for search engine optimisation, and their performance? Take time out to look at your competitors' websites and their social media channels. What do you need to do to stand out as the best? Every year, you should plan to refresh the following pages:
main landing pages
service pages for specific matter types
team profiles.
Lots of websites fail to go into enough detail: all residential conveyancing is lumped together in one page, rather than each matter type being covered on separate pages. This fails to take into account the fact that the first-time buyer will be looking for very different information to the client who is thinking of remortgaging or releasing equity.
Your marketing plan should include the production of fresh news or blogs – at least one or two per month. Blogging will help you to achieve high search results organically, but this can require a significant effort and good writing skills. If you do not have the skills or capacity within your team, look at options for outsourcing.
Alternatively, you may look at pay-per-click advertising. While this yields quicker results and can be useful for hard-to-reach keywords, enquiries evaporate once you stop paying. Reaching the top ranks of search results with organic content takes longer, but once you are there, maintaining that position is less costly.
4. Argue for resources
The conveyancing department plays a critical role in any law firm, and that deserves to be recognised. It is with this team that many clients get their first taste of buying legal services, as first-time buyers. A good experience with you will mean they are more likely to return when they move again, wish to make a will or a prenup, get divorced or start a business.
However, the residential conveyancing department can sometimes be overlooked in the marketing budget. Perhaps margins are seen by fellow partners as comparatively low, and so not justifying a great deal of investment.
Simon McCrum, former managing partner of Darbys and now a consultant to law firms, emphasises that it does not matter where you make a profit, but what comes afterwards does matter. So, failing to delight clients on their first instruction could mean you lose them forever: you might never get to matter.
5. Ensure that you are easy to do business with
As part of your review of the market, you need to assess whether you are offering clients enough ways to make an enquiry. This should not be about what suits you or how your team prefers to work, but how the customer wants to interact.
A report by InfoTrack, Home Moving in the Age of the Consumer, published in February, revealed that 59 per cent of movers made the effort to get two or more competitive quotes, and that only 23 per cent of respondents had used their conveyancer before.
The option for online conveyancing was an important factor for eight per cent of all respondents in choosing their conveyancer, but among the 18-24 age group, this figure rose to 23 per cent.
How easy are you to do business with online? Can the young couple who see their dream home at 11.00 on Saturday get a quote for conveyancing costs before Monday morning?
Some conveyancers are reluctant to embrace online tools, explaining that they prefer to speak to people personally. But if the customer wishes to get a quote on a weekend, and another firm supplies one, it is unlikely that they will be picking up the phone to you on Monday morning.
6. Review your enquiry-handling processes
There is no point in spending money on marketing or referral fees to generate enquiries, if the opportunities are then lost due to poor enquiry handling.
Some firms have a dedicated person or team for handling new client enquiries. These individuals are specially trained, and have efficient processes for taking and recording information, providing quotations and following up.
In other firms, the job of handling enquiries is passed around like a hot potato to people who have had little training and get little encouragement (as this takes time away from billing), and their lack of enthusiasm sounds loud and clear on the telephone. Home-movers are impatient, and if they do not get a response in a timely and pleasant manner, they will simply try the next firm on their list.
7. Explain the value you add
According to InfoTrack's research, only 12 per cent of consumers chose their conveyancer because they were 'the least expensive'; rather, reputation and recommendation were the main reasons.
It is important to understand that there can be a big difference between cost (the amount you spend to provide the service); price (the financial reward to your firm); and value (what your customer believes the service is worth to them).
There are currently growing pressures for transparency in pricing, following on from the Competition and Markets Authority review. Some seem to think that this requires firms to publish a price list, but a well-presented quotation should leave customers in no doubt about the final bill that they can expect to receive.
'Unexpected costs' were cited as a source of frustration by 18 per cent of respondents to the InfoTrack survey. None of us like surprises, such as all the extras that are added to the cost when booking a flight. Why should it be any different for conveyancing?
What do your quotes look like? Do they impress? Do they convey the value that you will bring to the transaction? Do they explain the process? Do they highlight how you safeguard clients' interests? Do they link to more information, such as frequently asked questions?
I have seen numerous conveyancing quotes over the years, and there is a huge spectrum ranging from the two-line email with no real detail (or enthusiasm) to the detailed quote with accompanying information. The detailed quote gives confidence in a firm; a slap-dash response gives the impression of a slap-dash firm.
8. Follow up, follow up, follow up
Just because you do not get an immediate instruction, this does not mean that the potential client has instructed another solicitor. They may just be busy, they may not be in a position to proceed, other things may be happening in their life. Even if they do instruct someone else, try to establish a good rapport. They may receive poor service from the other provider and revert to you next time they move.
9. Review your service standards
It was back in 2012 that the Legal Ombudsman published Losing the Plot, its report on residential conveyancing complaints and their causes, which highlighted the importance of clear and regular communications.
However, according to the Infotrack survey, only 34 per cent of respondents were satisfied with the level of communication that they received from their solicitor, leaving two-thirds unsatisfied.
There are endless user comments on legal websites, such as the Law Society Gazette, about what good work conveyancers do in difficult conditions, for little return, but sadly these carry little weight with clients, for whom perception is reality.
Clients judge their experience, not the inputs. When you take your car in for a service, do you wonder how well trained the mechanic is, whether they are using the latest tools, if the garage is regulated and by which regulator? Or are you simply concerned that the car runs smoothly, it is ready on time, and the bill is no greater than you expected it to be?
One of the biggest unmet needs for conveyancing clients is information. Fifty per cent of customers would like more information about the home-moving process. This doesn't have to mean a lengthy narrative description – a simple flow chart can make the process so much easier to follow.
Less than a fifth of respondents (17 per cent) received a weekly update – is this such an unreasonable expectation?
Neither of these activities is particularly costly or complex, but they can make a big difference to satisfaction levels.
10. Embrace the challenges
InfoTrack reported a 16 per cent shift of conveyancing work away from solicitors in the last 10 years (see table below).
Family loyalty may be in decline, but firms that have connected digitally with the millennial generation are in the strongest position to maintain contact and advise those clients when they next need legal advice.
Can you think of any reason that this trend might be reversed? Rob Hailstone, a former conveyancer and founder of the Bold Group, also reminds firms that: 'The government is looking at ways to improve the process of buying and selling homes, and so you need to follow these developments and engage and partake in the discussions where you can to keep your future in your hands.'
Table 1: 'Where did you go for help with the legal side of the purchase?'
Within the last year
Between and three years ago
Three to 10 years ago
Used a local solicitor
57% (-7)
64% (-9)
73%
Used a local conveyancer
21% (+4)
17% (+1)
16%
Used an online conveyancer
20% (+5)
15% (+7)
8%
Source: Home Moving in the Age of the Consumer (InfoTrack)
11. Measure and manage
As the saying goes, what gets measured gets managed. Mystery shopping is a tool that has long been used by service businesses to measure their own customer service levels and see how they compare with those of their competitors. Done properly, it tests numerous performance standards, all of which add up to increasing your chances of converting an enquiry into a paying client and ensuring they are delighted, not just satisfied, with the service they experience.
Simply calling your competitors to get an idea of how your prices compare is not 'mystery shopping', as there is no assessment of human rapport, enthusiasm, efficiency, how the quote was presented, how value was explained, and how good the follow-up was (if there was any).
Staff are human (well, for the time being!) and so have good days and bad days. Processes are not always adhered to, and there may be technical malfunctions. Testing your services regularly will ensure that standards do not slip. You need to identify any problems and address them promptly before your reputation takes a hit and referrals take a dip.
12. Test, review, train and coach
It takes time and effort to improve processes and embed new behaviours. Staff are naturally resistant to change, and so you will need to request budget to support training and coaching, and also mystery shopping, if you really want to delight your clients, develop and preserve a stellar reputation, and get into a position to thrive rather than merely survive.
In his business book, Good to Great: Why Some Companies Make the Leap… and Others Don't, Jim Collins starts by saying that: 'Good is the enemy of great. And that is one of the key reasons why we have so little that becomes great. We don't have great schools, principally because we have good schools. We don't have great government, principally because we have good government.'
Is your firm's conveyancing service really so good that you don't need to make the leap to provide a great service?
Will being 'good enough' be enough?