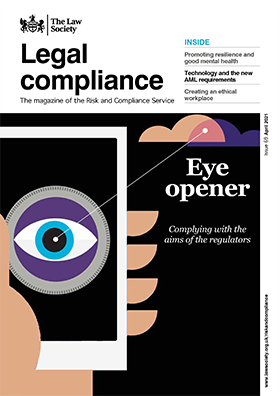 Features

The pandemic has highlighted the importance of good mental health and resilience both in and out of the office. Bronwen Still and Lucinda Soon consider your obligations.

Alison Matthews reflects on the key changes in anti-money laundering compliance since publication of the Legal Sector Affinity Group guidance.

Julie Norris and Jessica Clay consider SRA entity regulation and the imperative to create an ethical (ergo, compliant) legal workplace.

Olly Thornton-Berry looks at the use of new technologies in the fight against fraud and money laundering.

One year on from the first pandemic lockdown, Steve Pearson considers some of the issues arising in client care and complaints-handling as we emerge from the third lockdown.