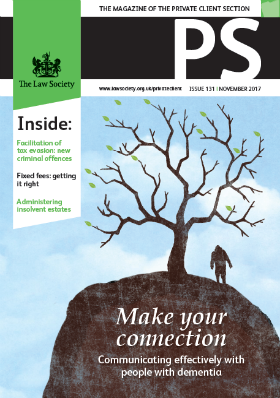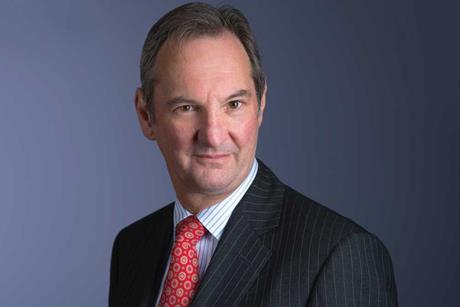 Simon Leney and Jane Hodge look at final lifetime income and capital gains tax returns and estate returns

It doesn't matter how good your work or client service is if you're not getting your name out there. Kim Tasso provides a brief guide to marketing private client work, with a guide on digital marketing tools and techniques.

In the first of a new series of interviews with private client practitioners, outgoing Section chair Gary Rycroft of Joseph A Jones & Co in Lancaster, looks at his career to date, what's in his in-tray, and the current challenges faced by private client solicitors.

The Financial Conduct Authority has called for lasting powers of attorney to be fully digitised to make them easier to apply for. Dawn Joughlin argues that the proposals will only leave vulnerable people at risk of fraud and abuse.

Many law firms are using fixed-fee billing, despite a suspicion that fixed-fee work is risky and unprofitable. Nigel Haddon provides some techniques for doing it profitably.

Helen Starkie reports back from this year's Elderly Client Care Conference, held on 20 October

As of 30 September, there is a corporate offence of failure to prevent the criminal facilitation of tax evasion. This brings a risk of criminal liability to solicitors' firms for not only their employees' actions, but also the actions of others with whom they are associated. Stuart Adams explains.

Recent research has suggested that more could be done to clearly communicate legal issues to vulnerable clients. Helen Quinn and Gemma Jolly from Alzheimer's Society explain how to improve your written and verbal skills to communicate effectively with people with dementia.

Trainee solicitor Estelle Chapman was initially sceptical when she took up a private client seat after months in corporate law. She explains how all her preconceptions were proved wrong, and makes the case for more trainees to embrace private client work.

Drafting errors which affect the inheritance tax position can be costly for both solicitor and client. However, there are opportunities to correct things, explains Sarah Harrison

The annual tax on enveloped dwellings applies to UK residential properties held in corporate envelopes and carries yearly reporting obligations. Simon Leney identifies the tax's traps.