The committee supports the development of the future strategy of the section and enhancement of the services already offered to members. Committee members and their brief biographies are below.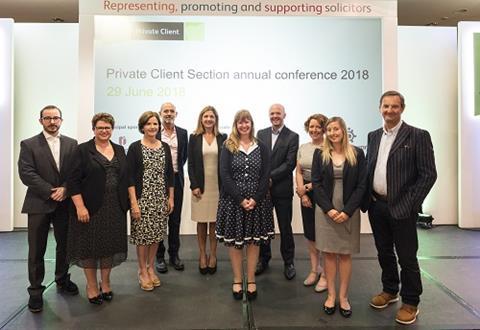 Stuart Adams is an associate at Mishcon de Reya. He specialises in UK and international tax planning, in addition to general private client matters. He advises individuals, entrepreneurs, families and corporate entities, as well as the family offices, trust companies and other institutions supporting them.
Helen Clarke is a solicitor and represents the Private Client Section on the Law Society Council. She lectures regularly to solicitors on topics including wills, probate and elderly clients.
Melinda Giles is a partner at Giles Wilson LLP, a small high street firm with two Essex offices. She has worked in property and private client since 1987, has represented clients at mental health tribunals, has been a Court of Protection panel deputy for over 10 years, and is on the Mencap list of specialist solicitors providing wills and trust advice to parents of children with learning disabilities.
Fiona Heald (chair) is an experienced solicitor working at Moore Blatch in the South. She now specialises in dealing with older clients and their issues, especially with regards to mental incapacity, applications relating to property and financial affairs at the Court of Protection, care fees planning and funding.
Kate Mahon (vice chair) is a solicitor and sole practitioner at Davidson Mahon Solicitors in Rugby, Warwickshire. Kate deals with all aspects of private client work, but has particular expertise in advising farming families and business owners with regard to their estate planning. Kate also gives seminars on making applications to the Court of Protection.
Gareth Marland is a solicitor at Berwins Solicitors Limited. Prior to retraining as a solicitor, Gareth was a manufacturing engineer. He is particularly interested in elderly client issues and agricultural clients. He is a member of STEP and Solicitors for the Elderly.
Sarah Murphy is a senior solicitor with Brabners LLP. Sarah has always dealt with private client work and advises clients on a daily basis on matters including estate administration and probate, estate planning, wills, trusts, taxation, powers of attorney and Court of Protection matters. Sarah has particular expertise in advising elderly and vulnerable clients and is a full professional member of Solicitors for the Elderly.
Alberto Perez Cedillo set up his own firm five years ago in Lincolns Inn, London, after practising as a dually qualified Spanish lawyer and English solicitor in London-based English firms for 20 years. He is the president of the British Spanish Law Association and council member of the International Bar Association.
Charlotte Pisuto is an associate at Hugh Jones Solicitors and a full member of STEP. She specialises in wills and estate planning for clients looking to provide for vulnerable family members as well as the administration of trusts and estates.
Helen Starkie is a former partner and head of wealth management at Moore Blatch, now practising as a sole practitioner in Bath, Somerset.