At this year's Elderly Client Care Conference, Alzheimer's Society ambassador Angela Rippon, in conversation with Duncan Wood, spoke about the challenges dementia presents for society.
I got involved with Alzheimer's Society (AS) after my mother was diagnosed with dementia. I didn't know the first thing about it or how to deal with anyone with it. AS made me an ambassador, and through this work, and meeting people with dementia and their carers, I learned a huge amount. From a personal perspective, I was able to deal with what happens to someone when they develop dementia.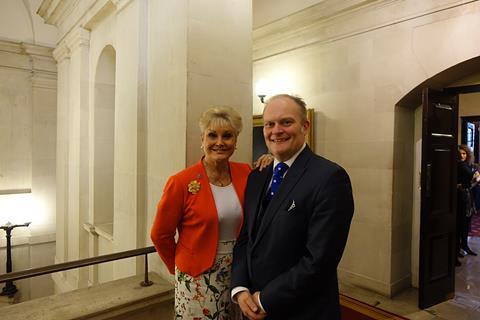 Dementia is one of the greatest medical and social challenges of the 21st century. We know that one in three people over the age of 65 will die with some form of dementia, whether it's been diagnosed or not. The baby boomer generation has grown up with a much greater understanding of what constitutes a healthy lifestyle, and we are all living longer, so, mathematically, more of us are likely to develop dementia in the course of our lives.
The dialogue on dementia is now centre stage. In February 2015, David Cameron launched the next five-year phase of his challenge on dementia, a programme of action to deliver sustained improvements in health and care, create dementia-friendly communities, and boost dementia research. Dementia ambassadors such as Arlene Phillips, Kevin Whately and Sir Terry Pratchett have all spoken openly about their personal experiences of dementia. Our youth engagement programme is creating a whole generation of young people who have increased knowledge and understanding of dementia. With greater understanding comes the humanity and passion to ensure that people with dementia are not sidelined.
When I became involved with AS in 2004, there was still a huge stigma attached to dementia. While perceptions have changed drastically since then, people are still afraid of dementia – recent research reveals that it's the disease that people over 50 fear the most. This is why I'm so passionate about making sure it's better understood – even though we talk about it a lot more, people are still unaware of what dementia means. People need to recognise that you can have dementia and still be a valued and valuable member of society. Gaining the understanding of society will play a pivotal role in the fight against dementia.
There have been far too many negative stories about dementia, and not enough positive ones. Yes, you will lose the person you have known for a lifetime, but you get to love the new person. We need to take away the ignorance and fear surrounding dementia so that people are prepared to be diagnosed early and can get the medical interventions that are available now and that will increase in the next 10 years. I hope in five or 10 years' time, we will have a totally different attitude towards dementia.
Solicitors should learn to understand and recognise the early symptoms of dementia in their elderly clients, particularly those who live on their own. If you are not already, become a Dementia Friend (www.dementiafriends.org.uk) and familiarise yourself with how dementia manifests itself. Don't assume that it's just a loss of memory – for example, people with dementia can lose confidence or spatial awareness, suffer from agoraphobia, or repeat stock phrases. Get to know your clients' carers, too – they will usually be the ones who know exactly what is going on and may have recognised the same symptoms that you have.
If you have a suspicion that a client has dementia, it's important to understand how you can support them as a solicitor. If they are vulnerable, you need to ensure that you can recognise whether or not the person who has been appointed their legal guardian or who is applying for a lasting power of attorney is someone who has your client's interests at heart, and not their own.
Solicitors can find a mine of information on the AS website (www.alzheimers.org.uk). In particular, the booklet 'Accessing and sharing information: Acting on behalf of a person with dementia' gives practical advice on handling someone's personal information to help them manage their affairs, or when managing their affairs for them (www.alzheimers.org.uk/sharinginformation).
It's not just solicitors who have their part to play – you must be a dementia-friendly law practice. A visitor with dementia who comes to your firm may be behaving bizarrely. The first person they meet could be a receptionist or secretary. If they don't know the signs of dementia, they may just see that visitor as being inexplicably difficult or rude, and will not offer the help and understanding the visitor needs. One of the challenges of an aging population is that people are now working till age 70 and beyond; firms will need to understand the legal implications of this, and how to deal with colleagues who start showing signs of dementia.
With a much more positive attitude towards dementia, we will have a stronger society that is able to support those who have it. We will see more people with dementia, but if you are prepared to keep your brain cells stimulated – engage in social activities, take up a new hobby – you will be more likely to die of old age rather than mental and physical afflictions. Staying social and active could have a remarkable influence on your later years.
Angela Rippon OBE is a journalist, broadcaster and presenter, and an Alzheimer's Society ambassador. Duncan Wood is an editor-in-chief of PS

Duncan Wood is an editor at the Law Society.