Lucy Trevelyan examines the personality traits and 'soft skills' best suited to being a property law professional, how to develop these skills, and what clients are looking for from their property solicitor
Property law, according to recent Law Society research (tinyurl.com/hgapnww), accounts for 40 per cent of the work of solicitors registering practice areas: conveyancing solicitors alone make up 14 per cent of the profession (and that's not counting the 1,000+ licensed conveyancers). But the area of property law is also considered by insurers as 'a perceived high risk area', as the Law Society's professional indemnity insurance practice note puts it (tinyurl.com/mwaa7ps), and is the most complained about area of law to the Legal Ombudsman (tinyurl.com/jj48gvq) – so why are so many solicitors drawn to it?
'You have to be slightly mad, but with a smile'

Julie Meeks
Neil Robinson, Redrow Homes Limited's legal director and Property Section committee member, says: 'It's real and not in any way abstract. In development, you simply have to make it work, and there is something satisfying in turning a brownfield site into a new housing development and being part of a team which has created something. Solving the commercial issues is also very rewarding.'
Roger Buston, consultant solicitor at Birkett Long, and Property Section committee member, suggests that many practitioners have ended up working in this sector through an accident of occasion and opportunity rather than design. 'I started my legal life wanting to practise company law and crime – the subjects I was good at at law college. But when I opened the doors of my own practice in 1980, most of my clients wanted me to buy and sell their houses, so I was affected by circumstance.
'In the provinces, particularly, most practices have a presence in this area. It is seen as mainstream work rather than specialist, and therefore perhaps less risky as a career. But not everyone is suited to being a conveyancing solicitor. Individuals' strengths and weaknesses are most likely to direct them into the field that most suits them.'
What skills are required?
James Vernor-Miles, partner at Hunters (incorporating May, May & Merrimans), says that because property lawyers work in a transactional environment, they need to know their role among all the moving parts and the transaction parties.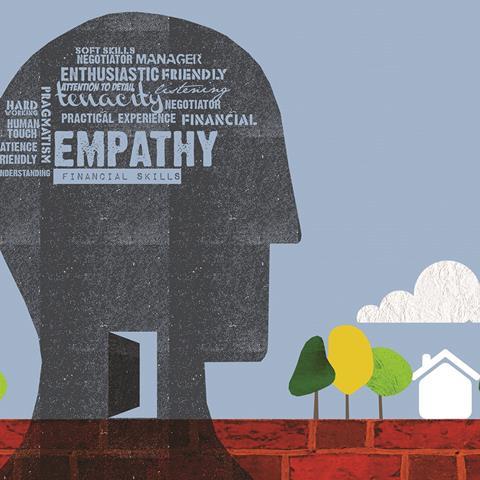 'An important soft skill is empathy – buying a home should be exciting and fun. You should not treat every transaction the same way. Property transactions tend to involve high figures and high emotions, so be efficient and manage your workload; if you're too busy, or if new work is too complex, either don't take it on or ask for help. Always be courteous, especially when figures and emotions are running high; never assume you (or your clients) are the top of the food chain in any transaction matrix. Try not to make enemies: if you're successful, you'll come across the lawyer on the "other side" again – down the line, your clients will be grateful you're dealing with, if not a friend, at least not an enemy. Keep up to date on what the market is doing and be aware of the "spin" that might be applied by agents, banks, surveyors, newspapers etc.'
Getting on with people, empathy, negotiating skills and attention to detail are the key 'soft skills' required by property lawyers, says Neil Robinson. 'They need to be hard working, able to prioritise, organised, target-orientated, methodical, good time managers and communicators, self-motivated, commercially minded, flexible and a team player.'
Luke Hutchings, partner at Taylor Rose TTKW, says property lawyers 'need attention to detail, time management, the ability to work under pressure, exceptional organisation skills, pragmatism, and the strength to manage and develop relations. The important "soft skills" include patience, excellent listening skills, friendliness and the ability to understand and build up a good rapport with people.'
Hays Legal senior recruitment consultant Hattie Chapman says the mix of hard and soft skills is important, 'such as a clear, concise written manner and the ability to assert confidence in high pressure situations. Legal professionals must have excellent people skills to build a strong rapport with clients'.
Acuity Legal Limited partner Jonathan Geen says key skills are tenacity, financial skills and negotiation skills. 'You need tenacity because the job is demanding and you have to develop a thick skin and keep plugging away, despite the ups and downs. It is important to have a basic grasp of finance, given that a lot of the negotiation involved in property deals centres around profits and income that can be gained from a property project. Negotiation skills are important, as a lot of our job involves contract negotiations rather than black-letter law. This means a detailed knowledge of the law won't necessarily help you in day-to-day handling of files.'
As in most professions, soft skills are vital, he says. 'Our job is people-oriented and a lot of it involves managing clients, lawyers and those on the other side of the transaction, as well as professionals such as architects and project managers. Unless you're dealing with a highly technical area in a specialist firm, lawyers need to be able to understand the human side and have empathy with the people they deal with.'
Geen highlights the importance of reslience. 'Like many jobs, experience sometimes comes from making mistakes over the years and trying to learn from it without losing your enthusiasm.'
EnergiseLegal director Rachel Brushfield highlights the importance of soft skills, particularly 'empathy, kindness, thoughtfulness and care'. She recommends building those skills by putting yourself in your clients' shoes and seeing a transaction through their eyes, and in the context of an emotional, stressful, important life or business event / milestone.
She adds: 'Ways to learn soft skills include being on the receiving end of someone with poor emotional intelligence and doing the opposite; modelling people with excellent soft skills and asking for feedback about your communication style; and setting professional development goals and monitoring progress against them.'
Alastair Creamer, co-founder and CEO of career coaching team Eyes Wide Opened, says: 'We know from countless conversations with employers that soft skills are the new hard skills. The hidden key to being effective in any role is to understand yourself, and your impact on others, better than you already think you do. We often wonder why people behave in ways that don't suit us and we blame the working environment and culture for not enabling us to progress in our careers. But we have choices and we can change our own approach by becoming a lot more self-aware.'
Is there a difference between the skills needed in the commercial and residential sectors?
Neil Robinson says there are some additional skills commercial lawyers need: resilience, problem-solving, creativity, and a 'can do' attitude, to add value to the transaction / deal.
Hutchings says the skillsets are the same for commercial and residential property law professionals, but they need to adapt their approach to different clientele. 'Commercial clients are business-focused: timescales are vital. A residential client often needs hand-holding: their experience is often emotional and personal.'
Chapman says residential property lawyers must be adept at managing high-volume caseloads and prioritising competing demands while maintaining a high degree of customer service: 'The ability to put people at ease is crucial to conveyancing, as you're working with individuals who are selling or buying prized assets. For commercial lawyers, the key challenge is to be able to act quickly while working accurately and offering clear commercial advice.'
What type of personality is suited to the sector?
People who remain calm in high pressure situations are suited to property law, says Chapman. 'Commercial property lawyers must be composed at every stage of a case, particularly as high-value commercial assets are often involved. Conveyancers need to be excellent multi-taskers, due to their large caseloads. Those with a natural ability to put others at ease also do well. You need to explain complicated legal jargon in a way your clients will understand, often in a stressful situation for the client, and be readily available to answer questions.'
Someone who is patient, amiable and friendly, with a good eye for detail, will do well, says Brady Solicitors' business development director Colin Hussey. 'They need to be reasonable, see the big picture and understand when to negotiate and when to concede "points" to get a job finished on time and within budget. They also need to be hard-working – property tends to require a lot of reading, drafting and reporting. A good property lawyer will be organised and willing to put in the hours necessary to keep matters moving.'
Buston says the role suits those who are organised, detailed and responsible, but not those attracted to contentious work. 'If you're an organised, gregarious, but essentially non-contentious person, such a role is more likely to suit you than being a "court hound". It is certainly not the role to attract those who wish to be high earners.'
Neil Robinson agrees that a driven, calm and organised person is best suited to a property law career. 'They also need to be self-motivated, with a high level of technical skills and commercial awareness, and able to get on with clients and colleagues and give attention to detail.'
Or as Julie Meeks, head of residential conveyancing at QualitySolicitors Acklam Bond, succinctly puts it: 'You have to be slightly mad, but with a smile.'
What are clients looking for?
Clients dislike long explanations which fail to get to the point, which contain too much law, or which fail to provide a solution, says Neil Robinson: 'Arrogance is also an unattractive trait. Clients like personable, communicative, problem-solving, empathetic lawyers, who deliver on time.'
Hunters (incorporating May, May & Merrimans) partner Peter Robinson says the most frequently encountered complaints are poor communication and (perceived) delay. 'It doesn't really matter whether you did / didn't delay something; what matters is whether the client thinks you delayed something, because you failed to communicate the reason for the lull.' If lawyers correctly manage a client's expectation at the outset and adjust that expectation whenever necessary, there should be no complaint, he says. 'If, at the start, you tell the client that a matter is likely to take 10 hours, and then in the first hour, you discover a horrendous lease defect, you must adjust expectations immediately. Give clients bad news as early as you know it. They can take the news and, eventually, should thank you for spotting it earlier, rather than later.'
Hussey agrees that slowness is often the biggest cause of clients' complaints, but that 'the feeling of uncertainty when it comes to costs' is also a big issue. 'It's important to be completely transparent when it comes to fees, so clients don't get unexpected surprises. Property lawyers need to be confident enough to keep clients informed of costs as they arise.'
He adds that property clients like their lawyer to be proactive, approachable and a good communicator who solves problems, keeps them informed and pushes matters to a conclusion.
Fiona Westwood, former solicitor and founder of Westwood Associates, says that although both commercial and residential property clients can be 'stressed', their needs differ slightly. 'Residential clients need us to deliver what they want without using jargon, whereas commercial clients have more experience of the processes. Commercial clients look for commercial awareness, which entails appreciating the needs of their business – there is no point in spending over six months trying to perfect a lease for them in a shopping centre, when the client wants it in time to get the most of the pre-Christmas trade.'
Most clients want someone who is 'positive', 'proactive' and 'on their case 24/7' – and who then miraculously manages not to charge them for the privilege, says Buston.
'Most clients just want the job done. They are not particularly interested in how it is done; nonetheless, they want that warm feeling that their conveyancer always has all the facts at their fingertips, does not delay matters, understands what the client wants, and will deliver on time and to budget. The successful conveyancer needs to exhibit that impression to their client at all times.'
Are you looking to build a career in property law, or move into it from another practice area? Or do you know someone in that position? Our contributors offer their top tips.
Want to move into property law?
1. Get some practical experience
Practical on-the-job learning is one of the best ways to develop the skills required to work in property law, argues Chapman. 'If you are currently in another legal role, expand your expertise by working on cases that will give you exposure to processes outside of your current remit, such as raising enquiries and reporting on title. Spend time with the fee-earners in the property department who deal with these processes on a daily basis. Property law is very process-driven, so you'll need to develop your working manner to accommodate new procedures; ensure you stick rigidly to deadlines and are transparent with your time.'
Westwood agrees that shadowing is the best approach. 'Work under the tutelage of more experienced property lawyers, and ideally start by completing low-risk, more routine residential work to gain proficiency in the basics and build personal confidence, before tackling the higher risk and more complex commercial work.'
2. Highlight your experience in your application
Make sure your CV highlights your relevant experience and gives details of your involvement in wider projects, Chapman says. 'Highlight if you run your own caseload, by giving examples of cases you have worked on or led, and talk about how you ensure you meet deadlines. At interview, explain your desire to move into property law. Talk about your experience within the property sector, professional and personal, to show your interest, but avoid simply talking about your own experience of buying or selling a property. Be detailed in your answer, giving reasons why you want to move sectors.'
Throughout the application process, she says, would-be property lawyers should ensure they use specific examples to show they meet the criteria required for the role. 'Illustrate how you manage your caseload to provide excellent customer service to all your clients, referencing any practical on-the-job learning you have completed.'
If you're newly-qualified without experience, focus on how your natural skills suit you for a role in the sector, suggests Hussey. Enthusiasm about the role and sector is important, plus a willingness to learn. 'Friendliness, efficiency and the ability to build relationships with clients is key. Someone who has the drive and determination to get deals over the line will appeal to recruiting property teams. Technical ability, attention to detail and organisational skills must be present.'
3. Be enthusiastic
Peter Robinson says his property department looks for those who enjoy property law and want to practise it.
'Choose property. Don't expect to be welcomed into a property department if it's your second choice to practise in. Most firms have a property department, but if they were all "good", professional indemnity cover for property work would not be so expensive. You have to want to do it to be good at it.'