At the conference keynote session, Paul Lewis, financial journalist and broadcaster, in conversation with John Hyde, deputy news editor of the Law Society Gazette, spoke about pricing and clarity in legal services
'There are times in life when you need a solicitor, and I am a big fan.' The keynote session began with Paul Lewis discussing two legal issues which he is currently dealing with, and for which he has engaged the services of law firms: an employment dispute with the BBC involving a number of its presenters; and an infringement of his trade mark. For the first case, the presenters chose a 'name' firm, 'but it comes with a fee', he added. For his intellectual property case, Lewis found a more modest firm online, which offered a fixed fee.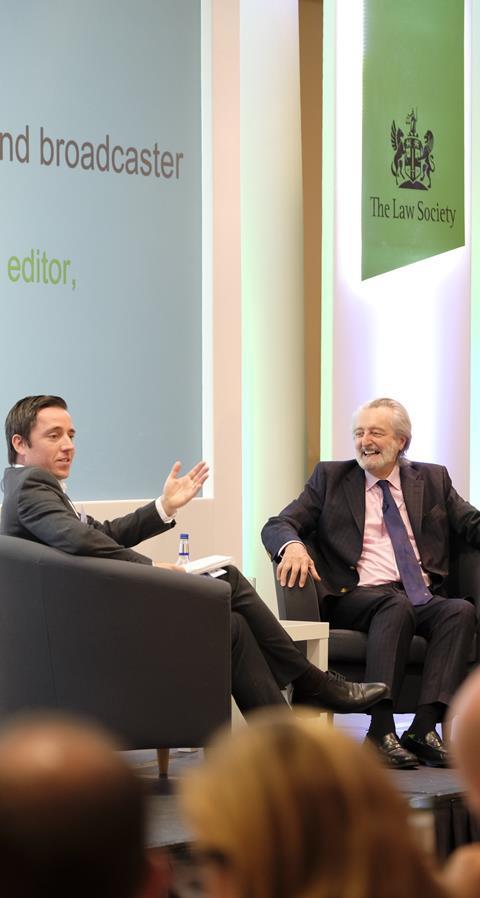 'Fixed fees are the way of the future,' remarked Lewis. 'Obviously, if you go for the cheapest quote, you may not get quite the level of service you are after, but they are a good way to start, and avoid that awful moment when you tell the client how much everything will cost.'
But could all that be set to change? The Solicitors Regulation Authority (SRA) has announced that, from December, some law firms will have to publish their prices online. John Hyde made the point that pricing transparency can sometimes be a misnomer – if you try to book a hotel for £50 online, for example, the price offer quickly goes beyond that once you dig a little deeper into the offer. What information should firms be putting on their websites to be both SRA-compliant and helpful to consumers?
An indicative price is always useful, said Lewis. But he expressed a dislike of percentage-based fees: the public doesn't understand them, and while a one per cent fee may seem very low, in the context of handling an estate worth £500,000, for example, this translates into a significant legal fee.
The law is quite befuddling! Solicitors need to be careful about using correct but confusing words

Paul Lewis
Staying on the theme of estate administration, Hyde pondered why still so few people are making wills. The perceived cost of making one, and our general reluctance to talk about death, are both significant barriers, Lewis remarked. Lawyers could be better at spreading the message that the value of a will goes beyond simply the financial costs of making one, and that it could save a huge amount of money and anguish for potential heirs. Greater price transparency could help here, Hyde suggested: if there is more clarity on how much a firm will charge for making a will, people may feel less daunted about how much it might cost them. But is it just cost that might put people off?
'The law is quite befuddling! Solicitors need to be careful about using correct but confusing words, and try to explain things simply, especially if they are trying to attract new customers,' Lewis said. 'Everything can be explained simply, in my opinion, even the deepest complexities of the law.'
The conversation then turned to inheritance tax (IHT). Lewis welcomes the Office of Tax Simplification's (OTS) review of IHT, announced earlier this year – although, Lewis pointed out, as it is the one tax on wealth we have, weakening it would be a bad idea. In terms of changes the government could make, he would like to see the end of the 'hopelessly convoluted' residence nil-rate band. He would also get rid of trusts, 'the biggest tax avoidance driver in the country. That would bring in a lot of money and help the rest of us pay a fairer amount of IHT'.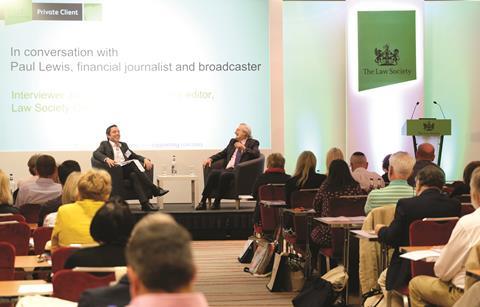 In the closing minutes, Lewis took questions from the audience.
A delegate brought up the failure of Universal Wealth Management LLP, an Ipswich-based company which promised to help clients avoid paying both the taxman and potential care home fees. Universal Wealth ran workshops and seminars urging its clients to place their cash and other assets in trusts. Some of these assets seem to have disappeared, and the owners have now been arrested. The case highlights the dangers of the unregulated sector getting involved with inheritance planning. So, is it time to pressure the government into taking action?
'Regulation would be a great thing, but I don't see it happening,' said Lewis. 'We need to be getting the message across to older people that their assets should be used for themselves alone, and that they should be paying the tax they owe. These sorts of schemes will probably all fail anyway. That is quite a hard message to get across when you are up against some slick operators.'
Another delegate questioned whether there is a political impasse over social care funding, given the government's climbdown on capping costs at the last election. 'There is no other way but to raise taxes to meet the spending gap,' Lewis responded. 'Capping fees doesn't work and benefits the better-off the most. As it is, the cap is deceitful, as it caps the care cost, but not the "hotel" cost, so in fact, you end up paying roughly double the cap. I hope the government does something, but I suspect it won't be enough.'