Conveyancing firm AVRillo has received a host of industry awards and effusive praise on consumer review websites. Co-founder and partner Angelo Piccirillo explains the secrets of its success to Duncan Wood
Angelo Piccirillo qualified as a solicitor in 1990, with his brother Tony following three years later. Angelo worked in litigation for 15 years, specialising in commercial, construction and property work, while Tony focused on conveyancing. 'My background has always been very commercially-oriented,' Piccirillo says. 'Having qualified as an arbitrator and done so much property litigation, I can assess the risks well.'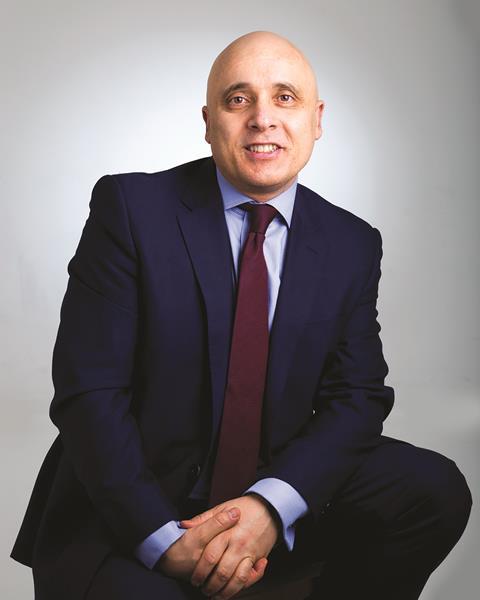 The brothers set up AVRillo (AVR) in 1998, just after the death of their father, Vincenzo (his is the 'V' in AVR, the 'A' comes from their names, Angelo and Antonio). In the early years, the firm specialised in conveyancing and litigation (they decided to focus solely on conveyancing in 2008). From the start, the brothers were clear that they wanted to do things differently. They identified a number of failures in the conveyancing industry they wanted to improve upon: stressed and disengaged conveyancers; accelerating client expectations and the slow response from the profession; rising complaints and negligence claims; and the worryingly high number of transactions that fail to make it through to completion.
Coming from an Italian immigrant family, the Piccirillos knew they wanted to run the firm based on the same family values they grew up with, and that caring for their staff would enable them in turn to better care for their clients. 'Our principle is not to do extraordinary things, but to do normal things in an extraordinary way, both internally for each other and for our staff,' Angelo Piccirillo says.
People over profits
While their culture was always family-inspired, it was back in 2011 that Angelo and Tony decided to fully invest in people over profits. While AVR had survived the financial downturn, the brothers realised that, with the growth of the 'factory' conveyancers and new threats posed by alternative business structures, AVR was not future-proof. 'We didn't want to be just paper-pushers; we wanted to make a difference to consumers and make changes to our culture that meant we would still be here in 20 years' time,' explains Piccirillo.
When we were changing our culture, we realised that the customer experience was absolutely as important as the lawyer's expertise. So, we look for people who want to expand beyond the skills they arrive with

Angelo Piccirillo
To do this, they looked at non-legal business models such as Apple, John Lewis and Virgin Atlantic to find out why their staff were so loyal, committed and engaged. They created an 'avatar' of what the perfect lawyer for AVR would look like: 'Ultimately, we want the kind of person who, at the end of their probation period, would choose to stay on with us rather than take £5,000 to leave.'
This focus on staff and service has paid dividends; turnover has increased year on year, resulting in the business growing from the two brothers trading by themselves, to over 45 staff members today. Since 2015, they have won 40 industry awards, with the Sunday Times naming them the Best UK Conveyancing Solicitors three years in a row. 'We want to be known as the legal equivalent of staff- and customer-focused companies like Apple and John Lewis. We want to be the number one conveyancing solicitor of choice for consumers and staff alike,' Piccirillo declares. 'None of what we have achieved would have been possible without our people's engagement and passion for their roles, in doing more than is expected of them.'
Piccirillo explains that he hires based on values and characteristics, rather than legal experience. 'When we were changing our culture, we realised that the customer experience was absolutely as important as the lawyer's expertise. So, we look for people who want to expand beyond the skills they arrive with; can understand concepts and relay them to clients in an easily understandable way; and aim to exceed customer expectations and to be the best of themselves,' he says. 'Treat clients as they would want to be treated and go beyond the extra mile. Our model wouldn't work without that philosophy.'
AVR are proactive in teaching employees the other skills that they may not have or need to improve. External trainers have delivered courses on everything from making decisions under stress, to voice projection and tonality to better aid communication. As accredited neuro-linguistic programming master practitioners, Angelo and Tony have helped to coach staff on soft skills such as listening, empathy and building rapport, and also offer more thought-provoking training courses, including on themes such as the secret of happiness and the meaning of life. 'Mindfulness and similar concepts are common currency these days, but less well-known or recognised seven or eight years ago,' remarks Piccirillo. 'I think we were definitely ahead of the curve there.
'We focus on helping our people develop their full potential, including the skill to manage and lead themselves, as a person, and go on to lead others within the firm.'
Personal growth is key to the success of the business. The career structure at AVR is unlimited, as people can switch departments and roles. While the brothers are the only partners in AVR at present, they have set up a 'future leaders group' (FLG), in which people from across the business volunteer their time to help manage the firm, and in return receive one-to-one coaching from the brothers. 'The idea is to create home-grown leaders and promote them to partner when we think they are ready,' explains Piccirillo.
Open financial management is also encouraged. 'Everyone knows where we are, where we want to be, our competition, targets, and how they will be rewarded when achieved. This helps everyone feel more bought-in to the company, and reduces any sense of an owner-employee divide,' Piccirillo claims.
We focus on helping our people develop their full potential, including the skill to manage and lead themselves, as a person, and go on to lead others within the firm

Angelo Piccirillo
AVR is also one of the few UK law firms to adopt the net promotor score (NPS), the international customer care benchmark used by the likes of McDonalds, Costa Coffee and First Direct. 'It's been an accurate way to measure our growth in business. It seems the higher our NPS, the more repeat business and referral work is coming to us. We reward staff by having benchmarks for their own service and for the firm as a whole based on NPS, as that encourages them to treat AVR as their own business,' explains Piccirillo.
Last year, AVR received a +65 score, just behind Google and above Waitrose; it's one of the highest NPS scores in the UK (a business with an average customer service of a neutral 0 is average). 'It's taken years to do, but it works – whatever you put in, you get back in referrals.'
Transparency and honesty are embedded throughout the firm, and everyone is encouraged to speak up. Angelo and Tony regularly walk the floor, inviting comments from staff and looking for signs of problems or disengagement. AVR even uses an independent company which asks a question a week to each member of staff (eg 'How appreciated were you this month?'), and replies can be anonymous if need be. The company collates responses and provides feedback at monthly meetings.
Keeping the customer satisfied
The online customer reviews for AVR are glowing: its Google review rating is 4.8 out of 5 (based on over 300 reviews), it has five-star rankings on Trustpilot and Feefo, and a 9.8 out of 10 rating on Checkaprofessional.com. Clients have praised especially AVR's speed of response to queries and regular updates on their cases. 'It comes back to family values,' Piccirillo remarks. 'Do the right thing. That means that if you say you're going to do something, just do it; and make sure that whatever you do is the best that you can do.'
Communication is king – something that the legal profession is still slow to recognise, Piccirillo says. 'Compared to other service industries, the communication side is just not what it should be.' As a qualified arbitrator in construction law, Piccirillo was involved in many disputes earlier on in his career which he sensed could have been easily resolved by both sides picking up the phone and talking to each other. This mindset became one of the founding tenets of the business.
In our experience, giving away as much as you can that you don't charge for is an effective marketing tool

Angelo Piccirillo
'Lawyers don't really speak to their clients very much; too much is done through letters. We wanted to get the communications right from the beginning,' he says.
'After a certain point, you need to pick up the phone and find out what's happening on the other side. Do the same for your client – make sure they understand what's going on with their case. People generally need the services of lawyers during stressful times; buying or selling a house is no exception. People want reassurance and to have their hand held during emotional times.'
For a start, this means cutting out the legal jargon ('lawyers think talking technically will impress the client – it won't'); even support staff are trained on legal terms, so they can answer any questions from confused clients. People can ask questions via AVR's website, request a 10-minute phone consultation with a solicitor, or watch one of the many online FAQ videos AVR has produced, in which Piccirillo explains key conveyancing terms in under 90 seconds. 'Ultimately, it's all aimed at making the buying and selling process as personable and unintimidating as possible, and keeping the flow of the transaction going.'
Piccirillo is keen to grow the business organically through the delivery of free content. 'We want to become the focal point for any conveyancing question people ask online. We market through giving value. In our experience, giving away as much as you can that you don't charge for is an effective marketing tool.'
AVR has multiple channels by which clients can stay in touch: a mobile-friendly interactive website with interactive communication facilities such as 24/7 'live chat'; a dashboard where clients can track the progress of their transaction, view or upload documents and reports, and even complete forms; and an app for iOS and Android for communicating with clients out of work hours and at weekends. The data is automatically transported into the firm's case management system (CMS) within minutes, again speeding up the process, and allowing contracts to be issued within a day (the national average is a week or more).
It's time to think less like a lawyer and more like a service provider. The two are not mutually exclusive

Angelo Piccirillo
'Legal consumers want things fast these days,' says Piccirillo, 'and to survive, lawyers need to deliver that, and with a personal touch. This is why customer service is so crucial to the success of the business, and why we spent so much time looking at Apple and the like and bringing what we learned from them into AVR.'
AVR uses Eclipse Legal's Proclaim CMS, and has brought in expertise to code it themselves. In-house developers make daily bespoke coding updates to the system, which has allowed the firm to streamline processes. 'We have coded all the individual pain points that we would feel as clients, like feeling uninformed, or not being able to get through to your lawyer all the time.' In practice, this means that all clients receive uniform updates at every step of the transaction.
From the very start, the client is fed relevant information on their case, forming a trusting and collaborative relationship with the firm that can help speed up the transaction. AVR will send a text or an email each time a core task has been completed (eg if the client pays online for a local authority search, they receive an email receipt with a time estimate). AVR also lets the other side and estate agent know, so that everyone in the chain is completely in the picture. 'We're willing to go up the chain if need be to see if we can fix things,' Piccirillo says.
Two or three satisfaction surveys will be sent out throughout the transaction. Someone from AVR also calls the client at various points in the process to make sure nothing has been misunderstood.
The future
With a heaving mantelpiece of awards and fulsome praise from clients, what stops complacency creeping in? There is very much a firm-wide mentality of consistently doing things better, Piccirillo answers. 'Tony and I still look for improvements to our conveyancing system every day. Our teams have a mindset of doing more, doing it better, naturally picking each other up to be the best version of themselves.'
Piccirillo has lots more that he wants to achieve, too. 'I would like to teach more and speak at more events. We're part of the Conveyancing Association, for example, which regularly engages with the government over changes to the property industry.'
He also believes the profession needs to change its mindset, to respond to the changing demands of the consumer, if it is to secure its long-term future. 'It's time to think less like a lawyer and more like a service provider. The two are not mutually exclusive. As lawyers, we need to come together more, share ideas and be less combative. Focus on making the difference for your client, not on beating the competition.'
https://avrillo.co.uk