Over 50 per cent of people aged 65 or over have been targeted by scammers in the UK, according to National Trading Standards. Louise Baxter explains how its Friends Against Scams initiative is fighting back, and how solicitors can get involved
The statistics are startling: 3.2 million adults – one in every 15 people – fall victim to scams each year in the UK. Some eight per cent of the adult population – 3.9 million people – would admit to having been a victim of a scam at some time. A mass-marketed scam is a misleading or deceptive business practice where the person receives an unsolicited or uninvited contract (eg by letter, email, phone or advertisement) and false promises are made to con the victim out of money. Scams make victims part with their money and personal details by intimidating them or promising cash, prizes, services and / or fictitious high returns on investment.
Who is targeted?
Many victims are elderly, socially isolated and vulnerable to repeat victimisation by criminals through the abuse of the postal system and other communication channels. National Trading Standards (NTS) evidence suggests the average age of a scams victim is 74. Academic evidence confirms that older people are more susceptible, due to lower levels of cognitive function – something that is further exacerbated by the onset of dementia. Vulnerable people defrauded in their homes lose confidence and become susceptible to repeat crime – in fact, around a third of victims fall prey to another scam within 12 months. Victims' details are added to so-called 'suckers lists' which are sold to other criminals.
Often, the reality of their situation only comes to the attention of the authorities when they die, or exhaust their life savings, or when their relatives become aware of the problem.
The main difficulty is that having responded, victims are reluctant to seek help from their peers. Research carried out in May 2009, by the University of Exeter School of Psychology for the Office of Fair Trading, found some victims kept their decision to respond to a scam private, and avoided speaking about it with family members and friends – only five per cent of victims report the crime.
How a scam works
Scams come in many forms; uninvited contact is received by email, letter, telephone or in person making false promises to con victims out of money. There are many scams, but the most common are fake lotteries, deceptive prize draws or sweepstakes, clairvoyants, computer scams, and romance scams. Scammers will often have flashy documents or websites, with the aim of persuading people to send a processing or administration fee, pay postal or insurance costs or make a premium rate phone call. Criminals will often ask for relatively small amounts to draw the recipient in, thereby causing them to feel committed to sending money on a regular basis. Of course, a payment of £25 here and there seems inconsequential to 'winners', who have been told they have up to £10m waiting for them. More often than not, there is no prize at all.
Victims can be bombarded with often very convincing phone calls, assuring them that their 'prize' is coming, if they just make another payment. For many isolated older people, these calls can sadly fill a loneliness void and seem more plausible than they are.
Financial losses, however, do not fully reflect all of the costs that scam victims often bear. For some victims, the risks extend well beyond loss of personal savings or funds, to include physical risks, loss of a home, depression, and even contemplated, attempted or actual suicide.
How to spot a scam
Scams appeal to trust and authority, which often mean postal and email scams look official. Scams can change from week to week, but here are some tell-tale signs.
The recipient is addressed in first person to make it personal.
The communication is written to put the recipient under pressure to reply.
PO boxes are used instead of full postal addresses.
A request for money is made before the 'prize' can be released.
Fake testimonials or money-back guarantees make the offer seem genuine.
The recipient is asked to keep their 'winnings' secret.
Letters have a director's name, picture and signature.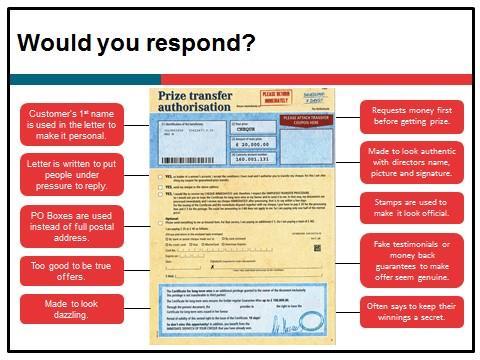 How can Friends Against Scams help?
The NTS scams team works across England and Wales with trading standards and partner agencies to investigate scams and identify and support those who fall victim to them. Friends Against Scams (FAS) is an NTS scams team initiative that aims to tackle this ever-growing threat. It aims to protect and prevent people from becoming victims of scams, by empowering communities.
Our approach can be defined in three words: people, proactive, and partnership. When we talk about scams, we talk a lot about statistics, and about 'vulnerable people' as a homogenous group. We should always remember that we are talking about someone's mother, brother, aunt or daughter, and that these people are often in a situation that makes them vulnerable, rather than being vulnerable in themselves. We want to empower people to make safe and wise decisions.
To do this, we need to be proactive. We react to scams and people who have been scammed after the event. But why do we wait for people to go to the bank to draw out £5,000 for a fake foreign lottery or send thousands of pounds to postal prize draws they are never going to win? By acting sooner, could we have prevented the situation from arising? We need to educate people on how to spot and avoid a scam, and identify and support potential victims before they are targeted by these criminals.
We cannot act in isolation. If we want to make a real difference and help those at risk of being targeted, we need to work in partnership. We need to drive scam awareness back to communities, take away the loneliness, shame and stigma from victims, and talk openly about scams.
How a solicitor can help
We urge solicitors to get involved and become an FAS. You can attend a short awareness session either in person or online. We run one-hour face-to-face awareness sessions all around the country (find your nearest session at tinyurl.com/ya8vgxjb); an online session takes roughly half that time to complete. We then ask you to pledge to put your knowledge into action: for example, telling five friends or colleagues about what you have learned, or sharing your FAS status on social media.
By becoming an FAS, you will learn how to spot the signs that may indicate someone has been scammed. If you believe one of your clients is being targeted by these sort of letters, contact your local trading standards via Citizens Advice on 03454 040506. We also produce a newsletter which provides up-to-date information on the latest scams – you can sign up for this on our website once you have done the training.
What happens when a scam is uncovered?
Once a call has been made to Citizens Advice about a potential scam, if the person affected is deemed vulnerable or, indeed, the victim of fraud, then depending on the local protocols, they are referred to the local Trading Standards office for an intervention.
A success story
Mrs S is a Trading Standards community champion (volunteer) who has become a great force of good within her community in scams awareness and prevention. Take the example of Mr B. Mr B was an elderly gentleman with short-term memory problems, who came to the attention of Mrs S following his loss of £3,000 at the hands of a bogus lottery scam. Upon meeting with Mr B, Mrs S discovered this scam was only the tip of the iceberg. While inspecting his finances, Mrs S uncovered a web of unnecessary insurance policies, including nine maintenance policies on his satellite dish, and warranty policies on most of his household items, many of which, due to age, would not be covered by a warranty anyway. This had resulted in Mr B's outgoings exceeding his pension and disability benefit. It became clear that his finances needed to be reorganised.
Mrs S explained the truth about these scams to Mr B, and helped him to understand how to recognise scam mail. She gave up huge amounts of her time in sorting through every piece of scam mail he had received, and helped to reorder Mr B's finances by cancelling unnecessary insurance policies and otherwise reducing the size of his losses.
Mrs S encouraged Mr B to use his experiences for good, signing him up to the Mail Marshal scheme. As a mail marshal, Mr B was given the responsibility of sending off the scam mail he received through his letterbox to the NTS Scams Team, and collecting the wealth of scam letters received by several members of his local church.
Mr B also began to publicise his experiences with fake lottery scams and begging letters, appearing on TV and local newspapers. Although Mr B will continue to receive scam mail due to his name being on numerous 'suckers' lists, knowing how to recognise and disregard scam mail, as well as having installed a call blocker on his phone, mean that scam mail and phone calls are no longer the problem they once were.
This could not have been achieved without the massive effort made by Mrs S to explain to him the extent of his problems, as well as help sort his financial predicament and raise his knowledge of scams.
A solicitor's perspective
Melinda Giles is a solicitor who represents victims of financial abuse, and is a Friend Against Scams
FAS provides a cohesive structure by which we may start to tackle these schemes that prey on our clients. Most probate solicitors will have acted as executor and received redirected mail for their deceased client. Some years ago when handling the estate of a recently deceased client, I started a box in which I put all the begging letters she had received from charities, knowing that within them there would be some from dishonest schemes that my client had signed up to during her last few years. As I filtered through this box, I found some common themes running through the literature – the return postal address even. However, the most telling was the telephone number – the one to call to claim your 'prize'. No surprise when this number appeared multiple times in my late client's telephone bill – at huge expense per minute.
Back then, FAS did not exist; if it had, even if I had been unable to prove a fraud against my own client, at least the information would have formed a link in the investigations that are now carried out, and perhaps closed down such an obnoxious practice. I would urge you to become an FAS, so you are equipped with the knowledge of the different types of scams out there, know how to recognise if your client is potentially being scammed, and understand the support available. With the rise in dementia diagnoses, our clients are placed in an ever-more vulnerable position with these criminals.