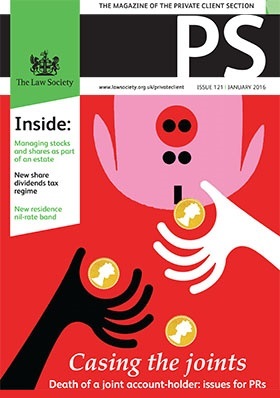 Back to Basics

Practitioners face a number of issues when dealing with an estate that contains portfolios of stocks and shares. It's important to have a good understanding of how you can help clients plan before death, and deal with shares as part of the administration of an estate after death. Christopher Ekisson ...

It's all well and good advertising a friendly and personable service, but law firms, and private client solicitors in particular, need to be visible and accessible to prospective clients at all times. Gary Rycroft explains

Julia Hardy and Fiona Lawrence explain the issues around joint bank accounts after one of the account-holders dies

Tax changes applying since April 2014 have created new opportunities and pitfalls for those buying and selling commercial property. Ray Chidell and Jake Iles explain

A new residence nil-rate band will be phased in from 6 April 2017 when a residence is passed on death to a direct descendant. Lesley King explains the implications.

Richard Heaney looks at the land registration aspects of transactions involving the use of a power of attorney, and what you can do to ensure these applications are processed as quickly as possible.

Sheree Green provides an overview of the current state of legal aid, and outlines what types of private client cases may be eligible for public funding.

In July 2015, Office of the Public Guardian introduced new deputy standards to support and supervise professional and public authority deputies. Jack Dunkley explains what prompted the guidelines, and reports on the feedback so far

The summer budget this year announced huge changes to how non-doms who are long-term-resident in the UK are taxed. Jo Summers explains the proposals for next year's Finance Act and what they mean for non-doms

From April 2016, the notional 10% tax credit on dividends will end, making way for a new £5,000 tax-free dividend allowance. Steven Holmes and Sharon Ryan explain the tax implications of the changes – and what you can do to mitigate the costs.

The simplification of lasting powers of attorney may encourage more people to make one, but the changes also remove certain safeguards, which could lead to abuse of the system. Fiona Heald explains