Vidisha Joshi made the headlines when she was named managing partner of Hodge Jones & Allen aged just 38, replacing founder Patrick Allen after 40 years. She explains to Duncan Wood how the firm is gearing up for the future
Last year, Vidisha Joshi became one of the youngest people in the country to run a law firm when she took over at the helm of Hodge Jones & Allen (HJA). It's a dizzying rise to the top for Joshi, who joined the firm just six years ago, tasked with implementing a new case management system (CMS) across all practice areas to ensure compliance with the looming Legal Aid, Sentencing and Punishment of Offenders Act 2012 (LASPO).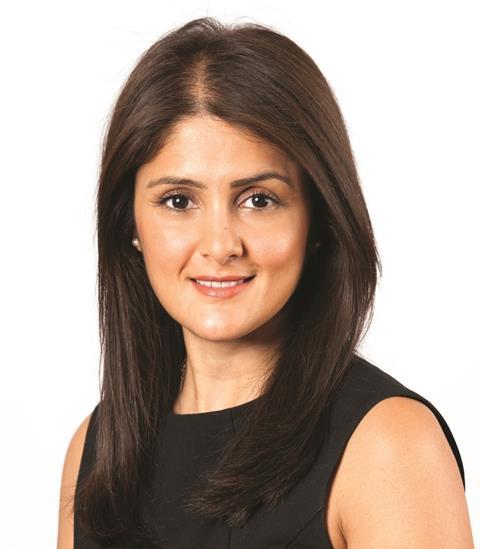 HJA's strong ethos of upholding access to justice and fighting injustice had resonated with Joshi since the start of her legal career; she applied unsuccessfully for a clinical negligence position with the firm in 2002. She completed her training at Mayfair firm Portner & Jaskel, and spent seven years at City firm Prolegal, where she led the personal injury (PI) team and developed their CMS. She was made redundant in 2011, at which point Joshi had a crisis of confidence and decided to have a complete career change and become a fitness instructor.
I picked up the manual and taught myself basic coding. I began to learn the value of tech

Vidisha Joshi
It was while she was on holiday post-redundancy that Joshi got the call from Patrick Allen, founding partner of HJA, that changed everything. Allen had heard of Joshi's successes with tech at Prolegal and invited her to implement a CMS at HJA. 'I have always had an interest in tech,' she remarks. 'My previous firms didn't have a magic circle budget, so if you wanted anything changed on the CMS, you had to wait for it to be done by someone else. So, I picked up the manual and taught myself basic coding. I began to learn the value of tech and what you can manipulate it to do. I have never been the typical lawyer who sits at their desk complaining about it.'
Joshi had to learn about the business very quickly. 'You can't adapt a CMS unless you understand how each department and each area of law works,' she says. The CMS software company told her it would take 18 months to roll out; Joshi managed it in six. She spent the next year working with all departments to embed the new working model, firming up her understanding of the business. 'Using the CMS was not just about storing documents and files, it was about driving efficiency in a business that was about to be heavily impacted by LASPO.'
Joshi was soon promoted to associate and began to take on her own PI caseload, although she soon found herself being pulled away from fee-earning and back towards business development. 'Some heads of department said they still needed my help with the CMS, because our lawyers couldn't really speak in the same language as the software developers. I was the go-between that could translate the requirements on both sides.'
As with most big IT projects, it doesn't end when you flick the switch. Joshi understood this, and worked with the team to ensure that there was a continuous programme of improvement.
Joshi was also instrumental in the delivery of HJA's continuous innovation programme, aimed at making significant improvements both in the service it provided to clients and to its commercial performance. It is to this that Joshi credits her swift promotion to partner in 2014, just a year after being made associate.
'It took me by surprise, but I was heavily invested in the business in terms of wanting to make it a success, and looking five, even 10 years ahead,' she says.
Route to the top
Joshi was made equity partner in 2015 and took over the running of the PI team. By this point, HJA was facing a number of challenges – LASPO was starting to bite, fixed costs had been introduced, and the Jackson reforms had bedded in. 'This is where I stepped in to look at how we could make savings and work more efficiently as a business,' she says. 'It wasn't the easiest of times, with multiple cashflow pressures to contend with, but I saw first-hand the impact of finance on the business, and I learned a lot from Patrick and tried to take some of the pressure off him at the same time.'
It was not long after that Allen first raised the idea with her of taking over the running of the business – just five years after she joined. She was unanimously voted in as managing partner by the equity partners in late 2016.
'I was not expecting it, and if there had been just one voice among the partners that raised concerns over my appointment, I would not have accepted it.' Why does she think she clinched the role after only a year as partner? 'A lot of it was down to timing, but I think that being able to work with Patrick, which I had done closely for some time, was probably key,' she says.
Everyone can come to me. They can pitch ideas formally, or we can go out for a coffee… If people have an idea and want to run with it, you have to give them the opportunity and see what they can achieve

Vidisha Joshi
Joshi admits that she felt the pressure to succeed, especially as she didn't have a long or proven track record in leadership. 'Finding that confidence within myself was challenging at times. Like most managing partners, I hadn't been trained to manage a law firm. But I knew that, if nothing else, I had consistently demonstrated how everything I had done had been for the benefit of the firm. It will always come first. But I was very much under the microscope that first year.'
Once in place, Joshi began to realise the scale of the challenge she faced, but she says that she has been supported ably by senior management and her predecessor Allen, who remains her mentor and has stayed close to the business as a senior partner. 'Patrick has been an incredible support but lets me get on with it,' she says. 'He is the only other person who can understand what I do on a daily basis. He has given me so many opportunities. He has let me fail. But he always says: "Come back tomorrow, it's another day." When you get things wrong, you can be your worst critic.'
New blood
There must surely be the temptation for Joshi to make her own mark on the business as HJA's first new leader in 40 years, but Joshi says that she isn't planning on reinventing the wheel. 'We will continue to do what we do, only perhaps a bit bigger and better. I have no intention of changing the culture and dynamic of the firm. We have a great business here. We will continue to grow as we have done over the past 40 years. My goal is to better what we have already achieved and continue to drive efficiencies in the face of the growing pressures we face as an industry.'
While Joshi is not proposing any seismic changes, she says that her own style of leadership has allowed her to introduce a number of initiatives the like of which have not been seen in the firm before. One of these is a cash management strategy training programme for partners, which she delivers on a one-on-one basis.
'I quickly realised that a lot of lawyers, especially those working in the sectors HJA operates in, aren't really aware that law is a business; to them, a law firm is somewhere where they just go to do great legal work for their clients,' says Joshi. 'I had to change that dynamic here, because everyone had to start to understand the financial pressures on the business.' Joshi runs through HJA's financial performance over the past two years to explain how cash moves through the business and impacts on salaries, rent, VAT etc. Partners seem to be getting the message: HJA's total fee income for 2017 came in £1.25m ahead of budget, an increase of 17.6 per cent on the year before, and profits increased by 163 per cent.
You have to treat clients now like consumers. They will shop around for the best deal and have no qualms about taking their business elsewhere if they are dissatisfied with your service

Vidisha Joshi
One of HJA's founding principles is its belief in equality and opportunity for all staff, something that Joshi passionately upholds. Seventy per cent of HJA's partners are female, and just under 50 per cent of the workforce are from a non-white background. 'It speaks volumes about the firm that Patrick has always offered opportunities on merit. He was a bit bemused by all the fuss my appointment caused because my gender and ethnicity were never an issue for him.'
She is currently working on an internal 'speed dating' networking programme for 60 juniors. 'Our partners meet every quarter, but our juniors don't have that opportunity. It's about building relationships within the organisation and giving our juniors the confidence and opportunities to succeed.'
Joshi is eager to listen to new ideas from every corner of the business. 'Everyone can come straight to me. They can pitch ideas formally, or we can go out for a coffee. If the idea needs fleshing out, I can give them some pointers, or I may say from the outset that it's not for us. If people have an idea and want to run with it, you have to give them the opportunity to do that and see what they can achieve first.
'I have learned from Patrick Allen that when you give encouragement and belief at the outset, you get the best out of people.'
Stormy weather
How does Joshi see the sector changing, and what challenges does she see ahead?
As a PI lawyer, one of her major concerns is the government's plans to push through their proposed PI reforms by April 2019. Meanwhile, fixed costs show no signs of going anywhere.
She also sees a key challenge coming from clients: across all practice areas, they are becoming more impatient – and discerning – than ever. 'You have to treat clients now like consumers. They will shop around for the best deal and have no qualms about taking their business elsewhere if they are dissatisfied with your service.'
But if consumers want legal services delivered in a different way, that presents its own opportunities. 'We are fortunate in our market position because of our reputation. We do what we do exceptionally well, and because we are considered market leaders in many of our areas, I expect to be able to expand our market share.'