Buying or selling a property is, for many, one of the most stressful aspects of modern life. And it can be doubly complicated if you are acting for someone who lacks mental capacity. Sarah Playforth outlines the practical considerations for private client solicitors
Buying or selling a property is often said to be the most stressful aspect of modern life, worse than divorce, redundancy or bereavement. The process is even more daunting when buying a home for someone who lacks mental capacity. Besides contending with gazumping, expensive surveys and slippery estate agents, there is an additional layer of complication, largely based around making sure that someone has authority to enter into the transaction in the first place.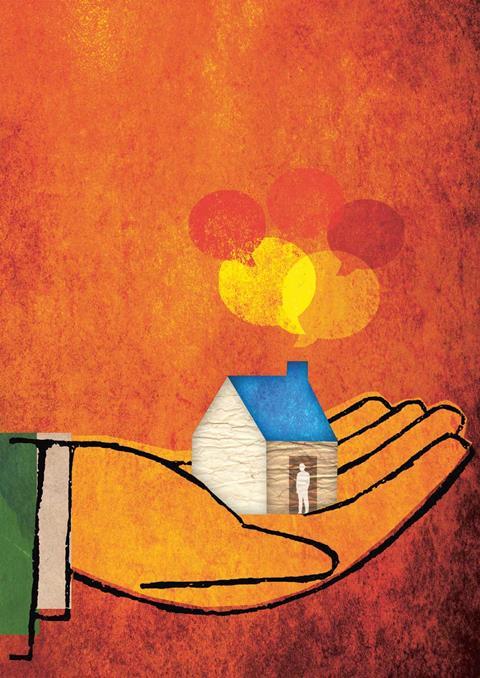 As a Court of Protection (CoP) lawyer, I act on behalf of clients who lack mental capacity who, just like the rest of us, are entitled to the benefits of home ownership. Many of my clients have suffered catastrophic injuries at birth, and have received a substantial clinical negligence settlement – a large portion of which is earmarked for buying and adapting a property. Other clients may be elderly, and lack capacity due to dementia or Alzheimer's. These clients may need to sell their large family home and downsize to something more suitable.
This article addresses the practical considerations to be aware of when involved in buying or selling a home for someone who lacks capacity, and identifies the potential pitfalls to be avoided.
Defining 'Lack of mental capacity'
While it is usual to talk about a person (P) 'lacking mental capacity', this expression is actually meaningless from a legal point of view. This is because the Mental Capacity Act 2005 states that capacity is task-specific. There are different tests of capacity for different activities (for example, capacity to make a will). The threshold is lower when the decision in question is straightforward, regardless of how 'important' the decision is. This means that a momentous decision, such as whether to get married, has a lower capacity threshold than many decisions about managing finances.
This is important, because P only 'lacks mental capacity' for the purposes of this article if they lack mental capacity to decide to buy a property. They may have a court-appointed deputy or an attorney under a lasting power of attorney (LPA), but if they are able to make this decision for themselves, then that is the end of the matter. This is the case even if P has been diagnosed with a mental impairment, and even if the decision is an unwise one. This is something the law is very clear about.
Obtaining legal authority
If P lacks the capacity to purchase a property, then someone needs to volunteer to do this for them. They will need to have the proper legal authority to exchange contracts and complete on P's behalf.
The first thing to look for is whether P has appointed a property and financial affairs attorney. If P has appointed an attorney using an enduring power of attorney (EPA) or property and financial affairs LPA that has been registered with the Office of the Public Guardian (OPG), then the attorney will usually be permitted to buy a property on their behalf. The attorney will need to check that P has not included any restrictions preventing their attorney from buying or selling property.
If there is no attorney, then someone, often a family member, will need to apply to the CoP to be appointed as P's deputy, to look after their property and financial affairs. Sometimes, it is appropriate for a professional deputy to assume this role, rather than a family member. This is relatively rare in practice, however, and typically will only be appropriate in situations where P's financial affairs are particularly complex, or where there is a disagreement between family members.
Even if P already has a deputy, it is very common for deputyship orders to include restrictions preventing the deputy from buying or selling property for P without specific CoP authority. This is because property purchases are very likely to be the most valuable transactions a deputy will be involved in, and so the court is often reluctant to give carte blanche. It is important to check the order carefully. If the deputy does need permission, then they will need to make a formal application.
The CoP application to appoint a deputy or for an existing deputy to be allowed to buy a property will need to include an up-to-date assessment of P's mental capacity. If P does not lack capacity, then the court has no jurisdiction over their affairs. The application will also need to include details of P's finances, and reasons why the purchase is in P's best interests. P's 'best interests' are at the heart of any application to the CoP, and the applicant will need to provide evidence in the form of a witness statement (see below).
The court process can take a very long time – typically, more than six months. This can obviously be problematic when buying property, and delay can cause the purchase to fall through. It is usually best to be upfront with the seller about this from the start.
In theory, it is possible to ask the court to 'fast-track' an application. This procedure is usually reserved for health and welfare applications involving genuine 'life-and-death' situations, so there is no guarantee that an application to buy a house will make it to the top of the pile. However, provided that there are no objections to the application, the judge is likely to make an order 'on the papers', without requiring anyone to attend a hearing.
The witness statement
A deputy should only purchase a property for P if it is in their best interests. This is not necessarily straightforward. There are various factors to bear in mind, and which should be included in the witness statement accompanying a court application.
Why does P, or P's family / carer, wish to move? Will the perceived benefits of a new property outweigh any detriment caused by P leaving familiar surroundings?
Does everyone agree that P should move? If there is disagreement about this, then the CoP will need to make a decision about what is in P's best interests. This will probably mean that the Official Solicitor will become involved to represent P's interests in the proceedings, and there may well need to be an attended hearing.
Is the proposed new property accessible to P and their carers? If not, then adaptations will need to be considered and costed (see below).
Is there independent evidence to support the move? It is a good idea to ask an occupational therapist to look at the property and report on its suitability for P.
Can P afford to buy the property? Will there be enough money left over for care, holidays, and so on? Also consider running costs, such as council tax, any service charges and utility bills. The application will need to set out full details of P's capital, income and expenditure.
Will anybody else – such as parents, children or a spouse – be living with P, and therefore indirectly benefit from the purchase? If so, will they be asked to contribute to the running costs?
Is the proposed purchase price reasonable? A full survey should be obtained and exhibited to the witness statement.
Is P purchasing the property solely, or with someone else? If it is a joint purchase, then it is important to decide what each person's share is, and set this out formally in a declaration of trust (see below).
An attorney under an LPA or EPA purchasing the property on P's behalf does not need to make a court application. However, they are still under the same legal duty as a deputy to act in P's best interests, and should consider all of the factors listed above.
While all of the pitfalls listed above may sound daunting, the process is undoubtedly worth it: the right home can make a huge difference to the quality of life of a person who lacks mental capacity
Adapting a property
Lack of mental capacity often coincides with physical disability – particularly where P has a brain injury, or is elderly. Therefore, it is likely that the new property will need to have adaptations made, such as widened doorways, ramps, wet rooms and ceiling tracks for hoists. This means that there are even more things to think about, including those below.
The conveyancing solicitor handling the purchase needs to check very carefully to make sure there are no restrictions on the title at Land Registry that could affect the proposed works.
Works may require planning permission, and it may be necessary to make the purchase conditional on obtaining permission.
If the property is leasehold, the freeholder's consent may be needed before embarking on any work. It might be sensible to speak with the other leaseholders in the building, to let them know why the work is necessary and get them on side. Again, it may be necessary to make the purchase conditional on obtaining the freeholder's consent.
Instructing a good architect with experience of working with clients with disabilities is absolutely crucial. The right architect will be able to project manage from start to finish, and generally help things to run smoothly. There are many potential pitfalls when managing even a fairly modest construction project, from health and safety violations to disturbing bats (a criminal offence). In order to fulfil their duty to P, the deputy or attorney will need to delegate appropriately.
These kind of works can take a very long time to complete – often around a year. P will need somewhere suitable to live while this is going on, which may mean renting a property. It is not easy to find a private rental property suitable for a disabled person. Work may be needed to adapt the building appropriately, and negotiations with the landlord may be required. P (via their deputy or attorney) will need to offer to put the property back to how it was pre-adaptation, at additional cost, and may have to offer a 'sweetener' to the landlord, such as six months' rent in advance.
Practicalities of purchase
The deputy or attorney must make sure that sufficient cash is available from P's estate to exchange and complete. If the money is in an ordinary bank account, they must register their authority in good time to access these funds. The money may not be immediately accessible; personal injury payments, for example, are often held in the Court Funds Office, which typically requires 10 working days' notice to access money. It is important to plan ahead to make sure the purchase doesn't fall through at the last minute due to lack of liquid funds.
The wording of the contract must be correct. This will vary, depending on whether there is an attorney or deputy involved, and whether P is an 'executing party'. P will be an executing party if they are entering into covenants with the seller. A reputable conveyancing solicitor should have no problem in drafting the contract appropriately.
Legal ownership
If P is an adult, Land Registry will show P as the legal owner. To protect P, it may be appropriate to put a restriction on the title preventing the property from being sold without a CoP order. If P is a child, they will not be able to hold property in their own name, and it will need to be held in a bare trust for them. The trustees, usually P's deputy and a parent, will have their names on the title at Land Registry, backed up by a declaration of trust that confirms that the trustees are holding the property entirely for P's benefit.
If the plan is for P to own the property jointly with someone else, a declaration of trust setting this out is essential. This should record the contributions each party has made, and set out clearly each person's percentage share. Where P lacks capacity, it will be almost invariably appropriate for the property to be owned as tenants in common, rather than as joint tenants. This means that an appropriate restriction needs to be entered on the title to the property.
If P's capital derives from a personal injury award and is held in a personal injury trust or under the CoP, then the capital is ringfenced, and should not be taken into account in assessment for means-tested benefits. If this is the case, it might be helpful for the property to be held in a bare trust, even if P is an adult. Local authorities differ wildly in their awareness and understanding of the CoP and its powers, and so, while such a trust doesn't change the legal position, it makes it easier for those assessing benefits to understand. Means-tested benefits under the CoP are notoriously difficult to deal with, and deputies need to be prepared for a fight.
Post-death considerations
Ordinarily, buying a property is usually a trigger for a client to make or revisit their will. In P's case, they may not have mental capacity to make a will. However, it is important to remember that mental capacity is 'task-specific' – P may, in fact, be able to make their own will, even if they lack capacity to purchase a property, or manage their finances generally. However, it may be sensible to get a contemporaneous assessment of capacity, in case the will is challenged in the future.
If P does not already have a will and lacks capacity to make a new one, then the rules of intestacy will apply, and the property will pass to P's closest relatives. It may well be that P's existing will or the intestacy rules produce the 'right' result, and there is no need to interfere with these further. However, there may be a difficulty if, for example, someone else is living with P, such as a parent, child or partner, who would lose their home if P were to die.
In this case, P's deputy should consider making a further application to the court for a statutory will. This is where the court tries to make the will that P would have made if they had had capacity. This is a lengthy and sometimes very expensive process, and P's estate will usually bear the costs. The court will need an assessment of capacity dealing specifically with whether or not P can make a will. It will also need details of P's finances and their family. The OPG will become involved to represent P's interests, and family members and people who are financially dependent on P may well be joined as parties to the application.
While all of the pitfalls listed above may sound daunting, the process is undoubtedly worth it: the right home can make a huge difference to the quality of life of a person who lacks mental capacity. Seeing a client thriving in their new home is one of the most rewarding things about practising in the CoP.

Sarah Playforth is a solicitor in the private client department at Kingsley Napley