Our 2013 Financial Benchmarking Survey report is out now. Fees and profits are up once again, but partner capital is down, and many firms show signs of financial stability issues. Andy Harris introduces the results of the survey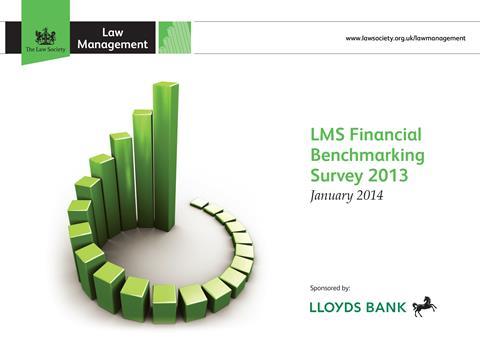 First of all, many thanks to those that took part in the Law Management Section's 2013 financial benchmarking survey. Almost 170 firms from across England and Wales responded, making it one of the biggest surveys of its kind in the UK, widely regarded as the leading annual health check for mid-sized practices. As in previous years, participants provided two years' worth of data – the most recent accounting period and the previous one – allowing us to compare results on a like-for-like basis.
Many of our solicitor customers are telling us they are getting busier, and this is reflected in client account balances
A key issue this year was financial stability, with two key findings causing concern: both in areas that the Solicitors Regulation Authority (SRA) looks at when assessing financial stability. First, 21% of participants reported partners' total drawings (including income tax) exceeding profits in both 2012 and 2013. Second, median equity partner capital (the combined total of capital accounts, current accounts and tax reserves) fell by 7.5% between 2012 and 2013.
However, there was also positive news.
Median practice fee income increased by 4.1% compared to 2012, following a 3.6% increase last year, with most specialisms seeing increases.
Median profit per equity partner increased by 3.6%, to £121,731. This is the fourth increase in a row, and for many practices, profits are now similar to the levels they saw before the recession. If you adjust this to include a notional salary for equity partners, this drops to a median 'super-profit' of £43,422.
Despite increased workflow, total lock-up (work in progress (WIP) and debtors combined) fell slightly, to 177 days.
Also, interest receivable increased for the third year running – this year, by a median of 20% – as client balances increased in line with workflow, and banks and building societies began to offer competitive rates on client monies. However, the high-profile collapse of some substantial practices last year has not helped banks' confidence in the legal sector, and more and more partners are being asked to give some kind of personal guarantee over practice borrowings.
We also asked participants for their thoughts on their own future over the next few years, particularly following the introduction of alternative business structures. A third of practices said that they were likely to merge with another practice within the next two to three years, and a similar number were already speaking to other practices. One in five practices thought it likely that they would seek external investment for expansion, and a similar number that they would bring in one or more non-lawyer owners, such as spouses or HR, IT or finance managers. Fee predictions by participants were encouraging, with a median expected fee growth predicted at 3.7%. Finally, only 10% of practices thought it likely that they would join a group or network, such as QualitySolicitors or Connect2Law, within the next few years.
No time for complacency
Chris Marston, head of professional practices at Lloyds Bank Commercial Banking, reflects on the 2013 results
This year's survey reflects some of the positive signs that the previous results have highlighted, and it is particularly good to see fee income rising in absolute and 'per partner' terms. However, I was surprised to see that more than one in five firms reported that drawings had exceeded profits – described by the SRA as a "poor behaviour" – for two consecutive years.
There are growing signs of better health in the UK economy, with rising confidence among SMEs and increased mortgage approvals and conveyancing activity. Many of our solicitor customers are telling us they are getting busier, and this is reflected in client account balances. The recession is over, but the lesson of the previous one is that professional practices face cashflow pressures as they take on more work and invest further in WIP and debtors. This a fragile time for cashflow in solicitors' firms; profit retention is critical.
I recently spoke at the Law Management Section's 'Survive & Thrive' roadshows, and the message was clear: firms should aim higher than survival, and those which thrive will be the ones whose leaders see profit retention as an enablerfor growth.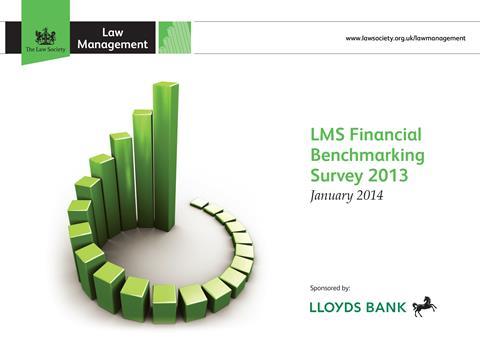 The LMS Financial Benchmarking Survey 2013, produced by Hazlewoods and sponsored by Lloyds Bank Commercial Banking, is available to Section members now, at the special price of £75, or to non-members at £150. Survey participants receive a free copy, plus a personalised benchmarking report.