What does your firm need to consider when expanding into international markets? Felicia Meyerowitz-Singh and Sebastian Knudsen weigh up the options.
We already know that Brexit, in whatever form, is likely to result in a slowdown in the legal services market. The Law Society estimates that the long-term result will be slower growth for the legal sector – down to 2.2 per cent per annum between 2019-2025 in the event of a 'soft' Brexit and 1.5 per cent if a 'Canada-style' deal is agreed. But this presents opportunities for UK law firms, as well as challenges. Have you ever considered expanding into a jurisdiction outside Europe? Below, we offer some guidance on how to make this work for your firm.
Whether a firm establishes a permanent presence in a new jurisdiction, serves it remotely from their home office, or builds access through partnerships with local incumbents, market entry is an inherently expensive and risky process, particularly for smaller law firms whose financial and human capital may be constrained. Your firm will need to centre its strategy for export expansion on a thorough analysis of the business case for entering a given region. While this must be informed by the specifics of your firm's profile and the type of law practiced, we believe that there are four overriding criteria that can help you determine the attractiveness of a prospective export market for legal services:
growth rate of the target market's legal services sector and of the wider economy
current market saturation (what is the scale of current local and international presence relative to the total potential size of the market?)
restrictiveness towards imports of legal services
extent of the difference between law practiced in target nation and the UK.
Which jurisdiction has the highest growth potential?
While circumstances will vary based on the country or area of law in question, it is typical for rapidly expanding business activities in areas of high economic growth to substantially increase the demand for legal services. For this reason, the Asia Pacific region – driven by large and fast-growing economies such as India, Indonesia and China (now 49 per cent of the region's legal services market) – is expected to burgeon as a market for legal services in the coming years. An annual growth rate of between 5-6 per cent is expected into the early 2020s – which far outstrips the 1-2 per cent rate of more established markets – and total revenue of $134 billion is projected by 2022 (MarketLine, Legal Services in Asia-Pacific, [April 2018] p.2). In the longer term, economic growth in Africa is also expected to expand the demand for legal services considerably.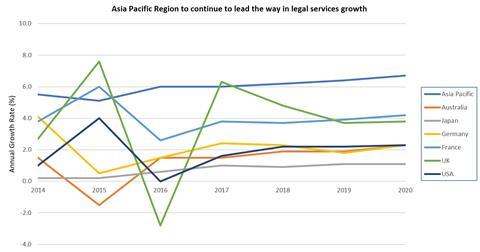 How saturated is the market?
The current level of market saturation should also be a key concern for exporters entering a new market. Unless newer entrants can distinguish themselves in some way (through niche expertise, for example), the presence of well-resourced local firms or of other international law firms can serve as an insurmountable obstacle to newcomers seeking to build market share.
Make it a strategic priority to target markets with low levels of saturation or which are underserved in certain areas of law. Building mutually beneficial relationships with local firms or prioritising the hiring of professionals with local experience can also be valuable techniques to build your firm's presence in a new market.
Obstacle or opportunity: trade restrictions and differences in the law
Two other factors which can significantly impede international expansion are regulatory restrictions upon trade in services, and if there are large discrepancies between the legal codes of the UK and your prospective market. While it might be tempting to dismiss these markets out of hand, firms should carefully consider the potential opportunities if you can find a way to work within them profitably. Some firms may find that targeting their expansion into markets which competitors have overlooked on these grounds may prove a more effective export strategy than seeking to compete in the more open, but heavily saturated, global legal services hubs.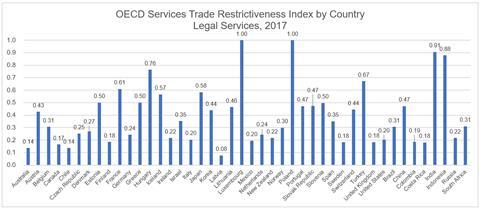 Conclusion
Favourable growth and market saturation dynamics should underpin the business case for your law firm's export activities. You should also examine regulatory restrictions or differences in codification on a case-by-case basis to determine whether these preclude your firm from doing business in that jurisdiction or, on the contrary, they provide a potential opportunity.
The additional complexity that Brexit is likely to bring to services exports should not necessarily preclude UK firms from providing legal services to Europe, however – for those who can position their businesses effectively – the most compelling long-term opportunities may lie in faster growing, less saturated world economies.
This report has been prepared by Akoni, a leading UK based fintech company that specialises in providing cash management and export advice to SMEs.
To learn more, please read Akoni's companion report on legal innovation and a fuller discussion of these issues on Akoni's website.