Financial Benchmarking Survey 2020 – open for participants
Download the Financial Benchmarking Survey questions to take part (Excel 275 KB)
Three reasons to take part:
find out how your firm measures up against others of a similar size – get a personalised report on your firm's results (download a preview [PDF 1,668 KB])
uncover the underlying issues affecting your firm's profitability and competitiveness
join the growing community of law firms committed to high performance and good management – get to see the main survey results first, in advance of the official publication date
How to take part
Quick and simple to complete, all you need is your latest annual accounts or full year management accounts to hand. Even if there are one or two questions you can't answer, you can still join in.
The questionnaire should take approximately 45 minutes to complete.
Download the survey questions (Excel 275 KB)
Return your completed questionnaire to benchmarking@hazlewoods.co.uk by 18 October 2019.
In association with Hazlewoods and sponsored by Lloyds Bank

Need help completing the questionnaire?
Contact benchmarking@hazlewoods.co.uk or 01242 695823.
Financial Benchmarking Survey report 2019
The Law Society's Law Management Section committee thanks all the firms who took the time to participate in the survey, which made the report possible.
Download your free copy of the Law Management Section Financial Benchmarking Survey 2019 report (PDF 4 MB)

The 2019 Law Management Section Financial Benchmarking Survey will be published very soon. In the meantime, Andy Harris , lead author of the report, gives a sneak peek at some of the key findings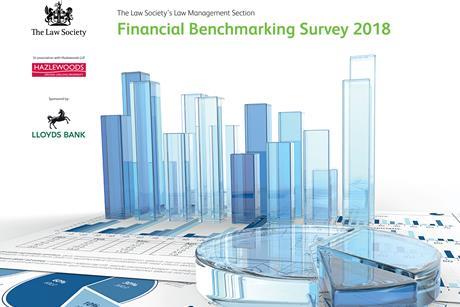 This year, for the first time, the Law Management Section's Financial Benchmarking Survey report is free for all practices. And the results show continued improvements across the market. Andy Harris explains