How can you kickstart your firm's growth in 2019? Emma Massingham offers a five-step plan for success through focusing on your targets and clients
As we all settle into the new year, most managing partners and leadership teams will already be thinking about the business planning process for 2019/20. Undoubtedly, every firm will have business growth objectives, whether through new business or developing existing client relationships. Revenue growth is a universal priority for survival.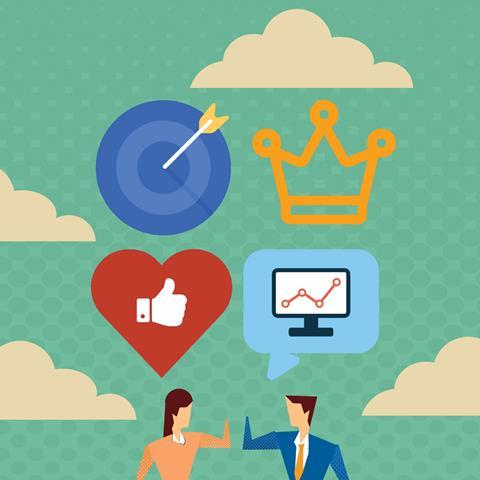 If you're serious about delivering sustainable revenue growth next year, it's time to start looking at growth and new business generation from a different perspective: your client's.
1. Put clients and targets at the heart of your firm
Putting your clients and targets at the heart of your approach, and building products and services which meet those needs, supported by people trained and incentivised to win new business, will see your firm win better business and generate sustainable revenue growth.
It's easy to get distracted by the glitz and shine of new artificial intelligence solutions
Question the 'client benefit' of all operational decision-making, including decisions about the processes and infrastructure you put in place to support your business. It's easy to get distracted by the glitz and shine of new artificial intelligence solutions, but there's no one-size-fits-all approach. What solutions will best suit your business development strategy and growth plans?
Firms market their commitment to clients – relationships, service and satisfaction – as a differentiator. But to be successful, a client-centric approach has to be genuine and tangible to clients and targets, and more than just website and brochure content. Can you honestly say that the voice of the client informs every decision you make? Does the voice of the client and the markets you service dictate what services your firm provides? If not, maybe you need to start talking to, but more importantly, listening to your clients and targets.
To better connect with clients, you could recruit a non-executive director to be the voice of the client on your board, or set up a panel of trusted contacts to input into strategic decision-making.
2. Talk to your clients and targets
Too much law firm business development activity is based on assumptions and preconceptions about what clients and targets might need from a firm, rather than solid and unequivocal evidence about what they do need. This means that valuable business development time and activity is often squandered on targets where there is no realistic chance of winning new work. Have you asked your clients and targets what they are looking for from their legal advisers? Can you meet those needs and deliver on their aspirations? If not, your business development planning, activity and effort is built on assumptions, and is unlikely to generate results.
Many professionals are wary of asking probing questions, for fear of causing offence or appearing uninformed about a client or target's business. Yet, by asking clients and targets a few simple and open questions about their current and future priorities, a lawyer will almost always win new work, or lay the foundations for a future sale. Take every opportunity to engage in business conversations. Possible questions include:
What are you working on now? How may I help?
What are your top three priorities for this year? How may I help?
What's happening in your business right now? How may I help?
Tell me about your longer-term strategy. How may I help?
At best, a lawyer will make a sale from these questions, and at worst, they will leave the conversation better informed about what a client is likely to purchase in the future. You can now start to base your future business development efforts on your client's reality, not your perception of their reality. Make client listening a priority for your business by launching a client listening programme, and assigning management responsibility and accountability for client / target listening. Diarise client and target meetings for the next 12 months.
3. Use your client insight to inform product and service development
Firms armed with client insight are best prepared to deliver value to clients by using that insight to develop products and services their clients want and need to buy. And in many cases, firms can employ a premium pricing strategy for those insight-based products.
Have you asked your clients what they are looking for?
Say, for example, that off the back of conversations with acquisitive businesses in a particular sector, a firm looking to increase its share of merger and acquisition transactions observed that transactions were regularly stalling because of sector-specific tax issues in the target businesses. Using that insight, the firm could develop a fixed-fee risk assessment tool to evaluate the extent of the problem, and advise what needs to be done to address non-compliance and at what cost. This tool could be used by purchasers to ascertain whether a deal were viable, before incurring the cost of full due diligence. The tool would deliver value for clients – potentially saving thousands of pounds in unnecessary expenditure and management time in pursuing deals which are not viable. As a fixed-fee product, it would be easy for clients to purchase and quantify the benefit to any budget-holder.
To help you develop insight-based products, invite a different client / target to present to your teams each month on their business challenges. Regularly test new ideas for products and services with clients and targets throughout the development process. And engage commercial contacts as consultant advisers to your teams.
4. Shift from cross-selling to collaboration
Real-life business challenges rarely fall into traditional practice group responsibilities. Issues such as Brexit, cybersecurity, the General Data Protection Regulation and regulatory compliance touch almost every aspect of a client organisation, yet don't fit neatly into the narrow practice group-based structure of most firms.
Client organisations with complex and diverse commercial needs require their lawyers, and often other advisers, to work together to deliver practical products and solutions. Different people contribute different skills and perspectives, which can be harnessed to better meet client needs. This is so much more than cross-selling, where lawyers work alongside each other to meet different needs in a client organisation.
Develop a channel for junior lawyers in your firm to collaborate, share and showcase their ideas
There's vast potential for lawyers to develop innovative and entrepreneurial solutions to meet client needs by collaborating across practice group boundaries, with other firms, or even with other professionals or service providers. Globalisation and the digital interconnectivity of business mean it's almost a business imperative. Firms which are doing this successfully are unlocking more challenging and rewarding client work, and reporting greater profitability, increased client loyalty and happy, fulfilled lawyers. For now, collaboration is a differentiator, but for how much longer?
If you want to make this a reality in your firm, chances are you will need to knock down some barriers first.
Encourage your lawyers to build internal relationships
The traditional practice group 'silo' structure inhibits the development of cross-practice group networks. Lawyers are inherently suspicious of introducing colleagues to their client relationships for fear that they are not 'up to the job' or will 'steal' the client. Create an environment where your people learn to know and trust each other. It's the first step to professional collaboration. Provide as many forums as possible for internal networking – face to face and online.
Involve your juniors
Partners don't have a monopoly on good ideas. In fact, junior lawyers are less inhibited by the traditional practice group structure. Encourage them to build their internal networks right from their first day in your firm. Develop a channel for them to collaborate, share and showcase their ideas. They might just surprise you.
Look beyond your lawyers
The term 'non-lawyer' downplays the value of the contribution the business specialists in your firm – finance, project management, technology, business development, HR etc – can bring to the development of client-focused solutions. By giving your specialists the opportunity to contribute in a meaningful way to client-focused discussions and projects, you will begin to chip away at the traditional mistrust between lawyers and 'non-lawyers'.
Reward success
While the debate rages on about the future of the billable hour, lawyers still seem to be wedded to smashing their billable targets which are almost always linked to their own practice area. This immediately discourages true collaboration. Ensure that time spent collaborating with colleagues to generate solutions to client issues is measured, recognised and rewarded, including through your appraisal process. Revise your remuneration structure to reward cross-practice collaboration.
5. Continually improve by sharing and measuring success
Most of your people will be heavily influenced by the behaviour of colleagues they respect and admire. So, when your teams achieve success in driving revenue growth, it's absolutely crucial to share that success throughout the entire firm. And if the right communication channel doesn't exist to facilitate that, create one. It might be partner meetings, training sessions, internal newsletters – pick what works in your firm.
Colleagues will learn by example, plus you will create an invaluable database of what activities work in your firm, with your lawyers, teams and clients and targets. There's no point investing time and resource in activities which don't create tangible value for you.