Mr Justice Birss is the Supervising Judge for the Midland, Wales and Western Circuits. We asked him about his legal career and the trends he has noticed in the Business and Property Courts.
What was your first job?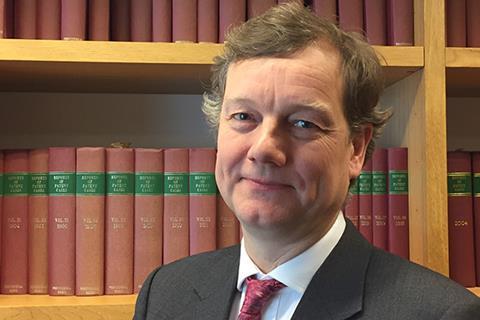 I originally intended to be a scientist. My first job was in the year before university. I worked as a student physicist for the UK Atomic Energy Authority. They gave me a portable gamma ray detector. The best part of the job was playing with the liquid nitrogen needed to make it work. After getting a science degree I changed to law and did the Common Professional Examination (now Graduate Diploma in Law). My science background made intellectual property (IP) a natural area to specialise in as a lawyer.
What are the current challenges in your area of specialism?
I work as the supervising judge for the Business and Property Courts in the Midlands, Wales and the Western Circuits. One of the challenges is to convince litigators to use the courts outside London for significant civil work. The Business and Property Courts outside London have the capacity and the skills to handle the major cases within their jurisdiction but people still come to London.
Do you have a career highlight / lowlight?
I left the Bar in 2010 to become a circuit judge in charge of the newly reformed Patents County Court, now the Intellectual Property Enterprise Court (IPEC). Those reforms have greatly improved access to justice for smaller and medium-sized parties in IP cases. The court is now an established part of the IP landscape. It was a unique privilege to be involved in that.
What trends are you noticing in your line of work? How are you responding to them?
A particular area of interest today is mid-range business disputes – I mean those with a value of less than £1m but more than £100,000. It is hard to resolve those cases fairly in a cost-effective manner. I think the IPEC reforms have demonstrated that the common law civil justice system can be made to work for smaller and medium-sized business cases. The shorter trial scheme, which is available in the Business and Property Courts throughout England and Wales, applies some of those lessons. The capped costs pilot (PD 51W), which is in the Business and Property Courts in Manchester and Leeds and in the London Circuit Commercial Court, is also based on the experience of IPEC. I hope litigators take advantage of these.
Share some great advice you've been given.
When I started studying law, I thought I would be a solicitor somewhere away from London. That was the plan. A wise man suggested I should go into patent law. I didn't know what that was. It was good advice, however, and for once in my life I took it. His name was John Hopkins. He died recently. He was a very influential figure in the lives of a number of lawyers.
What are you working on at the moment?
I chair the committee which oversees the rules for the Online Civil Money Claims project. This allows litigants in person to bring a money claim of less than £10,000. Online procedures have the potential to transform access to justice, not only for unrepresented parties, but also in the interactions between the professional users and the court. There is a lot of work to be done but so far the signs are positive.
Tell us an interesting fact about yourself.
I keep bees. They make a lot of honey which I sell for a charity called Hope and Homes for Children. At this time of year they can swarm, but they don't always do it at a time convenient to someone with a full-time job. It's good to be reminded of the limits of your power to control things.