Section committee members Deborah Burke, Peter Causton and Rajinder Rai give their personal take on some of the key developments in civil litigation this year and share their predictions for 2019.
What were the key developments for you in civil litigation in 2018?
Deborah Burke: I have watched the progress of the post-implementation review of Part 2 of LASPO with interest. This review relates specifically to the Jackson reforms to funding and costs, and the Law Society responded fully on behalf of solicitors in September. These reforms have impacted significantly on access to justice and civil litigators are caught up in what seems to be an unending cycle of change, which makes it extremely difficult for individuals and firms to have any certainty about the future.
Civil litigators are caught up in what seems to be an unending cycle of change

Deborah Burke
Peter Causton: For me, the introduction of the Civil Liability Bill is also important. It will result in people injured in road traffic accidents not receiving proper damages or making claims in the first place. It seems unfair to depart from the Judicial College Guidelines – which are based upon actual damages awards made by the judiciary – and replace them with a tariff. Also, claimants may receive higher damages awards for less serious injuries, simply because they are not classified as whiplash injuries. The Civil Justice Council has also published its long-awaited report on mediation (I've written a short summary of the report's key recommendations).
What have been your personal highlights of 2018?
Rajinder Rai: After acting for a client for the past 10 years on a contentious probate matter, my highlight has been seeing her finally get what she should have received from her late partner back in 2014, when the parties reached an agreement. Another key moment has been helping a father and son to avoid bankruptcy over at least five adjournment hearings – both their family home and employment were under serious threat if they had been declared bankrupt.
PC: I won the award for Mediator of the Year (Highly Commended) in the National Mediation Awards held by the CMC and College of Mediators. My main highlight has been resolving a particularly complex and emotionally charged family property dispute through mediation, which otherwise might have left one party homeless and bankrupt.
DB: For me personally, the introduction of the electronic bill of costs marked a real transformation in the way that inter partes costs are dealt with. I authored the original report on the feasibility of an electronic bill of costs back in October 2011, but only now are we seeing the fruits of the Hutton Committee's hard labour. Analysing large amounts of costs data with ease is a significant step forward, and one which civil litigators will see more of as the number of electronic bills in the system continues to rise.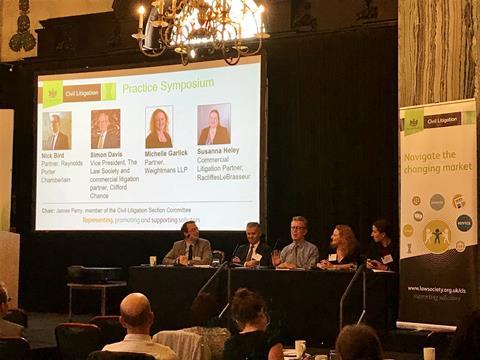 Attending the Law Society's Civil Litigation conference in September was inspiring on every level – it is always great to network with litigators. It was a fantastically well-organised event and the result of hard work from the committee and the Law Society. Simon Davis, Vice President of the Law Society, spoke passionately about solicitors and the rule of law. It was a memorable occasion.
Has this been a good year for work in your area?
RR: Most of my caseload is generated from referrals and word of mouth. In some ways, would say that 2018 has been my busiest for several years, especially since I joined Jarmans Solicitors. This just shows that litigation is as lively as ever, despite the regime on fixed costs.
Litigation is as lively as ever, despite the regime on fixed costs

Rajinder Rai
The struggle I have faced, personally, is persuading clients to engage in mediation or some other method of ADR. It can be frustrating when the client's principles are clouded and proportionality becomes an issue.
PC: I would say that mediation use has increased. The Manchester mediation pilot has gone from strength to strength and my company was also registered as a mediation training provider by the Civil Mediation Council (CMC).
DB: The civil litigation landscape is always changing, but so far as costs work is concerned, while fewer cases are going all the way to a contested detailed assessment, there is still enormous opportunity to bring added value to cases where the costs are substantial, so yes, it has been a good year.
Have there been any notable cases this year?
PC: There have been many notable cases but, for me, perhaps the most significant was Burges & Anor v Lejonvarn [2018] EWHC 3166 (TCC). The court found that a landscape architect who had offered free advice was not in fact liable. This judgment will give great relief to anyone unfortunate enough to be sued after having volunteered gratuitous advice to friends or acquaintances, and who might otherwise be unreasonably held accountable for issues beyond the scope of their advice.
Burges & Anor v Lejonvarn will give relief to anyone unfortunate enough to be sued after volunteering advice to friends or acquaintances

Peter Causton
Sadly, there have not yet been any notable cases on refusal to mediate in 2018, but in September, Serious Fraud Office v Eurasian Natural Resources Corporation [2018] EWCA Civ 2006 was an important judgment on both legal advice privilege and litigation privilege.
DB: The Court of Appeal decision in Slade v Boodia [2018] EWCA Civ 2667 comes to mind, perhaps because it is so recent! The first appeal in the case decided that solicitors' interim bills had to include all disbursements for the relevant period if they were be treated as statute bills. As solicitors will know, a statute bill, including an interim one, can be sued upon if not paid.
Fortunately, the Court of Appeal has taken a pragmatic line and has decided that 'profit costs only' or 'disbursement only' invoices can be statute bills, giving solicitors back some welcome certainty in this area.
How is 2019 shaping up in terms of important cases and incoming legislation?
PC: Look out for developments which relate to implementing the Civil Liability Bill. Beware the law of unintended consequences, the Bill could easily lead to more litigation being brought by claims management companies and litigants in person or to non-whiplash injuries being emphasised. I look forward to seeing my car insurance premiums drop (but I'm not holding my breath)! I can also see the Bill being challenged in some way, perhaps by judicial review of any tariff set by the Lord Chief Justice. Even vulnerable litigants such as children have not been protected.
DB: I hope that during the course of 2019, we will see progress made in sorting out the current impasse with damages-based agreements. The regulations need to be clarified to encourage the take up of this form of funding cases.
What else should members look out for in 2019?
RR: 29 March 2019, post-Brexit, will certainly bring much change to the UK and to litigators. For example, the enforcement of judgments will no longer take effect, which means the UK potentially will be looking at each country to entertain it, and that UK insolvency practitioners will have to rely on local EU law in respect of each individual case.
PC: I agree, clearly, the biggest change occurring in 2019 will be the sweeping away of reciprocal arrangements with EU member states such as the enforcement of judgments, the Mediation Directive and European Small Claims procedure, which for me is an utterly retrograde step. Watch out for the decision on whether the referendum vote in 2016 should be annulled on grounds of fraud.
DB: At some point the extension of fixed fees as proposed by Sir Rupert Jackson in his 2017 Supplemental Report is also going to float back up the government's agenda, I am sure. Civil litigators need to be ready when it does.