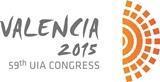 The Union Internationale des Avocats (UIA - International Association of Lawyers) has been defending the legal profession and facilitating international cooperation and the exchange of information and experiences among lawyers, while respecting their cultural and professional diversity, for more than 85 years.
At its 59th Congress, taking place from 28 October to 1 November, the UIA brings together thousands of its members and hundreds of bars, law societies and associations from over 120 countries.
There will be working group sessions on for instance business law, Human Rights and general practice, and seminars will cover proactive discussions on immigration law, arbitration, international disputes, family and competition law, and the future of the profession.
The President of the Law Society of England and Wales will be speaking at the Bar Leaders' Senate.