The winners of the Pro Bono Awards 2017 have been announced. 
Congratulations to Josh Little of Allen & Overy LLP who was awarded the Junior Lawyers Division Pro Bono Award 2017 at the recent annual LawWorks Pro Bono awards.
Because of [Josh's] work, some of the damage inflicted to the thousands of gay and bi men who faced terrible persecution in the last century, just because of who they are, can begin to be undone.
Josh was the lead associate advising LGBT + rights group, Stonewall, on how the Protection of Freedoms Act could be widened to improve the position for gay and bi-sexual men with historical convictions. The team had to sift through a century of English case law and prepare a briefing for Stonewall, in order to amend the existing disregard scheme to help more people clear their names for activities which should never have been criminalised.
Stonewall used this advice to support their efforts to encourage the government and MPs to take action and improve the existing scheme, which resulted in the passing of the 'Turing Law'. It is estimated that, of the 65,000 men convicted under the laws criminalising homosexual acts which are no longer illegal, 15,000 are still alive. This change in the law will therefore allow thousands more men to clear their names, and families of men impacted by these convictions will be able to clear the names of deceased loved ones.
Congratulations also to those junior lawyers who were shortlisted for the award: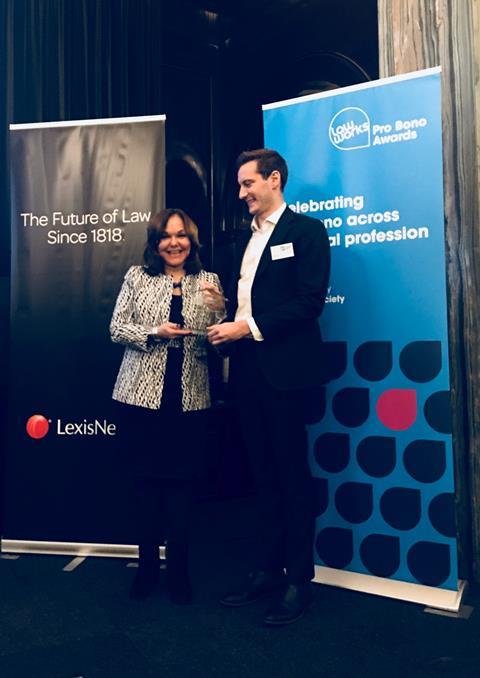 Francis Keepfer – DLA Piper
Isabelle Westbury – Allen & Overy LLP
Melissa Wilkinson – DLA Piper
Morgan Wolfe – Goodman Derrick LLP
Julia Wookey - Howard Kennedy LLP
Find out more about the awards and the winners of the other categories.