We take the health and safety of our members, staff, clients and other visitors to our offices and events very seriously.
In light of the increasing number of people affected by the virus and acknowledging the role we all have to play in limiting its impact, we have taken the decision to cancel all face-to-face events until the end of July 2020.
Pending further information from the authorities we may reschedule for later in 2020 - please look out for updates.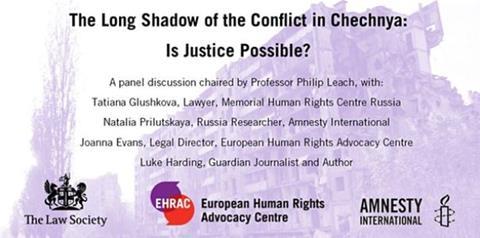 The European Human Rights Advocacy Centre (EHRAC), in collaboration with Amnesty International and the Law Society, is hosting a panel discussion on the legacy of human rights violations committed by the Russian security forces during its counter-insurgency operations in Chechnya in the late 1990s and early 2000s. Has justice been secured for the victims of the conflict? The Kadyrov regime declares the republic to be a no-go zone for human rights defenders. What does this mean for lawyers, activists and journalists working in the region?
Twenty years have elapsed since Russia's second war in Chechnya began. EHRAC, together with the Moscow-based human rights NGO Memorial, have litigated hundreds of cases at the European Court of Human Rights (ECtHR) relating to Russia's egregious abuses in Chechnya, including extrajudicial killings, indiscriminate bombings and enforced disappearances. Many families continue to live in agonising uncertainty as to the loss of their loved ones. EHRAC is now urging the Council of Europe to request the assistance of the UN Working Group on Enforced and Involuntary Disappearances in developing a time-bound, humanitarian strategy for the identification and return of individuals forcibly disappeared as a tool of war. This event will also remember the life and work of human rights defender Natalia Estemirova, who worked to bring the truth to light regarding human rights violations committed in Chechnya.
18.15 - 18.45 Registration
18.45 - 19.45 Panel Discussion
19.45 – 20.00 Q&A
20.00 - 21.00 Drinks Reception
To attend, please register here.
Date and Time
TBC
Location
113 Chancery Lane
London, WC2A 1PL