Find out more about the current business climate in Turkey and listen to experts on 7 December 2016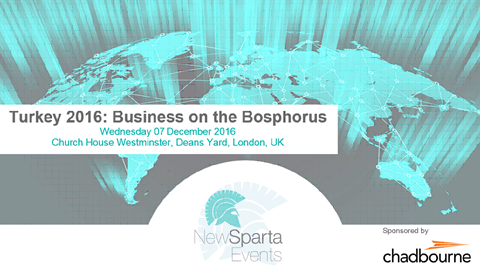 Despite recent political unrest Turkey's economy is still growing at a relatively steady pace. Increased government spending and a 6% rise in private investments show that Turkey still remains an attractive market for investors new and old. Turkey 2016: Business on the Bosphorus will look at where the opportunities for investment and growth lie. The event will also look at understanding the impact of the government's push for privatisation and the state of Turkey's financial sector going into 2017.
Topics include:
Opportunities in Infrastructure Investment & PPPs – with ambitious goals to be reached by 2023, which sectors provide the best returns for investors?
Country analysis – anticipated developments in the financial, public and private sectors
Private equity – it's estimated that between 2005 – 2015 private equity investments rose from $320 million to $17 billion, is this trend set to continue into 2017? or has there been a slowdown in PE investment
Access to International Capital Markets for Turkish Borrowers – Impact of downgrade and challenging news flow on investor appetite
Why Attend?
Understand the current economic outlook following recent political unrest
Hear about the government's current plans for infrastructure investment and PPP's
Learn from key players who have successfully conquered the Turkish market place
Network with senior officials from across the investment value chain
Who Should Attend?
The debate will be attended by:
FOs & Finance Directors
Country Analysts
Investment Officers
Private Equity, Fund, & Asset Managers
Banks
Law Firms
Consultancies
Turkish and international companies interested in or already investing in Turkey.
If you would like to register or find out more, please click here.