1. Please tell us a bit about yourself.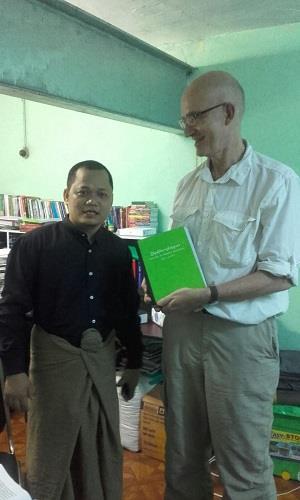 I qualified in 1985 at a legal aid practice in Walsall, before joining Nottinghamshire County Council in 1988. I became Head of Legal at Bristol City Council in 1998. I left in 2012 and became a consultant with Veale Wasbrough Vizards LLP. I have also worked as a lecturer in philosophy (Khartoum University), a psychiatric nurse and a road sweeper.
2. What persuaded you to undertake this role with the British Council?
Myanmar is a fascinating country and this opportunity also came at the right time in my life. I thought my skills could add value and contribute to improving the justice system while, at the same time, adding to a worthwhile cause - that is what got me into the law in the first place.
3. What is the main focus of your work in Myanmar? What does your work entail?
My work is supported by the British Council through MyJustice, a 4-year European Union-funded project that aims to equip people in Myanmar, especially the poor, with the knowledge, confidence and opportunities to have their disputes fairly and equitably resolved: http://www.myjusticemyanmar.org/about/.
Based at the Yangon Justice Centre (YJC); the Centre provides legal aid support to those accused of having committed a crime. I'm currently working with the management of the Centre and assisting them in the development of best practices and case management.
Given that the Burmese legal education seems to be focused on reciting specific codes rather than critically challenging decisions, I'm trying to find innovative ways to implant a more analytical and critical approach to the work of lawyers at the centre. In order to gain a better understanding of the challenges facing the legal system in Myanmar, I have made it my mission to meet as many lawyers and civil society groups as humanly possible.
4. More generally, how does your work relate to the rule of law?
My mandate is to make recommendations for improving the way the criminal justice system operates with practitioners. In a manner of speaking, I'm down and dirty with the statutes, which includes the Penal Code 1861, the Code of Criminal Procedure 1898 and a commentary on the code of criminal procedure of around the same date (1898) – both of which originate from colonial legislation and require very imaginative interpretation. There are real difficulties in understanding some of these texts because they have not been modernised and are a mix of Victorian-Anglo-Indian colonial law, which I somehow missed in my early training!
I hope to be allowed into a court shortly, which are supposed to be 'open' in theory but in practice I've yet to get a permission. My work is direct and practical rule of law work.
5. Do you see the rule of law relevant in the context of Myanmar? And why?
I see the Rule of Law as the foundations of a fair and just society; consequently it is a very important benchmark for any country globally. Myanmar has recently transitioned from a
50-year military dictatorship into a nascent democracy, albeit one where the military retain considerable power and control. The World Justice Project rates Myanmar 98th out of 113 countries (the UK comes 10th) and 13th in the Asian sub-region of 14 countries on a Rule of Law matrix: http://data.worldjusticeproject.org/#groups/MMR.
6. What are the main issues you have encountered in your work so far?
Where do I start? The defence has a right of access to statements taken by the police but this right is almost never exercised, which I can't understand! Lawyers are not able to have confidential meetings with their clients when they are in "lock up" ("in custody"). I suggested to a senior lawyer (not based at the YJC); writing to the police and requesting a room where a confidential conversation could take place [this being an implied constitutional right under clauses stating that the accused shall have "a right of defence" and a clause referring to the "eternal principle of justice"] and then, building up a file of refusals to use to challenge the police. But this senior lawyer said that if he did that he feared the police may force the revocation of his licence and he would lose his job.
A trial, which is in two parts: an inquiry resulting in the judge determining the charge, followed by the defence, takes place over many, many, many months. It's very frustrating indeed, especially if you have limited means.
7. What have you learnt so far from your work in Myanmar?
I've been reminded of how important the separation of powers between the legislative and the judiciary is, which is a vital principle of the rule of law. In addition, it is essential for lawyers to be able to challenge, without fear of retaliation, as a way of tackling abuse and corruption. I've been reminded of how easy this is in a country that has not been scarred by fear. I've also been reminded of how much the different elements of the rule of law complement each other.
8. What are the main challenges you have encountered?
Apart from the heat and an excess of development work acronyms (think management speak on drugs!) the main challenge is frustration – sometimes frustration with myself and sometimes frustration with injustices. The lack of books are also a challenge so I'm grateful to the Law Society for promising to send me some key resource books.
9. Could you share with us any successes you have had so far?
I've supported the management of the Yangon Justice Centre with the drafting of a funding application, which will enable them to get the support they need for another 12 months so that they can help 6,000 people next year with advice and representation. Although the process was convoluted, it was very rewarding.
I feel proud that I'm now a little bit of an expert on some rather curious pieces of law – ask me about cognizable and non-cognizable offences within Myanmar and prepare to be impressed!
If I can persuade colleagues to take a stronger stance and to challenge bad practices, this could make a huge difference - I have only been here for 12 weeks so I remain positive and confident.
There is - the aspirations of the Law Society are admirable. Now I'm beginning to size the task, I hope to call upon the Law Society and other fellow lawyers in the UK to get on board.