The new chief executive of the Law Society, Catherine Dixon, reflects on her career, the role of the in-house solicitor, and the challenges of becoming a chief executive
I was looking for the next challenge and was keen to use my legal and commercial skills, and to lead an organisation. Following my move from private practice to in-house, I worked at an executive level for a number of years, taking on responsibility beyond my legal role. In addition to being corporate counsel and managing a legal team, I had responsibility for other corporate support services. I also became part of the executive team and, as a senior manager, had responsibility with executive colleagues for the running of, and overall success of, the businesses I worked for. So for me, the chief executive role and being able to run my own organisation was the next step. I went from being general counsel and company secretary at the NSPCC, to chief executive of the NHS Litigation Authority.
What's great is that businesses are recognising the importance of having legal expertise in-house, and that expertise can be used to help take organisations forward
To an extent, living and working in Canada gave me the confidence to move out of a legal role. As I was not qualified to practise as a solicitor in Canada, I relied on my commercial and legal skills in a different way. It was interesting how readily transferable these skills were in Canada. I was working in health, and I'd had a lot of experience working in health and social care at Bupa, so much of my skills and knowledge were relevant.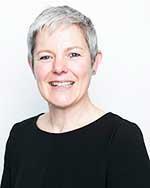 Solicitors have a massive range of skills that are transferrable to executive roles. The ability to critically analyse problems, see options and be creative and innovative with solutions, to properly analyse risk, and to be able get to grips with complex issues, are some of the key skills for being a chief executive. As general counsel you regularly make decisions and live with the consequences, (good and bad); this is also true as a chief executive, albeit that the success and failure of the organisation you are running ultimately rests with you!
Avoid being seen by colleagues as only having one skill to offer. I think that many in-house solicitors have numerous skills: they're great leaders, they're great innovators, but it's sometimes the case that they can be pigeonholed as the legal adviser and not asked about other areas of the business. I would encourage any in-house solicitor, whether they're interested in developing their career within the law as general counsel or moving into a more general managerial role, to get involved with other aspects of the business and to understand the different skills of, and issues faced by, executive colleagues. Ultimately, this will make them better lawyers, improve their relationships with colleagues, and give them options for career progression.
I have an MBA, which I found helpful for understanding my peers' roles, and developing some of my own skills in those areas. An MBA is not essential, but as part of my career and personal development, it was helpful. If you're a chief executive you do need a broader range of skills. My MBA was also important in enabling me to understand the language colleagues use, thereby improving my communication with them.
It's important for solicitors to get to grips with the numbers. It's not the case for all solicitors, but there is a tendency of some to leave the numbers to other people. If you're looking to operate at board level, be it as a chief executive or as a legal adviser, you do have to understand how well the organisation's doing, and that ultimately requires a good understanding of the numbers. Certainly, at the NHS Litigation Authority, which had a very large budget - £1.3 billion a year (and £26 billion of provisions) - having an understanding of the numbers and being able to ensure that there were proper financial controls in place was key to that role, particularly as you're dealing with public money.
One of the challenges for any corporate support service is that it's potentially seen to be a cost, rather than a value add. The key is to understand the organisation that you're working in, identify how you're adding value to that organisation, and demonstrate that value. This will vary depending on the organisation, its culture and values. You may be able to quantify the value you bring in monetary terms, in that you save the organisation £X thousands or millions or whatever it may be, as a result of a piece of advice that you gave, or your contribution to solving a problem innovatively, or it may be that it's something more intangible around offering reassurance and being able to deliver value through the knowledge that you bring. But what's important is that you identify what you're doing, and you tell that story to the organisation - don't hide your light under a bushel! And communicate without using overly complex or legal language.
I'm very keen, particularly given my professional background, that the Law Society support in-house solicitors, in terms of the GC350, but more generally, too
Being a peer to HR and finance colleagues is also important. A challenge to this can be having reporting lines up through the finance team, and/or through HR - I've seen both - and I've seen that legal advice can be misinterpreted if it's presented to the Board or CEO by colleagues, who perhaps have different priorities and different views. So, again, being able to effectively communicate with your peers (and, where appropriate, the CEO and Board) and show the value you bring is essential. I'd really encourage in-house solicitors, particularly at general counsel level, to think about that and, where they can, get a seat at the executive board or the corporate board, depending on the structure of the organisation.
One of the things about being chief executive is that you're 'it' all the time. This can be quite isolating. To a certain extent, the role of general counsel can also be like that; in private practice you can go to the office next door and speak to one of your fellow partners, all of whom are legal experts, and you don't have that as chief executive or general counsel. The decisions you make are critical for the organisation: you get it wrong and it's on your head, so it's great to get it right and to celebrate those successes.
It's a real privilege to be involved in leading the profession. I saw this role at the Law Society as a challenge with lots opportunities for the organisation in serving solicitors and putting our members at the heart of what we do. I enjoy taking organisations forward, seeing opportunities and seizing them. Developing people and having a strong organisational culture underpinned by values is also very important to me.
My vision for the future of the Law Society is to put our membership at the heart of what we do. There are massive opportunities for the organisation - some challenges as well - but in terms of our vision for the future, if we engage appropriately with the membership and demonstrate our relevance to them, then we will continue to increase our value to our solicitor members. It's been agreed with the Law Society Council to develop a strategy for the Law Society for the next three to five years. This work will start immediately.
The Law Society's role in supporting in-house lawyers is really important, and I'm keen to develop this. Based on my own experience, the Law Society has not always visibly supported in-house solicitors. It's great to see that this is changing and how we are offering support, which I am keen to develop. An example of this is the work we are doing with the GC350. It's important that the Law Society recognises the increasing importance of solicitors working in-house. We're seeing an increasing number of solicitors doing this - it was more unusual when I went to Bupa and made that change to an in-house role - but currently approximately a quarter of all practising solicitors are in-house. So I'm very keen, particularly given my professional background, that the Law Society support in-house solicitors, in terms of the GC350, but more generally, too.
The role of the in-house lawyer will continue to develop. It's not one size fits all. Some in-house solicitors will be running very large cross-functional teams, in very large, complex organisations, others will be sole in-house solicitors in a smaller business, sometimes start-ups. We'll see in-house roles continuing to expand, particularly given what is increasingly seen as greater levels of complexity in doing business. What's great is that businesses are recognising the importance of having legal expertise in-house, and that expertise can be used to help take organisations forward.
There isn't one thing that has been my greatest achievement. We all have different aspects of our lives, and I look at achievements across the board: personal, career, and academic. I've been fortunate in that if I look back on my career, I've had a lot of notable achievements. However, I have done other things too: in Canada I worked as an outward bound instructor leading the Women of Courage courses for women who were survivors of quite serious abuse - this was a humbling experience. I've done a lot of outdoor stuff: I am a qualified sea kayak guide and instructor, cross-country ski instructor, and mountain leader. I've also participated in quite a lot of sporting events: I've run at county level, I've run for the army (I was the army 800 meter champion) - I have a commission in the army - I've climbed Mont Blanc (and quite a lot of mountains), I've ridden from London to Paris, which is 280 miles in 24 hours, from London to John o'Groats, from London to Amsterdam, and Vancouver to Seattle. I've done an ironman triathlon, which is where you swim two and a half miles, cycle 112, and then run a marathon. I've also run the elite women's start at the London marathon. I like a challenge! It's good to have achieved different things in your life.