Nominations opened on 7 March for the Law Society's Excellence Awards, including the award for Excellence in International Legal Services. Here is an excellent opportunity to demonstrate the contribution you're making around the world and showcase innovation in the provision of legal services internationally.
For a decade now the Law Society has been recognising the very brightest and best in the legal profession, rewarding exceptional people, teams and organisations. Never has it been more important to celebrate the outstanding contributions being made by individual solicitors and firms.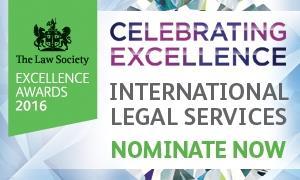 In 2016 we will be celebrating ten years of excellence. Highlighting those who are shining lights in innovation, and the people and organisations that are developing new ways to help their clients.

The awards ceremony will take place on Thursday 20 October, where the winners will be announced. If you want to make a nomination, for this year's special 10 year anniversary Law Society Excellence Awards, the deadline for entries is Friday 27 May.
About the Excellence in International Legal Services Award
This category will recognise law firms with an innovative approach to the delivery of legal services in today's international marketplace. Whether exploring emerging markets or developing international networks to build your business, we want to hear how you are embracing the opportunities globalisation offers your firm and clients. This category is open to SRA-regulated law firms and foreign law firms who are members of our International Division.
Entry requirement: Your firm must be regulated by the SRA or your firm must be a member of the Law Society's International Division.
Nominations are now open for the International Legal Service Award: nominate here. Deadline: Friday 27 May.
Contact Julie Mamou with any queries.