Elikem Kuenyehia, managing partner at Oxford & Beaumont in Ghana, talks about the Ghanaian legal services market and why his firm set up a London office.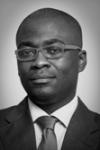 He will speak at the Law Society's event 'Options for foreign law firms and lawyers in England and Wales' as part of the International Festival for Business on 2 July in Liverpool. Find out more.
Tell us about your firm
Oxford and Beaumont Solicitors is a leading corporate law boutique in Ghana with offices in Accra and London. The firm was in established in 2006 and has since then advised on many corporate and commercial deals in Ghana in excess of 13 billion United States Dollars. Currently, the firm has 17 fee earners including 3 partners, and a combined team of thirty-one. It has three main practice groups; Finance & Projects; Corporate & Commercial; and Litigation & Dispute Resolution.
Why did you choose London when opening your first international office?
London is at the heart of commercial activity in the world. The presence of reputable law firms and other business organisations makes it one of the most attractive destinations for all businesses and prospective companies who seek to capture the global market.
We chose London as our first international office because it presents us with the best opportunity to nurture our relationships with our best friend law firms (most of which are located in London) and as an avenue for business development through the many international conferences, seminars and fora the city provides. Again, with the presence of many elite law firms and training opportunities, the city is best placed to provide the much needed training and exposure we seek to give to our lawyers.
What advice do you have to other foreign law firms considering setting up in London?
Maintaining an office in London may be a daunting task financially. Nonetheless, the benefits it presents make it a worthwhile investment. Prominent among these are: great business development opportunities through the many global conferences and seminars centred in London; further and practical training of lawyers in the corporate and commercial practice; the ability to leverage established relationships with firms and organisations for the benefit of local and international clients; and a platform for marketing law firms to the global legal village.
What advice do you have for UK law firms and their clients exploring opportunities in Ghana?
It is advisable to seek the counsel of reputable law firms and conduct adequate due diligence from specialised organisations/agencies before the commencement of any project in Ghana. A breach of local law or the failure to conduct the necessary due diligence may have dire consequences on a proposed project.
Finally, what are your recommendations for visitors to Accra?
Accra is a vibrant city with warm and welcoming people.
The best accommodation services in Accra are provided by the Moevenpik Ambassador Hotel, Labadi Beach Hotel and the Golden Tulip hotel. These hotels are very close to the central business district, the airport as well as shopping malls and restaurants. Labadi Beach Hotel has one of the cleanest beaches in the city and is suitable for visitors who will prefer a natural environment.
The public transport system in Ghana is quite ineffective. It is advisable to procure the services of a local taxi driver or rent a car with a local driver (relatively more expensive than local taxi drivers) for daily travel. Driving in Accra is not an option for visitors as traffic in Ghana may be very unpredictable and unbearable.
Visitors who prefer gourmet food, will not be disappointed with the plethora of upscale restaurants in the city. We recommend Santoku (a Japanese cuisine), La Chaumier (French cuisine), Villa Monticello (American Cuisine), Captain Hooks (sea food) and Pazzo (Italian cuisine).
A visit to Accra will be incomplete without a taste of local cuisine. We recommend banku with grilled tilapia and a bottle of Star Beer, a locally brewed beer.