We held our first international women in law roundtable in Costa Rica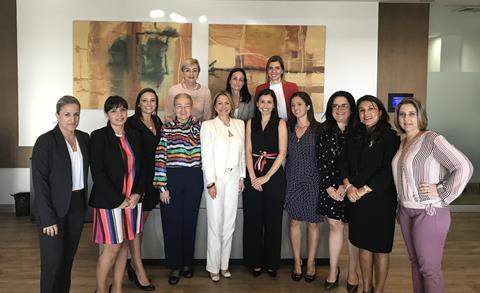 On 17 February 2020, BLP organised the first presentation of the Law Society's report "Advocating for Change: Transforming the Future of the Legal profession through greater Gender Equality" at their auditorium in Costa Rica. The Law Society's International Programmes Manager Lizzette Robleto de Howarth shared the findings with the audience of more than 18 participants, who agreed that tangible initiatives must materialise to tackle the problem of gender inequality in the legal profession in Costa Rica.
On the same date and also hosted by BLP, we facilitated the first "International Women in Law" roundtable with 14 Costa Rican female lawyers participating, who discussed the challenges, opportunities, and potential solutions for achieving gender equality. In the evening, The Colegio de Abogados y Abogadas de Costa Rica welcomed our "Advocating for Change" report and the President of the Colegio, Alvaro Sanchez Gonzalez, welcomed this exchange, suggesting follow up initiatives between the Law Society and the Colegio. Lizzette also met with the President of the Supreme Court of Costa Rica Manuel Barberena. The Law Society thanks the British Embassy in Costa Rica and BLP's Viviana Liberman, Irene Aguilar and, particularly, Ximena Martin for their support.
Note: *BLP is a law firm set up in 2003 in Costa Rica and has now regional branches across Central America.