Alexandra Darraby, Principal of the Art Law Firm and a newly elected officer of the International Law Section of the State Bar of California, shares some perspectives on California.
Why did you become a lawyer?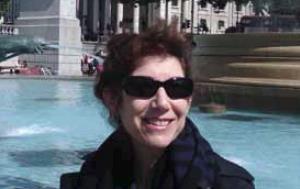 The concept of American justice was seductive to an idealistic college student like me. As a Canadian, the "First Amendment," free speech and separation of church and state seemed more important than civil law and parochial school. I was admitted to Oxford as a B. Phil, but studied in the States for a joint MBA-JD program. After I had practiced in a large national law firm in the USA, I opened a contemporary art gallery. When I was hired to teach art law at Pepperdine Law School, I thought, "did they create this position for me?"
Tell us about your firm and legal speciality
Art law is a new field and until the contraction of 2008 was an esoteric specialty. We provide legal, business and strategic advice to pioneering clients around the world-from architecture and development projects, to arbitration, exhibitions and trade, distribution of entertainment. My expertise is in innovative strategies in the fields of intellectual property, technology, development, production, distribution and licensing for entertainment, art, publishing, fashion, multimedia, technology, architecture, and digital media. In conjunction with the Firm's estates and trusts work, we form and represent corporations, limited liability companies, nonprofits, foundations, and boards.
Pepperdine provided research support for the legal treatise I wrote on art law. My art law book—in its 17th edition, unifies contracts, real estate, bankruptcy, RICO, copyright and trademark, and more than 100 state and federal laws into a cohesive field of art law. The firm's practice extends into virtually all of those areas. Ten years ago lawyers asked me "what's that?" when told I was an art lawyer. Today they ask me how they can do it.
The firm offices are in California but our clients and projects are all over the world. There is a large map of the world on an office wall covered with "push pins" for all the countries in which we have clients. It's wonderfully old-fashioned and very colorful.
What are the main challenges and opportunities for Californian law firms as the legal services market becomes increasingly globalised?
Art is among the oldest commodities in the world. Art is the most universal global good, transferred from culture to culture along every trade route, by sea and by land. Art is the earliest human expression of universal communication and creativity. Globalisation works for us.
Tell us about the International Law Section of the State Bar of California and how international lawyers can get involved
The State Bar of California is an integrated Bar; lawyers (with minor exception) must pass the California Bar Exam, be sworn, and be members of the California Bar to practice law in this State. .
However, the International Law Section [ILS] of the State Bar is open to non-members, so the Section is richly diverse, with lawyers from around the world and many states in the USA. Join us! We welcome you!
ILS and the Law Society signed a Friendship Agreement in 2014. As part of ILS outreach to the Law Society, I organized and chaired the program at the Law Society in April 2015, WANTED DEAD OR ALIVE: Publicity Rights on Both Sides of the Pond, part of LEGAL LONDON, with speakers from the BBC and London Live.
We welcome and invite LSEW members to our events, the ILS's Annual Meeting in October, and to ILS's first of its kind 2016international meeting of all the Friendship Agreement Members from around the world.. ILS friends are invited to speak on panels, and to talk about their organizations, and be an active part of the programming and festivities. Coincidentally (or perhaps not), I am the Liaison to the LSEW from the State Bar, so please contact me if you are interested in participating or attending the 2016 event.
What advice would you give to companies new to California and the US?
When Mr. Putin was interviewed by American television for his appearance at the United Nations in September 2015, he was asked what he liked about the U.S. Americans are curious and open-minded is essentially how he replied. Those are two markers for thriving business opportunities.
What opportunities for co-operation are there between Californian and UK law firms?
California is the Entertainment State. Increasingly, clients are developing projects and joint venturing with British productions because of UK film and related tax incentives. British talent stars in American productions. Movies, TV and streaming content, including digital launches, advertising and merchandising, portend economic and cultural value to the economy. California imports directors and curators of museums from the UK. Public art projects share UK and American visual artists. And Americans love British accents.
Finally, what are your recommendations for visitors to California?
The State is suffering a severe draught moving into its 6th year. The hydro-history of California is fascinating, and water is THE story of developing Los Angeles and the Central Valley, the agricultural core of the State's economy. Think of the movie "Chinatown," all about Mulholland, water rights, and water claims, where water is the silent star. Even though I am an arts addict, it is the natural and diverse scenery of California that is the big draw–the Pacific Ocean, Death Valley Monument and the Mojave Desert, the ancient redwood forests of Muir Woods and northern California, the mountains, and public places like Yosemite National Park. California is an outdoor wonderland. What other state has seals and bears, sharks and cougars? Californians surf and ski on the same day.