After three years of close cooperation Law Society President, Robert Bournes and his KBA counterpart Chang-Woo Ha deepened ties by renewing their Memorandum of Understanding (MoU) at this year's International Marketplace Conference on 6 October and explored new avenues for professional collaboration.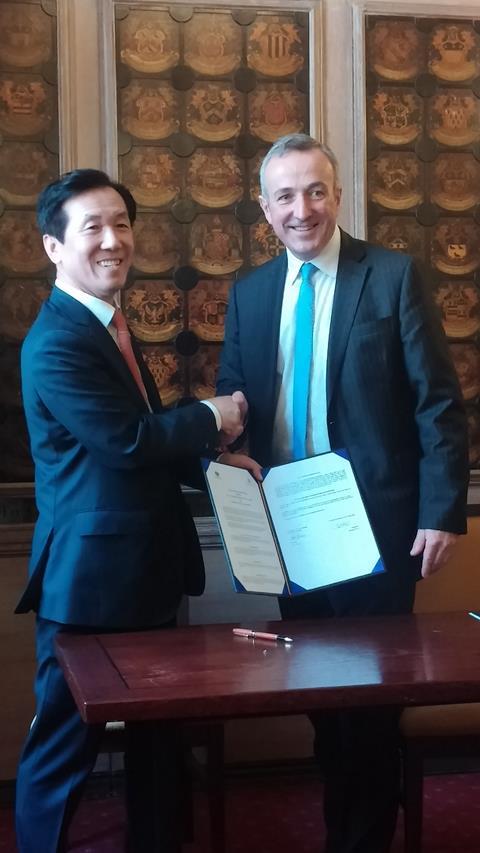 Robert Bournes and the Korean delegation led by President Chang-Woo Ha congratulated each other on three years of collaboration that have seen South Korea open to foreign firms. To date, Law Society members firms, Clifford Chance, Herbert Smith Freehills, Linklaters, Allen & Overy and Stephenson Harwood have opened offices in Seoul.
The Law Society and KBA agreed that there are opportunities for Korean firms in England and Wales. The Law Society will shortly publish a Doing Legal Business in England and Wales translated into Korean that will be circulated by the KBA to its 19,000 members, highlighting the benefits of the of dual qualification and the use of English law when carrying out cross border activity.
Later this month, Law Society International Policy Adviser Donna Evans will meet with the vice president of the KBA in Seoul to discuss participation in the KBA annual conference in January 2017. The president of the Law Society has been invited to join a panel on the internationalisation of the Korean legal services market, further bolstering the relationship and engagement between the two professions.
The MoU signing followed a meeting between KBA Vice president of Human rights affairs Mr. Jong-Cheol Kim and the Law Society's International Human Rights Policy Adviser Marina Brilman, in which both learned of the other's activities and found a great deal of common ground in their objectives.