With 69% of the public happy to be prompted to leave a charitable gift in their wills, the Gazette's new-look Charity Explorer directory can help you support clients to find the right charity for their will.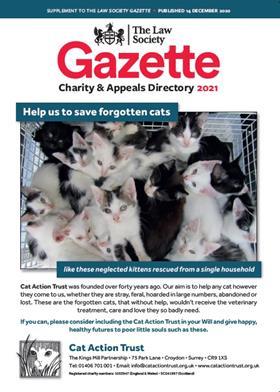 By offering to discuss the benefits of including a charitable legacy within your client's will, you can
offer the added value of gaining tax efficiencies
maximise their support of causes, and
help them be remembered for their kindness and compassion.
The Law Society Gazette Charity and Appeals Directory enables you to help your clients find the right charity. By sharing our latest online directory, you can give them access to all the information they need to make their decision.