Find out about Section membership and benefits, and join or renew your membership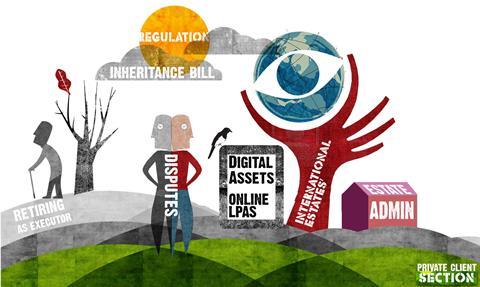 Why join?
Join the Private Client Section for access to CPD-accredited events, magazines and online content, developed and designed by specialist private client practitioners to help you:
Learn what is happening in your market
Understand what to do about it
Network with other practitioners and experts
Influence change in the legal landscape
Download our flyer for more information (PDF 1,059kb)
What we do
We give you access to the best practice support you need, when, where and how you want it, on the issues that matter to you. From digital assets to the Inheritance and Trustees' Powers Act 2014, and from pre-nuptial agreements to cross-border estates.
Our support will help you achieve best practice, because it comes from specialist private client solicitors and legal professionals. Our committee of experts works across wills, probate, financial and tax planning, elderly client, trusts, mental capacity and estate administration, and has access to regulators, government and key market influencers, including the Office of the Public Guardian.
In 2013, Private Client Section membership delivered:
22 hours of CPD-accredited best practice learning
158 pages of features and comments from key industry experts in our magazine PS (worth £90)
75 updates on case law and legislation from LexisNexis® and 10 updates from Professor Lesley King
Free copies of two Law Society books: Charities as Beneficiaries and our Guide for Trustees (worth £51)
Over £550 of discounts off other Law Society books and events, including our annual and international conferences
Who we are
Our Section committee of specialist private client practitioners, elected by Section members, works with Law Society experts to ensure that we give you the best possible support. Committee members include three members of the Law Society Council, including the Council member for private client.
For more information about Sections, see the Communities pages on the Law Society website or browse our FAQs.
Who can join
Membership is open to solicitors and trainee solicitors. Associate membership is available to Fellows of CILEx.
Your benefits until December 2014
Up to 22 CPD points earned using your:
Bi-monthly specialist magazine, PS
Regional seminars (where available)
4 webinars, available live and on-demand
As well as:
E-newsletters and online resources
Discounts off the October Private Client Elderly Care and Dementia Conference, as well as Law Society Publishing books, events and webinars
Opportunities to network and influence change