I. Stephanie Boyce is only the second in-house lawyer to be elected president of the Law Society, an office she will take up in 2021. She discusses how she will support the in-house sector as president, and how the Law Society can better support the in-house community.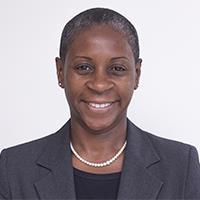 Can you tell us a bit about your in-house career?
I began my career in private practice, but was made redundant twice in as many years due to the decline in publicly funded work. A move in-house appealed to me because I wanted to be more agile and flexible in my working and to be closer to the decision making process.
Back in 2004, in-house wasn't talked about so much; certainly, routes into in-house weren't clear. When I told my recruitment consultant I wanted to work in the City, I was told I wasn't being realistic. So, getting my first job at the Bar Council as a solicitor to the then Complaints Commissioner and the Senior Investigations Officer was a real coup for me.
In 2007, I moved to the Association of Chartered Certified Accountants (ACCA) and stayed there until 2012. I was promoted quickly to committee manager and clerk to the disciplinary and regulatory committees.
How has your in-house career developed you as a person and driven your career forward?
Working in-house, it was the exposure to more varied work and greater responsibilities that drove me. In-house, you have to become more strategic in your thinking, as you are closer to the decision making process and you get experience of lots of different parts of the business, whereas perhaps in private practice you may be focusing just on the law (though I appreciate things are evolving and private practice firms are having to become more commercial and strategic in their focus).
I want to encourage in-house members to see us as a convening body that they can rely on for support and guidance
One of the things that attracted me to in-house was that I realised the organisation I worked for could train / pay for me to learn different skill sets. ACCA funded me to do a part-time master's in public law and global governance in 2008. This was where my appetite for governance started to form, as I got more involved in budgets, policies and procedures that began to dominate my daily work. Since then, I have recently become a Fellow of the Chartered Governance Institute, formerly ICSA.
What will be the major themes of your presidency?
In no particular order, and may be subject to change, they are:
Social mobility and addressing the barriers to entry, which is automatically stacked against those from a non-traditional background.
Mental health and wellbeing in the legal sector is a growing concern. We will work together to ensure good mental health and wellbeing is valued.
The Solicitors Qualifying Examination (SQE) – the new way in which we train and qualify solicitors is due to go live during my year as president (2021). While some people believe it will remove artificial barriers to qualification, there's still a lot of detail we don't know about it. The Law Society is working closely with the SRA and others to ensure the profession is kept up to date with developments as well as representing the views of members.
The environment – law firms don't necessarily think it affects them, but of course, it affects all of us. I want to look at what advice the Law Society can be giving to law firms and organisations on the impact of our carbon footprint as a profession.
Access to justice – I am passionate about the fact that legal rights mean nothing if you're not able to access or enforce them. Being able to access these rights should not be dependent on your wealth or ability to self-fund in a civil society such as ours.
In-house – the fastest growing sector in our profession. I am the first in-house office-holder in almost 50 years, which provides an opportunity to highlight this area of our profession.
Global governance and the rule of law – to continue our work to assist government nationally and globally in building a sustainable, secure, prosperous and just world. I also believe that law should be regularly taught in schools to enable individuals to better understand and promote the rule of law.
How do you plan on supporting in-house lawyers while in office?
Until I was recently corrected, I believed that I was the first in-house lawyer to be elected Law Society president (in fact, it was Sir Desmond Heap, in 1972).
The Law Society talks a lot about "firms" and "private practice", but we must remember when we speak to include "in-house" and "organisations". The in-house sector continues to grow – it's predicted to make up 35% of the profession by 2020 – so I'm aware that this is a big community we need to support and highlight. I want to encourage in-house members to see us as a convening body that they can rely on for support and guidance.
Is there an education piece around educating private practice members about the role and value of in-house lawyers?
Yes. I accept there is some tension – as the in-house sector grows, there are plenty of organisations that see bringing lawyers in-house as an opportunity to cut legal spend. But we are all solicitors, and wherever and whatever law we practise, we all have a shared ambition to see this profession thrive.
How can the Law Society better support in-house lawyers?
I want us to work closely with the SRA to produce tailored guidance on some of the ethical considerations lawyers face working in-house. There's also a need for greater guidance on some of the other issues you may come across when you first move in-house.
I think we could also be better at signposting and supporting our members on career direction and alternative careers.
What are the main challenges for the in-house sector at the moment?
There is ever increasing pressure to streamline and/or cut budgets. I think at times the in-house legal department is seen as an easy way to achieve budgetary cuts. It can be difficult to explain to your employer there's a need for a specific resource or persuade them to pay for your practising certificate when budgets are being cut.
Some of the challenges facing the in-house community can be tackled by increasing the information available about the in-house sector and in-house opportunities.
Do you think there are any barriers to in-house lawyers doing pro bono work?
The legal charity LawWorks operates the LawWorks Professional Indemnity Insurance Scheme, which provides in-house lawyers whose organisations are members with free PII for registered pro bono projects. I think this is a real breakthrough in addressing the issue of being able to do pro bono work for in-house lawyers where their employer's insurance may not always cover their pro bono work.
It can be difficult to explain to your employer there's a need for a specific resource or persuade them to pay for your practising certificate when budgets are being cut
Pro bono work offers a marvellous development opportunity and employers should be ready to recognise the long-term benefits for organisations of their employees carrying out pro bono work.
What's the best piece of career advice you've been given?
Never give up. It took me four attempts before I was elected deputy vice-president. It was in the lessons I learned from those knockbacks that inspired me to go forward.
Go for it. There are certainly more in-house roles now than when I started all those years ago.
Would you consider a return to in-house?
Absolutely! I have just left an in-house role so I can focus on my deputy vice-president role, but I love working on the frontline in-house at the heart of my client.
What are your top tips for in-house career advancement?
1. Go for it!
2. Don't be afraid to negotiate – be clear about what you want when you go into a role and what your objectives are.
3. Be flexible – the skills you need as you progress in-house are slightly different to those required in private practice, so be willing and able to diversify.