On 5 October the Law Society hosted a delegation of commercially focused lawyers from China as major firm Allbright looks to move into London.
The delegation consisted of Yuhua Yang, a partner at Llinks Law Offices in Beijing, Faye Zou, a partner at Zhongxia Xubo (ZXXB) in Shanghai, Oliver Ross of Stevenson, Wong & Co. and five senior representatives of Allbright's Shanghai office.
The delegation met with Law Society International Policy Adviser Donna Evans before receiving a tour of the Law Society's historic building on Chancery Lane. It then walked to the Rolls Building, the centre of international dispute resolution, where it met Judge Blair, the Judge in Charge of the Commercial Court (picture above). Judge Blair told the delegations that around 80% of the Commercial Court's cases include foreign parties.
The Chinese firms were keen to learn more about operating in England and Wales, which it regards as a juridiction of choice in international disputes.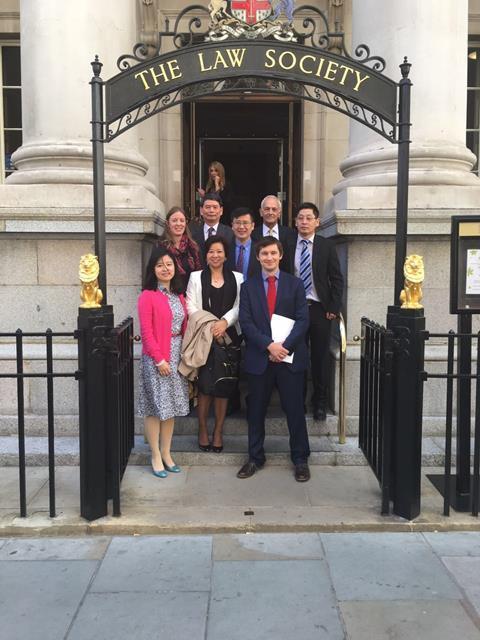 On the inevitable question of Brexit, Allbright partner Yu Bingguang said his firm remained enthusiastic about London and saw events to come as an opportunity for Chinese firms. Allbright is currently exploring opening an office in London, as he told the Law Society Gazette during his trip.
On 6 October the delegation attended the Law Society's flagship Legal Marketplace conference, where Yuhua Yang spoke on a panel about Brexit and its implications for international markets, offering insights on legal services in China.
With London alone hosting lawyers from nearly 100 juridsictions and over 200 foreign law firms and an open and supportive system, England and Wales is an excellent choice for foreign law firms looking to do business. The Law Society's International team enjoyed welcoming the Chinese delegation to London and representing the English and Welsh legal profession.
Visit the International Division Page to see how you and your firm might benefit from joining the Law Society's International Division.