As lawyers know only too well, when adversity, strikes the impact on personal and professional life can be severe. When it hits people in small firms, there can be added challenges to knowing where to turn in times of need. After all, a small team can only take so much strain - the resulting sense of isolation, coupled with increasing personal financial difficulties, can bring pressures that are simply overwhelming.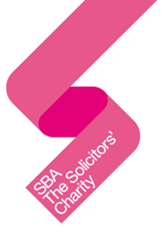 SBA The Solicitors' Charity is the benevolent fund for solicitors past and present and their families. It has been working at the heart of the legal profession for over 150 years. SBA's core purpose is to relieve the financial hardship of eligible solicitors, former solicitors and their dependants who do not have the resources to pay for the normal things in life which most people take for granted. It can help with grants and interest-free loans (usually secured), funded access to bespoke advice about personal insolvency and career and job-search support. SBA also works in partnership with LawCare to safeguard and improve solicitors' health and wellbeing.
To find out more, please visit the SBA website, email bensec@sba.org.uk or telephone in confidence on 020 8675 6440.