AWSL had fantastic feedback on our first lunch-time event where we were able to network, hear the talk and feast on a delicious buffet lunch.
Thanks to Irwin Mitchell, for hosting, and our speaker, coach and law lecturer Elizabeth Ajagbe, for introducing us to the Science of Character, explaining how knowing our positive character strengths could bring a happier lifestyle balance and make our profession a passion. We will plan more lunch-time events as it clearly suits some of our members.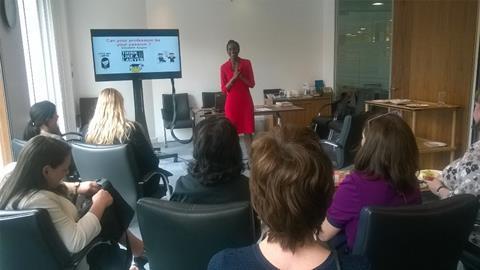 Playing to our strengths proved essential to win at the competitive croquet matches during our summer party. Set in the tranquil Gray's Inn garden we enjoyed toasting the summer evening and catching up with old friends and the Committee team. Championing the 100 years 'Women in Law project' we were delighted so many members shared their stories with the Red Chair team who are recording memories for the project. Special thanks to the four-five Gray's Inn team for hosting the event and providing expert croquet coaching tips.
Other recent events included our annual trip to the opera, this time La Boheme, which was another sell out success and our now regular spin class at Rebel 1.
Upcoming Events
14 September – an evening at Blowdry Express Salon – pick up styling tips and possibly a new hair style! Places are limited so book early.
27 September – 1 Rebel - Spinning fun at St Mary's Axe.
12 October – Sushi Making at Inamo 134 - 146 Wardour Street.
27 October – Visit to the Athena Project - following on from our AGM pop up exhibition and supporting our new role model of the month initiative we are visiting The Athena Project exhibition at CMS Cameron Mckenna. Photographer Leonora Saunders will provide a behind the scenes talk and host a discussion about images of women in law.
To find out more about AWS London and book for events please visit our website. New members are especially welcome.