Bournemouth and District Junior Lawyers Division
Catchment area : Bournemouth, Poole and surrounding area
Chair: Laura Stone (tel: 01202 673071)
Vice chair: Hayley Stack (tel: 01202 673071)
Secretary: Hayley Stack (tel: 01202 673071)
Treasurer: Edward Adamson
National representative: Darren Francis
Membership: LPC students, paralegals, trainee solicitors, NQ solicitors, solicitors up to five years PQE, pupil barristers, CILEX up to five years PQE
Membership fee: £30 per person, capped at £240 for firms with more than eight members
Group elections: October
Email: Laura.Stone@Trethowans.com , Hayley.Stack@Trethowans.com
Facebook: Bournemouth JLD
Twitter: @bournemouthJLD
Instagram: @bournemouthjld
The Bournemouth JLD represents young lawyers across Bournemouth, Poole and the surrounding area. We hold monthly social events and networking/mentoring events in conjunction with recruiters to assist our members.
The committee is made up of people from across our membership group and has various posts, including a national rep who represents the interests of our members at the national JLD meetings.
We hold an annual summer ball in June and a winter party every November. We hold charity raffles with the proceeds going to local organisations.
Bristol Junior Lawyers Division
Region: Bristol
Catchment area: Bristol and the surrounding area
Bristol JLD promotes the interests of junior lawyers in and around the Bristol region by organising social, networking and educational events. It aims to provide a forum for young lawyers to interact, socialise and support each other as well as encouraging sporting and charitable ventures, interaction with other professionals to improve business links and enhancing the young professional social scene.
The group has ties with Bristol Law Society and Bristol ILEX and is looking to organise more joint events in the future. You can find out more about Bristol JLD and sign up for free regular e-newsletters by visiting their website.
Membership is free, although the group writes to local firms (once a year) asking for a donation based on the number of eligible fee-earners at that firm. The group welcomes applications from any sponsors seeking opportunities to sponsor local activities. Elections are held in November each year.
Bristol JLD present £4,079.80 to charity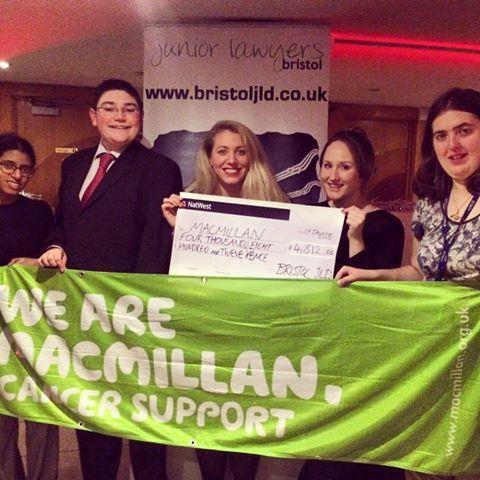 Membership fee: Free
Email: General - info@bristoljld.co.uk , social events - social@bristoljld.co.uk , careers events - careers@bristoljld.co.uk , newsletter and website - webmaster@bristoljld.co.uk
Website: http://www.BristolJLD.co.uk
Twitter: https://twitter.com/BristolJLD
LinkedIn: https://www.linkedin.com/groups/4291106
Membership: Students, Trainees, NQs, Solicitors
Cheltenham and Gloucester JLD
Region: Gloucestershire
Catchment area: Cheltenham and Gloucester
Cheltenham and Gloucester JLD are planning to run events that focus on members' requirements. There's no fee at this time to encourage members to join. We will communicate with members by email.
Contact: Kathryn Broughton
Email: kathryn.broughton@bpe.co.uk
Membership: Students, Trainees, NQs, Solicitors
Devon and Somerset Junior Lawyers Division
Region: Devon and Somerset
Catchment area: Devon and Somerset
The Devon and Somerset JLD promotes the interests of junior lawyers by providing a forum for young lawyers to socialise and support each other. We enjoy coming together for sporting and charitable ventures and regularly organise social events (previous activities include bowling, wine-tasting and kayaking), careers talks from local recruiters, and educational events.
This year, we are supporting the Wave Project, an award-winning surf therapy charity to help young people feel more positive and increase confidence.
We work closely with the Devon and Somerset Law Society and facilitate joint events to present members with a breadth of opportunities and support to build a diverse range of professional and social networks.
Our flagship event is our summer ball in June where we celebrate among 100 other junior lawyers and raise money for our chosen charity.
Our committee term runs from November to October with elections held in November. Look out for an email closer to the time if you are interested in joining the committee.
Communication is primarily through our mailing list and our group is accessible via our active Facebook and Twitter accounts.
Full membership is £25, and associate membership is £15.
Our committee members are easily identified on LinkedIn and would love to hear from you about ways in which you can get involved with JLD events.
Hannah Porter - co-chair
Ben Butterworth - co-chair
Grace Blackburn - national representative
Amelia Newman - vice chair
Emily Bowden - treasurer
Megan Sly - communications
Sophie Tucker - general secretary
Jess Clements - social secretary
Lydia Robinson - education representative
Isobel Massey - charities representative
Holly Crook - diversity representative
Omar Mahboob - sports representative
Rosie Ridgers - Somerset representative
See Devon and Somerset JLD on LinkedIn
Follow Devon and Somerset JLD on Twitter
Devon and Somerset Facebook group
Email: dsjld17@gmail.com
Website: https://www.dasls.com/page/junior-lawyers-division.html
Membership: LPC students, trainees, NQs, and solicitors up to
Read the committee's latest newsletter
Plymouth Junior Lawyers Division
Region: Devon
Catchment area: Plymouth and surrounding areas of Devon
The PJLD aims to be the group through which all junior legal practitioners in the Plymouth area can meet, network and socialise. The PJLD is designed for students (studying the LPC, BVC, GDL or LLB Law), paralegals, ILEX members, legal administrators, trainee solicitors, junior qualified solicitors, pupils, and junior barristers.
We organise regular social events throughout the year, the highlight of which is the May Ball. Other events have included a charity quiz night, cream teas in the summer, a harbour cruise and skiing. This year the PJLD is also keen to encourage and support its student members and to continue our charity work in the local area.
As well as social events, the PJLD provides its members with training opportunities and useful hints and tips on how to progress their legal career. We aim to use connections with the university, local law firms, local chambers and businesses to offer our members access to further networking opportunities.
Keep up to date with forthcoming events by visiting our Facebook page, 'Plymouth Junior Lawyers Division', or contacting us at plymouthjuniorlawyers@gmail.com .
Kyle Klesniks - Chair
Chloe Hamblin - Committee Secretary
Jenny Phillips - Treasurer
Helena Campbell - Charities Secretary
Emma Preston - Education Secretary
Becky Bawler - Social Secretary
Amy Paterson - Social media co-ordinator
Shahid Iqbal - National Representative
General committee members :
Pippa Tanner-Wood
Victoria Alford
Chris Hoile
Lisa Carbonara
Nicola Mitchell-Rodd
Annabelle O'Higgins
Membership fee: Students: Free. Firm subscription: 1-5 trainees £30, 6-10 trainees £75, 11+ trainees £100. Free membership for ILEX members and paralegals.
Contact: Kyle Klesniks - Chair, Shahid Iqbal - National Representative
Telephone number: 01752 292388
Email: plymouthjuniorlawyers@gmail.com
Membership: Students, Trainees, NQs, Solicitors