Ahead of Egypt's Universal Periodic Review (UPR) Pre-Session, the Law Society and the Tahrir Institute for Middle East Policy (TIMEP) issued an Advocacy Fact Sheet that complements the joint stakeholder report that the two organisations published in March 2019 as part of the UPR process.
The UPR is a mechanism of the United Nations created to examine the human rights performance of all U.N. member states; Egypt's UPR is set to take place on November 13, 2019. Egypt's UPR Pre-Session, which occurred on October 9, 2019, presented an opportunity for stakeholders to engage with states in conversations about Egypt's human rights record in the lead-up to the UPR. Dr. Marina Brilman, the Law Society's international human rights adviser, spoke on the panel of Egypt's pre-session at the United Nations in Geneva on the lack of judicial independence.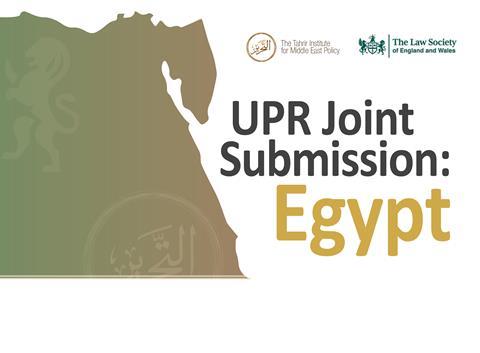 Much like the joint stakeholder report, the advocacy fact sheet traces the consolidation of authoritarian rule through legislation, as well as the crackdown on members of the legal profession and civil society. The fact sheet assesses Egypt's failure to adhere to its commitments from the previous UPR cycle. It focuses specifically on:
lack of judicial and prosecutorial independence;
military jurisdiction, state security emergency courts, special circuit terrorism courts, and lack of fair trial guarantees;
breakdown of the rule of law and legislation introduced by the executive;
use of the Counter-terrorism Law, the Protest Law, the NGO Law, the Media Law, the Cybercrime Law, and the Penal Code to harass, arrest, and prosecute lawyers and human rights defenders; and
examples of arrest, detention, death in custody, and enforced disappearance of lawyers and human rights defenders.