Join us at ILAC's webinar event online.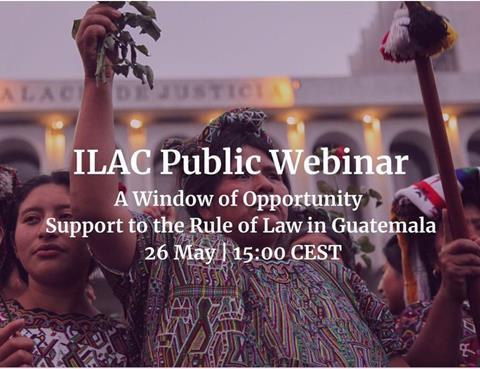 The International Legal Assistance Consortium (ILAC) is to hold a digital annual general meeting on 28 May.
Our International Rule of Law Programmes Manager, Lizzette Robleto de Howarth will participate in a virtual panel to discuss our recent joint report "A Window of Opportunity: Support to the Rule of Law in Guatemala".
The seminar will look at the World Justice Project's data on the status of the rule of law in Guatemala and the panellists will discuss how to support Guatemalan justice institutions and actors after the closing of the International Commission against Impunity in Guatemala (CIGIG). The discussion will be based upon the recommendations from ILAC's most recent rule of law assessment report – A Window of Opportunity: Support to the Rule of Law in Guatemala. The panellists will also discuss the concerns for further rule of law backsliding and threats to the justice sector during the Covid-19 pandemic.
The full report is available to download below.
Date: 26 May 2020
Time: 14.00 UK time
Panellists:
Joel Martinez, World Justice Project
Jaime Chávez Alor, Cyrus R Vance Center for International Justice of the New York City Bar
Lizzette Robleto de Howarth, The Law Society of England and Wales
Alvaro Montenegro, Alianza por, las Reformas
Lauren McIntosh, ILAC
Click here to register for the event and join.
Read about the report launch on ILAC's website and on our website.
Read about our joint mission to Guatemala.
Downloads
PDF, Size 3.59 mb

PDF, Size 4.63 mb