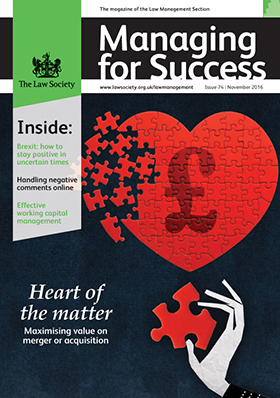 Features

You may think it out of your reach to take on international work, but, argues Sally Azarmi, small to medium-sized firms are often well placed to take this step – and it can enrich your professional and personal life in the process

From social media to review sites, there are conversations going on out there about your business. You need to know how to react when one of those turns negative, so you can avoid lasting damage to your online reputation. David Gilroy explains

A range of challenges face partners looking to plan effectively for their retirement in the current volatile marketplace. Mark Waddilove looks at the options, and which to choose at different stages of your retirement planning

Duncan Wood talks to Ann Harrison, chairwoman of Stephensons and member of the Law Management Section committee, about juggling multiple roles, presiding over a period of impressive organic growth, and making plans for the future

Healthy working capital is fundamental to the financial success of any business. John Playfair looks at how firms can improve financial stability by taking a proactive approach to managing working capital

In the second of our series focusing on law firm B P Collins, Ian Hopkins and Gina Connell look at how the firm drew up and implemented its new strategy, with a view to a major expansion in the next four years

The Legal Sector Alliance supports law firms to implement sustainable practices. Jim Haywood looks at the business case for sustainability and the steps small to medium-sized law firms can take to make a big impact.

If you are looking to merge or be acquired, you need to understand your firm's value, and maximise it by effective planning and due diligence. Grania Langdon-Down talks to the experts

Brexit has caused shockwaves in the legal sector and across the UK. Lawyers are not traditionally people who like uncertainty, so Brexit has hit them harder than most. Rachel Brushfield looks at how you can stay positive and focused in uncertain times.