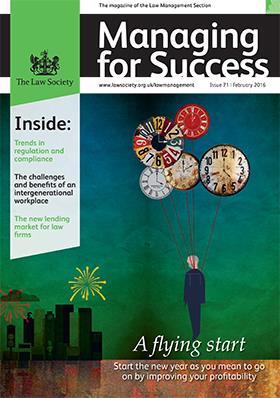 Features

The Law Management Section's 2016 Financial Benchmarking Survey suggests a generally positive outlook, but, warns Andy Harris, some firms may be slipping back into bad habits

A new Law Society report predicts what the future might look like for the legal sector. Three members of the Law Management Section committee outline their own approaches to future-proofing your firm in an uncertain market

Outcomes-focused regulation was intended to offer firms greater flexibility, but many now cite compliance obligations as a significant burden. Leading commentators and practitioners talk to Lucy Trevelyan about trends in regulation, and offer their top tips for effective compliance.
Five years ago, ELS Legal was hit by scandal: one of its partners had defrauded a client of millions of pounds. Partner Richard Spector talks to Duncan Wood about the firm's comeback, and how it has innovated to succeed.

Tom Wagstaff talks about the story behind his firm's award-winning knowledge management system and shares his top 10 tips for delivering a successful knowledge management project

What are your new year's resolutions for your business in 2016? Top of the list should be analysing and managing profitability, according to John Playfair . He provides his top five tips for improving law firm profits, to ensure you realise your full potential

What does it take to manage a small firm successfully? Sally Azarmi, the new chair of the small firms committee, looks at how the Small Firms Division supported its members in its first year, and outlines its plans for 2016.

Today's law firms have up to five different generations in their workplace, each with its own values, motivations, needs and wants. And traditional law firm management needs to change to accommodate a multigenerational workforce, says Rachel Brushfield

Do you know which of your firm's business development activities translate into the most high quality enquiries? How well do you convert those enquiries into instructions? Sue Bramall provides a beginner's guide to maximising conversion

Lending to law firms has changed significantly in recent years, from the old traditional funding market, to a 'new norm' with a more sophisticated range of products to suit different parts of the sector. Barry Wilkinson investigates.

The legal sector is clearly sceptical about cloud services – only 15 per cent of law firms currently use the technology. But, says Nigel Wright, the rest are missing out on real benefits to their business, people and clients.