The Law Society's In-House Division provides support and advice on key issues facing all in-house lawyers working in both the corporate and public sectors. In November 2014, it launched a new online magazine for in-house lawyers, Inside Out. The magazine will look at hot topics for the in-house market and how these affect in-house lawyers and their legal practice.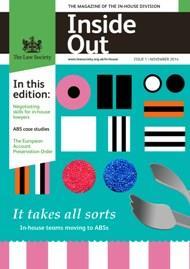 The first edition focuses on the options for in-house legal departments looking to take ABS status, through an in-depth feature, plus case studies including Avon and Somerset Police and Buckinghamshire County Council.
Also included in this edition are a piece on influencing and negotiating skills and an update from our Brussels' team on the European account preservation order.