Adele Edwin-Lamerton updates members on recent JLD activities.
Two months have passed since my last update and during that time the JLD committee has been representing our members both here and abroad, writing articles for the legal press, running a survey on LawTech (the results of which we hope to release soon), and been hard at work preparing the autumn programme of events. A round up of our most recent and forthcoming activity is set out below. But first, a call to action …
Take action
Can you help us? Have you done something innovative?
We want to include more profiles on our website of junior lawyers who are innovating in their professional careers. We want to hear from you if you have done something interesting or inspirational which you think other junior lawyers would like to hear about.
IBA survey: bullying and harassment in the legal profession
We invite you to take part in the International Bar Association (IBA) global survey on bullying and sexual harassment in the legal profession. The survey should take 10-15 minutes to complete and all responses are anonymous. Whether or not you have personally experienced bullying or sexual harassment in your legal career, your response will be valuable. Find out more about the IBA's survey .
JLD annual essay competition
If you are an LPC student, LPC graduate or trainee solicitor, consider entering the JLD's annual essay competition . The question this year is: 'How will the rule of law be affected by advances in legal technology?' The deadline is 30 November and the winner will receive £500.
Events
1. Free JLD career forums (September and October)
Our junior lawyer and student career forums take place at the Law Society on 8 September and 6 October respectively. These free events have become popular fixtures in the JLD calendar and there is even an opportunity to get your CV reviewed:
The junior lawyer forum on 8 September is aimed at equipping trainees and junior solicitors with skills and advice necessary to progress, diversify and develop within the legal profession.
The student forum is aimed at LPC students and LPC graduates seeking a training position and includes a series of presentations designed to maximise your chances. This event is being held on 6 October.
2. International Weekend 2018 (27-30 September)
Make sure you save the date for this year's International Weekend on 27-30 September in London. International Weekend is primarily aimed at junior lawyers from overseas jurisdictions, including those who may be on secondment in the UK. However, the programme will be of interest to JLD members who are welcome to attend all aspects of the International Weekend, including the black-tie gala ball at the Law Society on Saturday 29 September.
3. Politics and the law (15 October, London)
Are you interested in a career in politics? The JLD in partnership with the Law Society has organised a panel discussion on politics and the law specifically aimed at junior lawyers. The event will cover how to launch your career in public life and how engagement in public life and with political activity can enhance and inform a legal career, as well as contributing to the public good. Find out more and book your place .
Other updates
Opportunity to host Dutch lawyers: 1-6 October
We are looking for barristers and solicitors willing to host a Dutch lawyer between 1-6 October 2018 in London as part of this year's Anglo Dutch Exchange (ADE) programme. Founded in 1966, the ADE is a biennial event for young lawyers from England and Wales, and the Netherlands, hosted by each jurisdiction on an alternate basis. The purpose of the ADE is to foster a better understanding of our counterparts' legal and judicial system and of their commercial and cultural environments, as well as to establish closer links between the two jurisdictions.
SRA consultation: Looking to the future – phase two Handbook reforms
In January the JLD responded to the SRA's consultation on phase two of the Handbook reforms . This consultation included further changes to the SRA Handbook, their proposed revised enforcement strategy and the transitional arrangements for introducing the Solicitors Qualifying Examination (SQE). Our response focused on three areas:
removing the qualified to supervise rule
assessing character and suitability before undertaking the LPC
training regulations, in particular the transitional regulations to introduce the Solicitors Qualifying Exam (SQE).
The SRA has accepted our stance on character and suitability. We are pleased that our argument has persuaded the SRA that students would benefit from a formal decision before embarking on the cost and time commitment of training to be a solicitor.
SRA consultation: Protecting the users of legal services – balancing cost and access
I would like to thank Nick Gova (director of Garrick Law Ltd and the JLD national committee representative of the Berks Bucks & Oxon) for preparing the JLD's response to the SRA consultation – protecting the users of legal services (PII reforms). Being a director of a law firm and a junior lawyer, the JLD felt that it was entirely appropriate, based on his wealth of experience, to seek Nick's views in response to this consultation.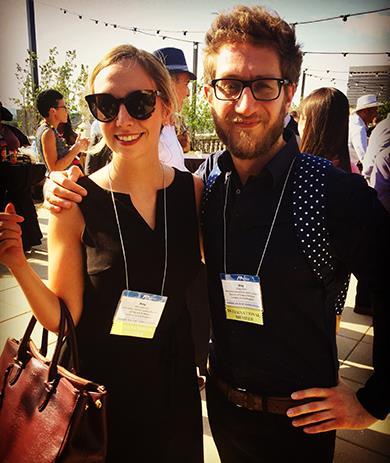 ABA YLD Spring Conference
Each year, two members of the JLD executive committee attend the American Bar Association (ABA) Young Lawyers Division (YLD) spring conference to maintain strong international links and represent the interests of the JLD and its members. This year Amy Clowrey (JLD vice chair) and Greg Smith represented us at the May conference in Louisville, Kentucky. Read their blog about their insightful trip .
LawWorks pro bono awards
Nominations are now open for the annual LawWorks pro bono awards , including a specific category supported by the JLD for trainees and solicitors up to five years qualified. The deadline for nominations is 8 October .
Solicitors Qualification Exam (SQE)
The SRA has now announced that Kaplan has been appointed as the assessment organisation to develop and run the SQE, although they will not provide the training. We will continue to engage with the SRA to encourage them to provide answers to our members' concerns surrounding the detail of the assessment, particularly cost. Once we learn any news, we will share it on our website and social media channels, so please keep an eye on those for further developments.
JLD in the news
Over the past two months we have written about, been mentioned or commented on a number of issues in the legal press. A selection is set out below.
In the JLD column:
JLD executive committee elections 2018
In September, we will be opening nominations for the JLD executive committee. There will be five vacancies – vice chair, student representative and three 'free' seats. If you are interested in representing your peers and standing for a position watch this space.
Hope you all have a great summer.
Adele Edwin-Lamerton
Chair, Junior Lawyers Division
The JLD is all about its members and their needs. To enable the JLD committee to better represent you, we want to hear from you. Please get in touch at juniorlawyers@lawsociety.org.uk or through our social media channels to give us your thoughts, seek our support or just to connect.