The Young People's Legal Service, part of Warwickshire Legal Services, Warwickshire Country Council won the 2019  Law Society Excellence In-house award for their outstanding contribution to society by delivering legal services that help people experiencing significant financial pressure. Senior solicitor Naomi Bentley-Lawson explains more.
Warwickshire County Council's Young People Legal Service (YPLS) team won the Excellence Award for Excellence In-house 2019 last October.
Over 2018, YPLS extended its reach by taking on work from five local authorities, which has included advising their client departments, having conduct of cases and representing them at court, while generating additional revenue for the council and improving its own resilence.
Among the initiatives that impressed judges was the 'Adolescent Project' – a collaboration with Coventry City Council, Cafcass and the local courts, that ensures that young people's voices are heard throughout the judicial processes involved.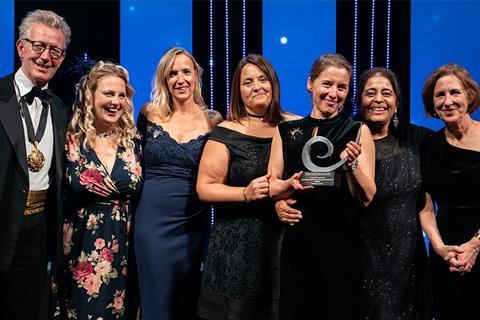 What extra resource did you need to get the project off the ground? Was buy-in challenging for that, and the idea in general?
There are a number of strands to our external work, and clients have differing needs. We have managed those needs with different arrangements, for example, spreading the work over the main team or creating a particular hub of staff to deal with that particular client's work.
There was buy-in from management. The increase in work and generation of income has meant more job security for YPLS staff, and also greater opportunities for broadening their experience. A resilient team with broader experience meant we had buy-in from our in-house client – though we had to reassure them that their work remained just as important and the level of service they received would be maintained.
Why did you decide to take a more commercial approach? Was there pressure to generate revenue?
There has certainly been pressure on local authorities to make savings, often in very difficult environments where work is becoming more demanding and resources are reducing. One way to make savings is to generate income. As a 'fully traded' service within the council, we have no budget from which to make savings – income generation from external clients is the only way to make a visible contribution to the savings of the council.
Of course, driving efficiencies in the way we work, supporting Children's Services to reduce their need for legal services, and keeping our internal prices as low as possible are also vital, but these do not deliver an easily visible saving.
Income generation from external clients is the only way to make a visible contribution to the savings of the council
How important is the support of the wider organisation?
The support of the wider organisation has been essential. The help of senior management is fundamental at a strategic level to resolve the commercial issues, and to lead with a belief in the strength of the service. The support of our in-house client and other parts of the wider organisation have also been crucial to our success.
How do you prioritise the work?
There is separate line management for the in-house work and the external work, so that the managers are able to prioritise their own area of work. There has been some separation of work across the staff – while lawyers and support staff are expected to assist each other, they tend to be dedicated to a specific primary client, which has meant that prioritising work has not been difficult.
How did you build trust and relationships with other local authorities? How do you maintain those relationships?
It has helped that YPLS had existing relationships with other local authority legal teams, and our good reputation meant that others trust us to provide an excellent service with professionalism and integrity. Working relationships are maintained by consistent and open communication, robust project governance, and a mutual understanding of the pressures that local authorities face (both their legal teams and their client departments).
We want to be a positive resource for other local authorities. It is important that other legal teams do not feel threatened or encroached upon, so we invest time in looking after our relationships with in-house legal teams for other local authorities. Where the legal service is already outsourced and we have been commissioned directly by the client, this is not appropriate.
It is important that other legal teams do not feel threatened or encroached upon, so we invest time in looking after our relationships
How do you see YPLS developing in the coming years?
It is difficult to say, due to external work being driven by the pressures other organisations face: we would struggle to predict or influence these pressures. If other local authorities continue to require our services, then YPLS is likely to increase in size and experience. If less external work is required, we'll likely reduce slightly to fit the needs of our in-house client. We will continue to be a resilient legal team providing an excellent service regardless.
We keep an eye on the changing horizons of local authority legal practice and explore whether there are other legal services that we can usefully provide to our in-house client and offer to others.
Can other local authorities adopt a similar model to yours? Would you recommend it?
Yes – if a local authority has a strong team that is able to react and adapt quickly, and a good reputation amongst other neighbouring authorities, it is a good way to build on expertise while generating income.
The success of the model is dependent upon the team and the legal service as a whole having many years of being fully traded internally, and operating within an organisational structure that accommodates the need of the service by being flexible in terms of staffing and other resources. Without this flexibility, it would be extremely challenging.
Did anyone in the team come from a commercial background? If so, how did that help?
No – it would be a very difficult transition from commercial law to child protection, and very different skills are required. It is also an unlikely transition due to the differences in remuneration!
The project has, however, been supported by senior management and strategic leaders, who bring commercial expertise with them, and a business acumen for delivering services to external clients.
Do you use panel firms for extra resource?
We don't. One of our strengths is that we have a resilient team that can accommodate a sudden increase in need.