Duncan Wood reports back from the Law Society's roundtable in November 2019 to launch new pro bono guidance for in-house lawyers, with representatives from law firms, legal charities and in-house legal teams.
As part of Pro Bono Week 2019, the Law Society held a roundtable at Chancery Lane on 5 November to launch a new pro bono guide for in-house lawyers and legal teams. The roundtable was chaired by deputy vice-president of the Law Society and in-house lawyer I.Stephanie Boyce, and attended by representatives from the Law Society, legal charities, in-house legal teams and law firms.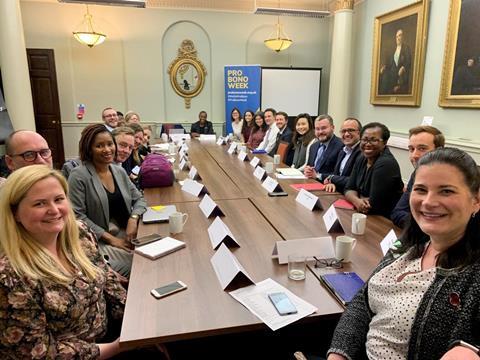 The guidance is the result of collaboration between TLS, LawWorks, the Collaborative Plan and the UK In-house Pro Bono Group, amongst others. The guidance aims to support in-house legal teams to develop their pro bono work and programmes within their organisations.
What are the main benefits that pro bono initiatives have brought to your organisation?
"It brings teams together," remarked Deborah Smith of Goldman Sachs. "We have a large legal division and pro bono is an opportunity for people to work together. People are inspired – for many, it's why they went to law school."
What if you're sole counsel or in a small team – as many in-house lawyers are – and are keen to start something?
"You've got to start small," said Tony Suarez-Martinez of GSK. "I would team up with external counsel for support. Don't try to do it solo. Most companies will have a CSR mission and statement of values – it's important to link to those values in terms of selling pro bono to your organisation."
Confidence can be a psychological barrier to taking that first step. "We need to send the message to the profession that it does have a contribution to make, whether individually or as part of a team," says Martin Barnes of LawWorks. There's also a cultural hurdle to cross, remarked Nina Garnham of Shearman & Sterling. "The areas of most need are often not those in which corporate lawyers are trained, and many may feel daunted at the prospect of advising a charity, for example. There's an education piece in explaining to lawyers have many transferrable skills."
Martin agreed. "For most in-house lawyers, the nature of the legal work they do actually crosses many different areas of law and that's exactly what can transfer to a pro bono setting."
Start small with your pro bono, and don't do it solo

Tony Suarez-Martinez
Mitesh Jagatia of Bloomberg LP said it's also important to connect with your organisation's CSR team, if it has one. "I think for many of us, our organisations don't fully understand the value of the legal team, and one way to demonstrate your value is to set out what you can do for your community. The CSR team can help with marketing and publicising your activities."
Is any type of volunteering pro bono?
"Pro bono is about being more forensic in the use of your volunteer time," said Martin Barnes. "It's great to go into a school and read to children, but as a lawyer, you can make a greater impact through legal pro bono volunteering."
It is now easier to get stakeholder buy-in for volunteering internally than it was when I first started work, remarked Raj Bahia of Evercore. "My business is only beginning to look into volunteering, but initial thoughts are that there is less interest in people going out into their community to provide unskilled service, and more interest in the idea that we use our professional skills to serve instead, for greater impact and also to make us better at our day jobs. At bigger organisations than mine, my sense is that there may be a bit of more inertia around that."
Having a stricter definition of pro bono creates a much stronger impact in terms of generating interest both from volunteers and the stakeholders that have to support it, remarks Tony Suarez-Martinez. "I can pitch pro bono better to colleagues if I explain that they are able to give legal advice and that only they can enable access to justice and change lives.
"If I am pitching to more senior stakeholders, I am suggesting these are more transferrable skills, particularly in relation to junior lawyers: pro bono can allow direct access to clients that they may not have in their day jobs."
How do you go about setting a programme up?
"At Bloomberg, my predecessor went out to law firms we had existing relationships with and set out our vision for pro bono and what we wanted to do," explained Mitesh Jagatia. "It was a tender process, if you like. Five law firms responded and outlined their pro bono programmes. We chose the law firm that best suited our vision."
The importance of external law firm support was echoed by Ruth Burrell of Standard Bank. "We are a small legal team, and it's so overwhelming to start with. What information do I need, and where do I get it from? How do I make pro bono relevant to my firm? Help from external law firms was essential for us."
It's great to go into a school and read to children, but as a lawyer, you can make a greater impact through legal pro bono volunteering

Martin Barnes
Tony Suarez-Martinez remarked that previous attempts at GSK to set up a pro bono programme failed. GSK is based in Brentford, and it was difficult to get people to commit to travelling into London each week to attend law centres etc.
"We looked at our CSR values and tried to match them to what we wanted to do. You can sell it to stakeholders this way, because they like to use that same CSR language. We looked at the charities we work with and tried to find a mechanism by which we could approach those charities directly to give pro bono legal advice.
"We got our own insurance and decided to go it alone. This was quite painful to set up, so the new in-house guidance is going to be a fantastic way of simplifying that." Another challenge is finding the pro bono opportunities that really speak to people. "One law firm we partnered with ran an access to justice programme for challenging denied disability benefit claims for people with mental health and disability issues – that really fits with our values. That did seem to generate interest in a way we hadn't seen before."
What are some challenges with in-house legal teams doing pro bono?
Getting insurance for pro bono projects remains the biggest hurdle for many law firms.
Happily, LawWorks now operates the LawWorks Professional Indemnity Insurance Scheme, which provides in-house lawyers whose organisations are members with free PII for registered pro bono projects.
Many around the table said their firms were on the whole supportive of taking time out to do pro bono as part of CSR. As Christian Parker of Paul Hastings pointed out, pro bono should not be a hard sell. "You should be pushing at an open door. What's not to like for a law firm? They do a bit of pro bono and get lots of clients on the side; it's a great bit of business development."
The biggest challenge is time. Mitesh Jagatia said: "While we don't struggle to get permission from the business, it's very hard walking away from my diary and workload."
Radhika Rani, Senior Legal Counsel at Hewlett Packard Enterprise (also a co-founder of the UK In-house Pro Bono Group) mentioned that taking time out for pro bono can have positive benefits, even for busy lawyers. "You're having a break from the office, but also doing something valuable and being a force for good."
Find out more
Joint Pro Bono Protocol – the Law Society, the Bar Council, CILEx and the Attorney General's Office along with numerous legal organisations have endorsed the Joint Pro Bono Protocol. The Protocol gives a definition of pro bono work and sets the standard for pro bono work
Law Society Pro Bono Charter – a public statement that we invite law firms, in-house teams and alternative business structures to sign. Signing the charter shows your practice is committed to improving access to justice