The Law Society is running a campaign promoting England and Wales as a global legal centre. The campaign focuses on the benefits of English and Welsh law, judicial system and the profession, as well as the benefits of London as a legal hub. Funke Abimbola, general counsel at Roche, discusses why she is getting involved.
A number of senior lawyers have spoken in support of our Global Legal Centre campaign and have taken part in a series of short films. You can watch the videos on the Law Society's YouTube channel.

Why did you get involved in the campaign?
I am a proactive, 'can do' senior in-house solicitor and business leader. Outside my full-time day job, I also campaign extensively for more diversity in the UK.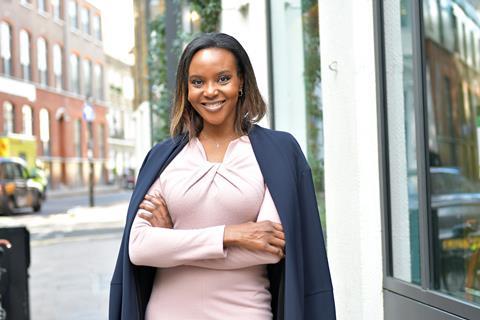 Soon after the referendum result, my organisation began planning for Brexit from an industry viewpoint. As a practising solicitor, I became very concerned about the impact of Brexit on the legal system in England and Wales. I wanted to do something proactive to highlight the many benefits of our system which could also go some way to maintaining that status in light of upcoming political changes.
Why do you think the campaign is important for the in-house community?
Many of us within the in-house community have an international dimension to our day-to-day work. In addition, the vast majority of in-house lawyers are commercial lawyers who are familiar with the ramifications of dispute resolution and choice of law clauses within commercial contracts. The certainty offered by our legal system is paramount in this context and is something that none of us want to see eroded. Businesses operate best within a framework that is as solid and certain as possible.
What can the in-house community do to support or get involved in this campaign?
I suggest that in-house lawyers who are involved in their organisation's Brexit taskforce (or similar workstreams) use that as an avenue to highlight the importance of certainty within the legal system to their commercial colleagues. I am currently legal and operational lead for my organisation's Brexit taskforce and recently presented on Brexit's impact to lawyers as part of this. I was able to mention the Global Legal Centre campaign and other work that the Law Society has done to ensure that England and Wales do not lose the benefits of its legal heritage.
In-house lawyers can also volunteer to provide content to the Law Society about why the campaign is so important within their own specific industry. These examples can be showcased within the in-house section of the Law Society's website and via social media platforms.
How is English and Welsh law important for your role?
All the lawyers within my team are qualified to advise on English and Welsh law. The law in England and Wales provides much needed certainty in an uncertain environment. Given the heritage we have, our system is respected and admired across the world. We have first-class lawyers in England and Wales who practise with integrity.
What do you see as the benefits of the English and Welsh courts?
Again, there is no getting away from the heritage we can rely on here, including the quality behind centuries of judicial decision-making. This has huge ramifications globally given the breadth of the Commonwealth – indeed, much of the Commonwealth developed its legal system based on our own, meaning that our laws underpin over a quarter of the world's jurisdictions. This certainty and heritage brings tremendous benefits to businesses and other organisations seeking to rely on our legal decision-making.
What reception has your involvement in the campaign had so far?
My involvement has been well received by my colleagues and peers. I am proud to have been part of such an important campaign.