Katherine Rayden is a partner at Rayden Solicitors, the largest family law firm in Hertfordshire. She tells us about the St Albans-based firm's award-winning 'Hot on Family Law' marketing campaign, and how it delivered a 53% increase in clients, with a forecast business value of £170,000
Tell us about yourself and your firm.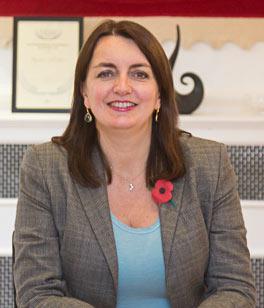 I've worked a family law solicitor for 17 years, founding Rayden solicitors in 2005 where I specialise in ancillary relief (financial disputes) including complex cases with an international element, prenuptial agreements and ex-patriate divorces.
Based in St Albans, Rayden Solicitors is an award winning specialist firm of family law solicitors in St Albans and the largest family law firm in Hertfordshire. Our clients are based across the county, in London, throughout the UK and internationally. We are listed in the Legal 500, Chambers and Partners and Citywealth Leaders List.
Why did your firm decide to create the 'Hot on Family Law' marketing campaign?
I always had a vision of becoming a top specialist family law firm, offering first-class service and legal advice.
Having secured prestigious offices in St Albans in April 2012, the next stage of development was to significantly raise the local profile of the firm. In October 2012 we launched a distinctive campaign to continue to build awareness and reputation of the firm both locally and nationally, targeting both legal professionals and other potential referral sources.
The visual hook of a chili pepper on fire, coupled with the strapline, "Rayden Solicitors - Hot on Family Law", formed the core creative element of the campaign.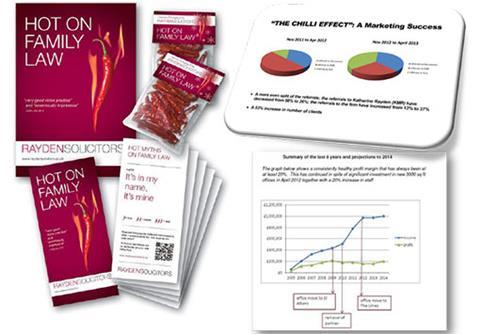 The campaign had three main targets:
Professional legal audience: the campaign objective here was to create a unique image which assured current referral sources and attracted new ones. This was particularly important for London lawyers who may be reluctant to refer to an unknown regional firm.
Potential referral sources – non-legal business professionals: the core idea was to debunk popular myths on family law, with the aim of creating interest and engagement with potential referrers of clients.
Client research: results from people taking the chili test via the QR code has provided valuable research into the public's understanding of family law and their rights.
What are the key features of the campaign?
The campaign launched with a distinctive advert on the front cover of the Family Law Journal.
For the non-legal audience, the campaign featured six 'hot myths' on family law, promoted through a series of cards and the firm's blog. A QR code encouraged people to visit the blog and find out their 'chili rating'.
The campaign was integrated through all media both online and offline, including the website, social media, chili-themed refreshments at sponsored hosted events, chili Christmas gifts and a targeted mail campaign to professional referrers.
What outcomes has the campaign produced for your firm?
The Hot on Family Law campaign is both distinctive and highly memorable. It has been widely complimented by legal professionals in London and locally, and in November 2013 won the British Chambers of Commerce National Marketing Campaign of the Year.
The overall affect on business has been a 53 per cent increase in clients, with the value of business forecast to be £170,000. We saw a marketing return on investment of 2,800 per cent.
What tips would you pass on to sole practitioners and smaller law firms looking to promote their firms?
Think about the campaign as part of the overall strategy for the firm. Try to apply each principle to every element of the business and team, from the website, telephone calls and reception.
Do you have any thoughts how the Law Society could best help sole practitioners and small firms on marketing and promotion issues?
If the Law Society is going to promote solicitors locally (there was a poster campaign last year), it would be useful if firms could have advance notice and join in the campaign at a reduced cost.