The Law Society participated in the VII Jornadas de Juntas de Gobierno organised by the CGAE every four years.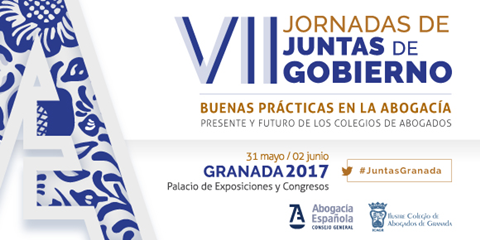 From 1-2 June 2017, the Law Society visited Spain to attend the VII Jornadas de Juntas de Gobierno in Granada, a conference organised by the Consejo General de la Abogacía Española (CGAE) every four years. The event gathered lawyers active within the 83 Local Bars and the 10 Regional Councils in Spain, that in total represent more than 256.000 lawyers.
The theme of this year's Congress was "Good practices in the legal profession. Present and future of the Local Bar Associations". Please find the programme attached.
Law Society President Robert Bourns participated in the session on 'The future of the legal profession. Challenges and new work niches. Artificial intelligence', moderated by Oriol Rusca, Vice-president and Head of International Relations Commission of the CGAE and Dean of the Barcelona Bar Association, Head of the Spanish Delegation o the CCBE.
During the session, the panellists discussed the following aspects between Science and the Legal profession,Technology and Ethics, Preservation and Innovation:
• An innovative and technologically advanced legal profession, with a global vision in a digital society.
• Advantages and disadvantages of technological advances and the application of Big Data and Artificial Intelligence from the anthropological, ethical and legal point of view.
• New services and new niche markets. Normative compliance. Changes in the legal profession and values to be preserved.
Robert Bourns gave a positive outlook for the future of lawyers and law firms and highlighted in particular that, provided that they demonstrate value, as defined by their clients, delivering advice and support in the way that clients recognise as useful, law firms will continue to be relevant.
Firms should always focus on the client and identify:
What their clients need today
What will their clients need in the future
How their current and prospective clients buy legal services which will help them to plan and adapt for the future.
Firms that are unsuccessful usually had failed to anticipate changes affecting or driven by clients (themselves operating in a changing environment) and those they employ.
Opportunities for law firms
The use of artificial intelligence and technology has brought opportunities for firms. The Law Society's research showed that technology is:
Enabling solicitors to become more efficient at some procedural work which can be commoditised.
Reducing costs by using technology – including artificial intelligence systems.
Supporting changes to client purchasing decision-making.
In particular small firms were positive example on using technological innovation to improve their practice and client offer as their physical presence became irrelevant when they are linked to a central hub and to each other. This approach had encouraged smaller full service law firms to become more specialist and develop a niche practices
He concluded that Artificial Intelligence is serving the profession and solicitors, firms and the justice system are embracing technology to improve and grow.
This didn't not mean that solicitors are being replaced by technology – for example, many clients (including in-house lawyers) still relied on major law firms for their complex and specialised legal issues and were willing to pay the higher premium for these, despite the fact that technological solutions are available to address some of these complex legal issues, at a much lower cost and with greater accuracy.
Solicitors are innovators, and if they were responding to changes in a highly competitive legal services market – they would continue to do demonstrate value to clients.