Interview with Denis Bagrov and Zhanyl Abdurakhmanova from Centil Law Firm .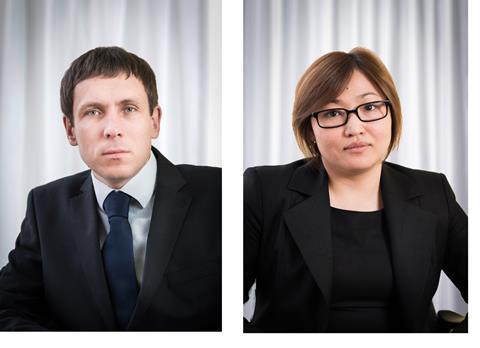 Tell us about your firm.
Centil Law Firm is a regional independent law firm focusing on Central Asian, Caspian countries and Mongolia. Centil has over 50 lawyers in 8 jurisdictions with main offices located in Kazakhstan, Kyrgyzstan, Uzbekistan and Tajikistan. Having advised on complex transactions across the region which span from unprecedented multibillion energy and upstream projects to revolutionary public-private partnership projects, we specialize in a wide range of products generated by our firm's organically interacting practices staffed with lawyers coming from different cultures, industries and backgrounds. Most of our partners and associates graduated from the oldest US, German and UK law schools, and have previously worked in international law firms.
We have provided both corporate and governmental clients with the highest quality legal advice and commercial business solutions, based on our team's core values of professionalism, objectivity, honesty, responsibility, confidentiality and close co-operation with clients. Our successful and extensive experience in practicing law, a thorough knowledge of the local business environment and a clear understanding of clients' needs, help our team to add real value at all stages of a client's project, from initiation to implementation.
Our reputation of a reliable advisor in the region results from our continued commitment to the improvement of our services and the firm's unique atmosphere of teamwork, flexibility, creativity and responsiveness. Centil (formerly Colibri) Law Firm has been top listed recognized by Chambers Asia, PLC: WhichLawyer, Legal500, Who's Who, and IFLR1000.Have you ever worked as a lawyer abroad?No, but most of the lawyers within our firm are qualified to advise under laws of most of the neighboring jurisdictions across the region covered by the firm, i.e. lawyers from Uzbekistan provide legal advice under Kazakhstani laws and Kyrgyz lawyers work on the Tajik law matters.
How would you describe the current business climate in your country?
Kyrgyzstan's business climate may generally be described as rather liberal, non-discriminatory and investor friendly with lowest tax rates in the region and a broad base of various, in particular, commercial laws in place, which, however and unfortunately, are not always enforced consistently and individual investors have been and are involved in disputes over licensing, registration, and enforcement of contracts. The Government occasionally raises the nationalization issues.
Corruption tends to be slightly declining and transparency seems to be increasing due to the Government's efforts to combat the corruption and increase transparency for various administrative procedures. Kyrgyz authorities also do in many cases listen to the feedback received from the local business community and take regular steps to reduce regulatory measures in order to simplify the process of doing business and make it more beneficial for the business community as much as possible.Another negative circumstance, which we see as diminishing the measures taken by the Government to improve the country's business and investment climate is the political instability. For instance, many investors have put on hold a decision to proceed with their investment projects in the country in anticipation of the Presidential elections scheduled for November of this year.
The situation with the business climate in Tajikistan may be described as stagnating and less inspiring than in Kyrgyzstan as we have observed any recent notable improvements in the country's business climate, unfortunately, still having good portion of administrative barriers, corruption, bureaucracy, discriminatory practical approaches and lacking transparency in many cases.
What are the main opportunities and challenges for foreign law firms in your country?
The main opportunities that we see for foreign law firms mainly include legal work on cross-border M&As, project finance transactions and dispute resolution matters, albeit often performed jointly with local law firms.
The key challenges that foreign law firms may face both in Kyrgyzstan and Tajikistan are differences between the common law and civil law legal systems, language barriers, lack of the local knowledge, practical difficulties with enforcement of contracts, judgments and arbitral awards etc.
What advice would you give to companies new to the country?
It is highly advisable for the companies new to the jurisdictions in question to first clearly understand the legal framework regulating the sector they are planning to work in, from both theoretical and practical perspectives, always obtain or apply for all necessary permissive documents before any operations are commenced.
We also always advise our clients to carefully check and choose local partners, have sufficient and various security in the contracts with local counterparties, especially, long-term ones and try to submit disputes under such contracts to the international arbitration courts in all cases where it is at all possible.
What opportunities for co-operations are there between your country and UK law firms?
To the best of our knowledge UK law firms are often engaged to represent state interests in various disputes tried by foreign and international state and arbitration courts.
Moreover, there is a great potential for UK law firms to be retained for representation of state interests in various cross-border transactions or provide legal advice to the state on the transactions, in respect of which the state has interests/issues abroad and, especially, in the common law jurisdictions.
Our law firm and other local law firms in most of the cases are subcontracted/engaged by UK law firms to act as a local counsel and provide legal advice/represent interests of their clients locally on a variety of matters.
Do clients prefer smaller local firms or larger international networks?
Local and small foreign clients prefer local firms or even individual lawyers, while big foreign/international clients in most of the cases retain a large international law firm to co-ordinate and guide local legal counsels in particular, for cross-border and multi-jurisdictional transactions, which then engages/subcontracts a local law firm to provide the local law advice and support.
What are the practice areas you definitely think a European firm would find business in?
European law firms would most likely be successful in finding business in Kyrgyzstan and Tajikistan in such areas as cross-border M&As, project finance, representation of interests in disputes tried by foreign/international arbitration courts.
We also expect to see the growing interest of European and other foreign investors towards Kyrgyzstan given that Kyrgyzstan is now part of the Eurasian Economic Union and may become a gate to the EAEU market offering its relatively cheap energy and qualified workforce.
As known, increase of foreign investment into the country's economy will in turn generate work for both foreign / international and local legal, financial, technical and other advisors.
What recent legal developments you have seen in your country?
Kyrgyzstan has recently joined the Eurasian Economic Union and therefore major bulk of the legal developments is connected with bringing local legislation in compliance with requirements of the EAEU and take place in such areas as customs and technical regulations, taxation, employment, antitrust legislation etc.
Additionally, new Banking Law, Civil Procedure Code and Administrative Procedure Code have been adopted and will enter into force in June and July of this year. New Criminal Code, Criminal Procedure Code and Code on Misconduct will become effective from 1 January 2019.
Another major of continued trend of legal developments is minimizing the number of various administrative barriers still existing in the country's legal framework.Unfortunately, we have not recently observed any major legal developments in Tajikistan.
Are you aware of any changes that may affect or changes that took place and had an impact on the profession and practice rights in your country?
We are not aware any recent changes that already have impacted or may have impact on the profession and practice rights in Kyrgyzstan and Tajikistan.
Finally, what are your recommendations for visitors to the country?
Visitors both to Kyrgyzstan and Tajikistan are primarily recommended to:
- check for visa and residence address registration requirements prior to the visit;
- not to use public transportation and use for sightseeing and transportation licensed taxis or reliable drivers only;
- not to carry large amounts of cash, which should be sufficient to cover routine out-of-pocket expenses only;
- attend only safe and approved locations in the cities;
- visit remote and rural areas with a guide or a local person well known to them;
- always carry an ID when not at the hotel;
- have a contact number for the Embassy in case of any emergencies/incidents etc.
These views are the views of the authors and not those of the Law Society
More about the authors:
Denis Bagrovis a partner in Centil's Kyrgyzstan office. He has five years' experience and considerable experience in the mining industry.His recent activity includes advising foreign investors on the acquisition of gold, copper, iron and coal, as well as on uranium exploration and domestic mining projects. He also works on our Tajik projects, and recently advised on the SPO shares of the leading gold mining companies in Tajikistan.
Zhanyl Abdurakhmanova is also partner with Centil and has over 14 years' experience. For the last five years she has focused on contract law, corporate law, international private law, M&A, and arbitration and mediation issues in both Kyrgyzstan and Tajikistan. Prior to joining the Centil team, Zhanyl held prominent positions within the Ministry of Justice, the government's office and parliament. She has extensive experience in lawmaking and worked as the head of the legal department within the business association dealing with multi-billion dollar investments in Kyrgyzstan's economy and representing the interests of the investors at the state level. Zhanyl has also worked as an independent national expert for international organisations including the United Nations Development Programme, The World Bank, and the UK's Department for International Development, advising on issues relating to foreign investments and the protection of creditor rights.