Our International Programmes Manager undertook a scoping visit to Costa Rica in December 2019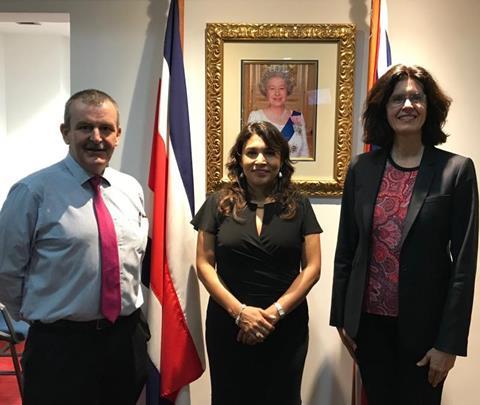 On 9 December 2019, our International Programmes Manager, Lizzette Robleto de Howarth, visited Costa Rica on behalf of the Law Society to assess support to a potential international rule of law project in that jurisdiction, as requested by the British Embassy in Costa Rica and the Costa Rican Ministry of Justice and Peace.
The mission was very successful and included a meeting with the British Embassy and a roundtable with key public servants with the participation of Vice-Minister Viviana Boza Chacon and Head of the Repatriations Unit Walter Corea. The backing from the British Embassy was very significant and we are grateful to the support provided by Anne Aichroth (Deputy Head of Mission), Andrew Castle (Vice-Consul) and Denise Lewis Martinez (Director for Press). In addition,we visited the offices of BLP, a Costa Rican law firm with regional branches throughout Central America, and representatives of the Colegio de Abogados de Costa Rica to explore synergies.
The visit was most encouraging and has a lot of potential moving forward.