Nearly a year ago, the British Embassy Tallin launched the UK-Estonia TechLink, aiming to create stronger public and private partnerships between the UK and Estonia in technology, science and innovation. The programme was launched under the umbrella of the Digital5, the club of the world's most advanced digital governments.
TechLink is currently partnering with the City of London and British-Estonian Chamber of Commerce for a trade mission focused on transnational digital identity and FinTech.
The visiting Estonian delegation will be in London on 14 November and during their visit, the British-Estonian Chamber of Commerce, in co-operation with the City of London, the Council of British Chambers of Commerce of Europe, the Estonian Embassy in London and the British Embassy in Tallinn will present a seminar on FinTech and e-residency.
The seminar will be held in the light of the prospect of British withdrawal from the European Union, which has opened up huge areas of uncertainties for British business and for the world. The City of London - the world's largest financial centre - is seeking to find ways to retain easy access to the EU single market without having to move hundreds of thousands of jobs to Frankfurt, Paris or other EU centers. Estonia's global lead in the delivery of e-solutions, combined with the high quality education system and the well-known attractions of Tallinn gives huge possibilities to create partnerships with British businesses, whether in financial technology, trading or wider services.
The seminar will be held from 10:00 - 14:00 on Monday, 14 October 2016 at Pewterers' Hall.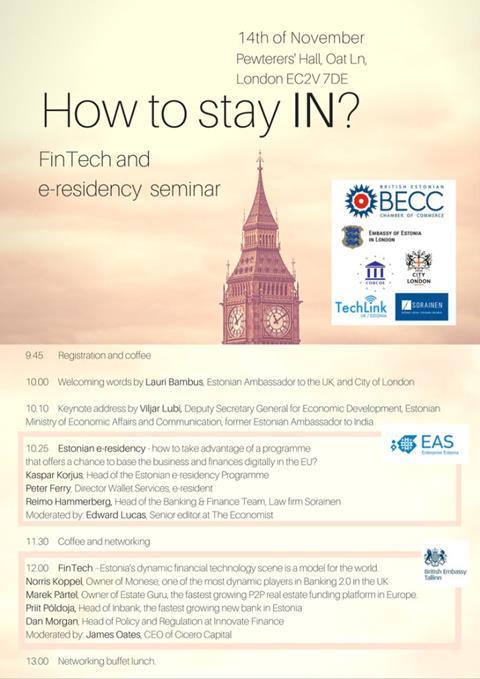 If you would like to register or for more information, please visit the British-Estonian Chamber of Commerce website.